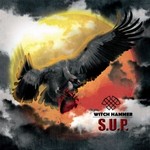 Sliezsko ako môj z časti rodný región mám obzvlášť v láske. O to viac ma vždy poteší, ak mi príde z tejto oblasti nejaké CD na recenziu. No a ak je ten album od formácie Witch Hammer, tak potom už nie je o čom rozmýšľať.
Konkrétne sa potom jedná o EP S.U.P., ktoré dovedna obsahuje tri skladby. Prvou vecou, ktorá zaujme je počet videoklipov spojených s týmto albumom – taktiež 3. Druhou vecou, ktorá človeka hneď osloví je hudba samotná.
Úvodná Už mě táhnou to rozbalí vo veľkom štýle. Na svoje si prídu najmä milovníci tradičného heavymetalu/rocnk´n´rollu/hardrocku. A aj keď sa v princípe jedná o rokmi overenú klasiku, kapele sa ju podarilo zaobaliť do moderného, originálneho a dosť atraktívneho obalu.
Pokračujeme titulným songom kde trochu spomalíme, avšak stále si drží vyššie popísaný recept na úspech. No a na záver máme možnosť počuť Saxon tribute – konkrétne sa potom jedná o kúsok Moravská orlica.
Čo dodať na záver. Witch Hammer potvrdzujú, že svoje vydobyté pozície si právom zaslúžia. Piesne tohto EP spĺňajú tie najprísnejšie kritéria. Jediná nevýhoda je, že sú len 3.
Lineup:
Jan Šotkovský – spev,  gitara
Petr Caputa – basa, zbory
Robert Mišun – bicie, zbory
Tracklist:
Už mě táhnou
S.U.P.
Moravská orlice (SAXON tribute)
Rok vydania: 2019
Vydavateľstvo: Samovydanie
Youtube ukážka:

Linky:
http://www.witchhammer.cz/
https://www.facebook.com/WITCH-HAMMER-329951524255/
http://bandzone.cz/witchhammer
https://www.youtube.com/channel/UC9MufB5zGW8OQfI3EDAsR9A
Hodnotenie: 5,5/6