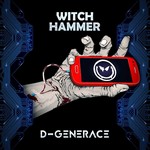 Pri listovaní v metalových magazínoch (Spark), na potulkách internetom, ste mohli naraziť na informácie, že chlapci z Jablunkova chystajú ten rok už 4 album, ktorý sa ale bude odlišovať od ich predošlej diskografie. Jednak bude komplet v češtine a oproti dovtedy produkovanému heavy metalu to bude o niečo priamočiarejší rock ´n´ roll.
Aj keď to nezvyknem robiť, na úvod musím pochváliť jeho obal – tvz. book binding digipack (materiál z ktorého sa vyrábajú obaly kníh) s pekným bookletom s textami, fotkami kapely a ďalšími informáciami o CD.
Ale poďme k obsahu. Zo samotnej platne som mal zo začiatku obavy – predsa klasický heavy metal chlapcom pekne svedčal a ani ich angličtina nebola zlá. Ale tie opadli hneď pri vložení CD do prehrávača.
Celý album asi najlepšie vystihujú songy ako úvodný D-Generace, nasledujúca ,,van hallenovská" Tak mě sjíždej (takto ma vyzerať súčasná rocková hitovka – jednoduchá, priamočiara, energická a hlavne veľmi chytľavá) alebo skvelá záverečná motlitba Věčný plamen so skvelým textom.
Som síce presvedčený ateista, ten text musím pochváliť (refrén: A ja tě stále prosím. Ať nikdy nevyhoří, touha v nás tak úžásná. Ať máme stále co říct, o to tě vážně prosím stuj při nás, my chcem jít dál). Treba spomenúť aj päťku – Hád z ráje, ktorá prekvapí rapovou vsuvkou (ale do CD pekne zapadá).
Väčšina piesní je rýchlych, spomalenia sa dočkáme len v jednej – osmičke Lekce (aj keď nie je to balada). Aj tu treba pochváliť text, také zamyslenie nad životom.
Zhrnutie: Mierna štýlová zmena sa celkom vydarila. Okrem hudobnej zložky chválim aj textovú. Aj keď sa chlapci spočiatku balí domáceho jazyka zvládli to na výbornú. Väčšinu starých fandov neurazí a navyše možno pomôže nájsť nových. Osobne mu dávam 5,5 boda zo 6tich.
Lineup:
Jan Šotkovský – spev,  gitara
Petr Caputa – basa, zbory
Robert Mišun – bicie, zbory
Hostia:
Martin Roženek – klávesy, klavír, zbory
Richard Grochol Nugeťák – rap
Ivan Michálek – zbory
Natálie Lysková & Lenka Dupka Zlatíčko – rozhovor
Tracklist:
Intro
D-Generace
Tak mě sjížděj
Rychlo-kvaška
Had z ráje
Sibyla
Krach
Lekce
Věčný plamen
Rok vydania: 2017
Vydavateľstvo: Samovydanie
Youtube ukážka:

Linky:
http://www.witchhammer.cz/
https://www.facebook.com/WITCH-HAMMER-329951524255/
http://bandzone.cz/witchhammer
https://www.youtube.com/channel/UC9MufB5zGW8OQfI3EDAsR9A
Hodnotenie: 5,5/6