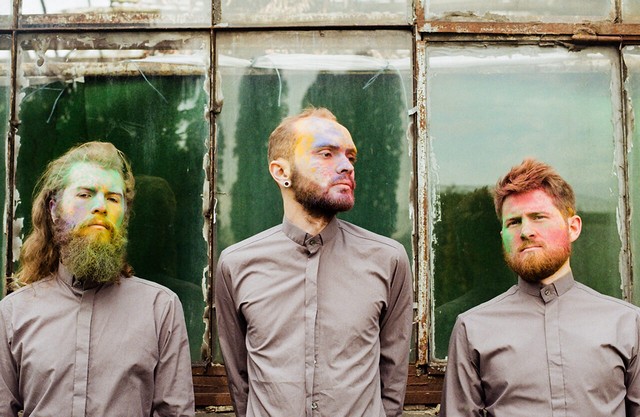 Ukrajina je v metalovom svete známa hlavne vďaka kapelám ako Jinjer, Stoned Jesus. No ako ste sa mohli už na našom webe dočítať, ich scéna je veľmi pestrá. Ak máte radi napr. stoner rock, post hardcore, tak určite by ste mali spoznať aj formáciu, ktorá si hovori VOVK. Vznikla v roku 2016 v Kyjeve a tento rok uzrel svetlo sveta ich debutový album Lair – skvelá kombinácia progresívneho rocku, a vyššie spomenutých žánrov. Spevák a basák v jednej osobe – Oleksander Kuts, porozprával o tom, ako vyzeral proces jeho vzniku, ale aj zopár ďalších zaujímavostí.
Čautko Oleksander. Na úvod sa ťa spýtam, čo vlastne znamená váš názov?
Oleksander: Zdravím. V ukrajinčine to znamená vlk. Ako prvé sme hľadali nejaké ukrajinské slovo, ktoré by dobre vyzeralo aj v latinke. Vlci sú divé a nepredvídateľné zvieratá, sú plné energie, ktorá je spojená s ich inteligenciou a lojalitou k svorke. Žijú a lovia spoločne, ale každý je nezávislý.
 Prednedávnom ste vydali debut Lair. Aký bol proces jeho vzniku?
Oleksander: Prešli sme dlhú cestu medzi písaním skladieb a ich vydaním. Niekoľko rokov sme pilovali skladby, aby sme ich dostali, čo najviac k dokonalosti. Smiali sme sa, že to bolo ako tehotenstvo – prešlo 9 mesiacov odkedy sme vošli do štúdia a vydaním. 🙂 Náš zvukový inžinier Vadyk bol ako pôrodník.
Čo môžeme od neho očakávať?
Oleksander: Nechceme, aby fanúšikovia niečo očakávali pred vypočutím. Naše piesne sú nepredvídateľné a chceme prekvapiť publikum.
Vo vašich textoch je zakomponovaný príbeh… Mohol  by si o tom povedať niečo viac?
Oleksander: Každý song má svojho protagonistu a všetci títo hrdinovia majú mnoho spoločného – sú silní, ale majú svoje slabosti, sú čestní, ale občas musia povedať pravdu aj sami sebe. Taktiež aj skutoční ľudia nie sú perfektní a bojujú bitky vo svojom vnútri. Bojujeme vo svojich vnútorných skrýšach.
Čo predstavuje obal?
Oleksander: Ako vraví autorka Rene Bergen – mala viacero nápadov, kým došla k finálnemu výsledku. To isté platí aj o našej hudbe. Naša hudba je chaotická a chvíľu môže trvať, kým človek nájde v nej to pravé. Rovnako ako aj cover.
 A čo koncerty?
Oleksander: Akurát sme ukončili naše prvé turné po Ukrajine. Teraz si chceme oddýchnuť a na jeseň koncertovať po Európe.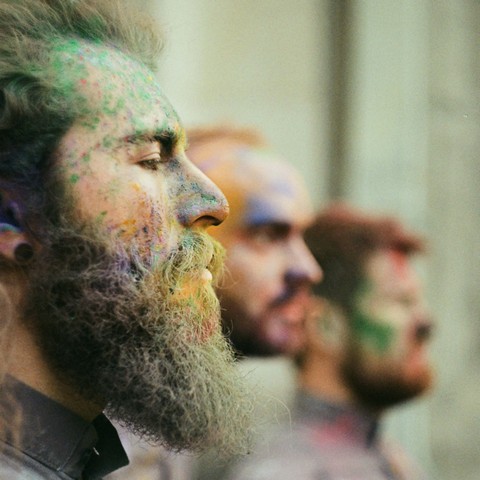 Je možné, že by ste navštívili aj Slovensko?
Oleksander: Možno sa nám to podarí túto jeseň.
Ako vyzerá život vašich členov pomimo kapelu?
Oleksander: Nanešťastie sa nemôžme venovať len hudbe a musíme pracovať.
Oleksander (Ja 😉 ) (spev,basa) – učil na univerzite, teraz je web developer a má zvláštne hobby.
Dmytro (bicie) je administrátor systému, aj keď momentálne sa viac venuje zvukovému inžinierstvu.
Oleksii – (vokály, gitara) pracuje ako inžinier kvality a chová pavúky, a hady..
Porozprávaj niečo o vašej ukrajinskej scéne.
Oleksander: Naša scéna prežila rozkvet v rokoch 2007-2010 a potom prišlo obdobie stagnácie. Prednedávnom sa naše kapely ako Jinjer, 1914, Stoned Jesus, Sinoptik, Somali Yacht Club dostali do celosvetového povedomia a taktiež sa objavujú nové skvelé skupiny. Avšak nie príliš veľa poslucháčov dokáže prispieť k rozvoju hudby. Ale aj tak sledujeme pokrok v našom hudobnom priemysle a dúfam, že sa to bude stále čím viac zlepšovať.
Tak, to bola posledná otázka. Ďakujem ti veľmi pekne za odpovede a rád by som ťa poprosil o odkaz čitateľov.
Oleksander: Ďakujem za váš čas, ktorí ste venovali prečítaniu tohto rozhovoru a užite si hudbu. Chceme vám zaželať, aby ste počúvali rôznorodú a dobrú hudbu. Chodievajte na koncerty a bavte sa. 😉
Youtube ukážka:

Linky:
https://www.facebook.com/vovkband/
https://vovk.bandcamp.com
https://www.youtube.com/channel/UCqEaMpLNs2Ls4uaF6KSBM3g/