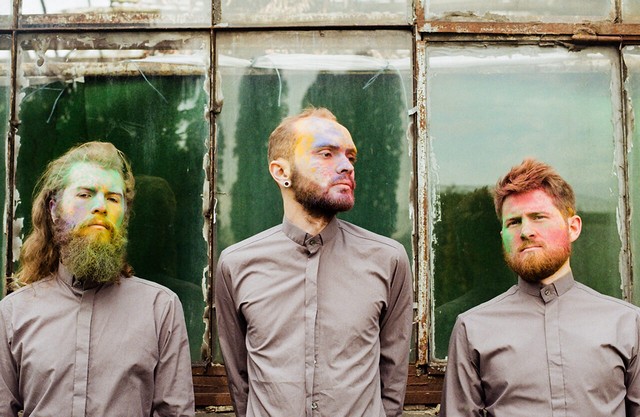 The Ukrainian metal scene is known mainly thanks to Jinjer. You can read on our web, their metal/rock scene is very very varied. If you like genres like stoner rock, post hardcore you have to know band, name VOVK. They was formed in 2016 in Kiev and this year released debut album Liar – great mix of progressive rock and mentioned genres. Vocalist and bassplayer Oleksander Kuts said about its boring and other interesting facts.
Hi Oleksander! My first question is: What mean name of band VOVK?
Oleksander: Hi! In Ukrainian 'vovk' means 'wolf'. At first, we searched for a Ukrainian word that would look good written in Latin letters, but later this name formed our character. Wolves are wild and unpredictable animals, they are full of unbridled energy that is matched with their intelligence and loyalty to the pack. They live and hunt together, but everyone remains independent.
Our band has released debut album called Lair. What was the process of creation of it?
Oleksander: We've gone a long way from writing songs to the release. For several years we've been honing songs and making them as close to the perfection as possible. We used to joke about the recording process that it was a pregnancy — 9 months have passed from the first day in the studio to the release day, and our record engineer, Vadyk, was like an obstetrician.
What can fans await from it?
Oleksander: We'd like listeners to expect nothing before they presses Play. Our songs are full of unpredictability, and we want to surprise the audience.
As I have read, there is some concept behind lyrcis… Could you tell something more about it?
Oleksander: Each song has its protagonist, and all these protagonists have a bunch of traits in common. They are strong, but have their weaknesses, they are honest, but sometimes they fail to be true to themselves, they are committed and confused at the same time. Because real people are not perfect, and the main battles always take place inside of us. We struggle with ourselves, in our inner lair.
What about cover of album? What does it stand for?
Oleksander: As Rene Bergen (the artist who created album illustrations) says, she approaches a canvas with a certain emotion and spits it on the surface until she feels that this feeling gets into the image. This process is similar to trance immersion. Our music is chaotic and expressive and it has much in common with Rene's approach. We've found each other.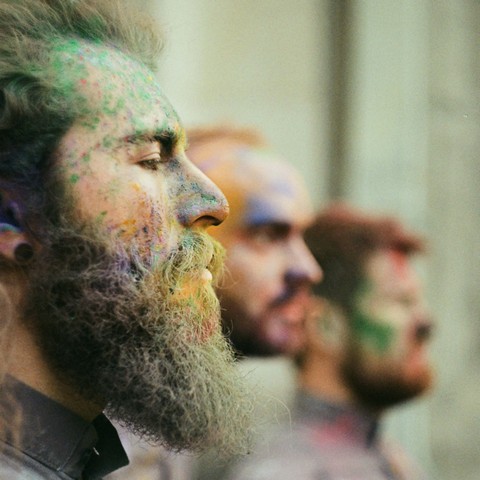 What about concerts? Where could fans see you?
Oleksander: We've just completed our first tour in Ukraine, and now we want to relax a bit and have a tour in Europe this fall.
Is it possible, that you will also visit Slovakia?
Oleksander: It may happen this fall too.
Could you tell us something about your lives beside the band?
Oleksander: Unfortunately, we can't play music all the time, we need to have ordinary jobs.
Oleksandr (vocals, bass) was teaching at the university, now he is a developer and has some strange hobbies.
Dmytro (drums) is a system administrator, but at the moment he gets more into sound engineering.
Oleksii – (vocals, guitar) works as a QA engineer, also he breeds various snakes and spiders.
Could you tell us something about metal scene in Ukraine?
Oleksander: The Ukrainian scene experienced its flourishing in 2007-2010, and then there was a long stagnation period. Recently, Ukrainian bands Jinjer, 1914, Stoned Jesus, Sinoptik, Somali Yacht Club became famous abroad, and new cool bands appeared too. Not many listeners in Ukraine are able to contribute to music development. However, we can witness improvements in Ukrainian music industry and we hope that the situation will change.
So, that was the last question. Thank you so much for the answers, and you can share now something with the fans.
Oleksander: Thanks for taking your time to read the interview and enjoy our music. We want to wish everyone to listen to diverse and good music and never be superficial. Go to concerts and have fun. 🙂
Youtube teaser:

Links:
https://www.facebook.com/vovkband/
https://vovk.bandcamp.com
https://www.youtube.com/channel/UCqEaMpLNs2Ls4uaF6KSBM3g/