Medzi krajiny, ktorých metal/rocková scéna čaká ešte na objavenie patrí aj Bielorusko. Ak sa chcete pustiť do jej objavovania, kľudne môžete začať aj formáciou Mission Jupiter. Tí pred časom priniesli na trh album Architecture – vynikajúci progresívny rock, aký ste už dlho nepočuli. Ako vznikal, zavítajú Mission Jupiter aj na Slovensko, aké to je hrať metal/rock v Bielorusku? Aj na tieto otázky odpovedali gitarista Vladimir Shakavel a spevačka Nastya Shevtsova.
Ahoj. S Mission Jupiter ste vydali nový album Architecture. Aký bol proces jeho vzniku?
Čauko. Bol dlhý, avšak zaujímavý. Na začiatku náš gitarista Vladimir napísal texty k všetkým skladbám. Potom sme ich postupne začali obohacovať s pomocou nášho bubeníka Eugena, ktorý je taktiež náš zvukár. Každý z nás potom pridal niečo ďalšie. Vystavali sme ho postupne ako dom, takže netreba hádať, prečo sa volá Architecture. 🙂
Čo môžu fanúšikovia očakávať?
 Počas počúvania si môžu fanúšikovia ľahko užiť 11 skvelých kompozícií so širokým hudobným záberom, netypickým ženským vokálom a trochou jazzu. Úprimne, jedná sa o dosť melodický a rôznorodý album. Dúfame, že ľudia, ktorí majú radi skvelú hudbu si ho užijú.
Ako už bolo povedané, album je absolútne nemožné zaradiť do nejakej žánrovej škatuľky. Je tento multižánrový výtvor dôsledkom rozdielnych hudobných preferencií jednotlivých členov?
Správne. 😉 Každý z nás má trochu odlišný hudobný vkus, avšak zároveň máme viacero spoločných obľúbených skupín – Massive Attack, The Gathering, Muse… Avšak musím dodať, že ani sám neviem, ako sa to celé zvrtlo do toľkých žánrov. Stalo sa to tak prirodzene.
Čo obal albumu?
😀 Toto je dosť nepríjemná otázka. Pracovali sme s jednou fotografkou – Alenou Khodor. U nás v Bielorusku je extrémne populárna pre jej netradičné diela. Spravila s nami krásny obrázok, ktorý sme sa prakticky hneď rozhodli použiť ako cover. Bolo to veľmi zábavné a neočakávané. Myslím si, že cover reflektuje precízne stavanie nejakej budovy.
Prečo ste sa rozhodli pre názov kapely Mission Jupiter?
Na začiatku sme mali viacero nápadov, ako nazvať našu skupinu, avšak vždy sme sa vrátili k Mission Jupiter. Jedného dňa sme si uvedomili, že skvelo opisuje našu hudbu. Naša misia je naša hudba. Jupiter – najväčšia a najsilnejšia planéta slnečnej sústavy – ako ideál, ktorý by sme chceli dosiahnuť. A úprimne, vesmír nás všetkých veľmi inšpiruje.
Ako to vyzerá s koncertami? Kde vás budú môcť ľudia vidieť?
Teraz sme sa zamerali na vydanie nášho albumu v Poľsku a taktiež na druhý videoklip. Taktiež nahrávame nový materiál na ďalšie CD, takže koncerty plánujeme až trochu neskôr.
Je možné, že by ste navštívili aj Slovensko?
Dúfame, že jedného dňa sa nám podarí navštíviť vašu krásnu krajinu. Určite sa jedná o jedno z miest, kde by sme radi vystúpili. Taktiež má Nastia u vás kamaráta, takže ďalší dôvod na návštevu.😀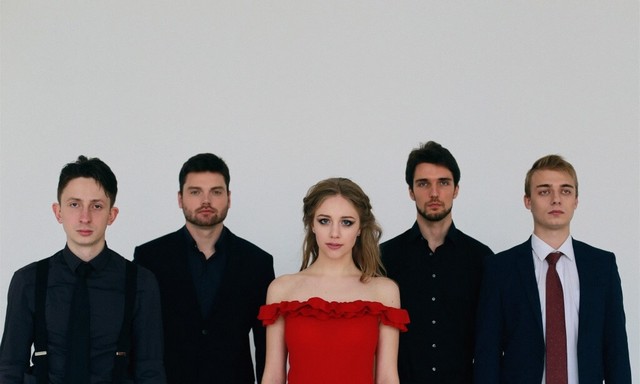 Mohli by si povedať niečo o živote členov pomimo kapelu?
Nanešťastie ako veľa ďalších skupín máme normálne práce. Potrebujeme z niečoho žiť a taktiež pre chod kapely. Trávime veľa času prácou pre IT spoločnosť, náš basgitarista má vlastný biznis. Saxofonista je učiteľ v malom meste na západe Bieloruska. Trávime spolu veľa času, smejeme sa, športujeme.
Ako vyzerá hudobná scéna u vás v Bielorusku?
Hmmmm, toto je veľmi komplikovaná otázka. Viem, aká je odpoveď, avšak najprv treba chápať, že situácia v našej scéne je nejednoznačná. Máme skvelé folk metalové kapely, heavy metalové, experimentálne, ale sú neznáme!
Ak človek žije v Bielorusku, tak je ťažké nájsť si svoje miesto pod slnkom na hranie metalu. Máme malé množstvo ľudí, festivalov, klubov, ktoré by sa venovali takejto hudbe. Máme skvelých fanúšikov, ale hudobníci nemajú také možnosti.
A niečo o krajine vo všeobecnosti?
: Ak máš peniaze, tak je ľahké žiť vo vysokom štandarde. Naša krásna príroda a ľudia sú najväčší poklad našej krajiny. A teraz to negatívne…
Potrebujeme isté zmeny v našej spoločnosti – napr. ohľadom demokracie.
Taktiež hudobný priemysel, ktorý tu skoro vôbec neexistuje. Máme niekoľko skupín, ktoré hrajú všade, ale bez toho, aby hrali nejakú špeciálnu, nezvyčajnú hudbu. Všetko je len otázka času. Verím, že sa všetko zlepší.
Tak, to bola posledná otázka. Ďakujem veľmi pekne za odpovede a zároveň by som  rád poprosil o odkaz pre fanúšikov…
Vždy budeš u nás vítaný a ďakujeme. Radi by sme potencionálnym fanúšikom zaželali čo najviac skvelej a zaujímavej hudby. V súčasnosti, keď sa všetko rýchlo mení je dosť ťažké nájsť zaujímavý materiál a skutočne si ho užiť. Počúvajte skvelú hudbu a držte sa!
Youtube ukážka:

Linky:
https://www.facebook.com/missionjupiterband/
https://www.youtube.com/channel/UCa_2HAbUqcawe7ghj8fBzgg/