The New Roses – tretí singel z chystaného albumu
1.8.2019
Nemeckí hard rockeri The New Roses zverejnili videoklip k skladbe Glory Road, tretiemu singlu z chystaného albumu Nothing But Wild, ktorý bude vydaný už zajtra – 2. augusta.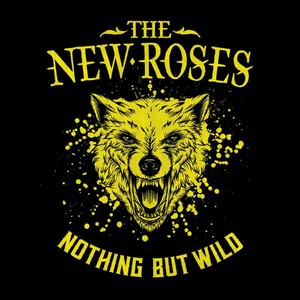 Tracklist:
Soundtrack Of My Life
Can't Stop Rock & Roll
Down By The River
Nothing But Wild
Heartache
The Bullet
Runnin' Out Of Hearts
Unknown Territory
As The Crow Flies
Give & Take
The Only Thing
Meet Me Half Way
Glory Road
Glory Road:

Predošle ukážky:
Can't Stop Rock'n Roll: https://youtu.be/iJUOxnmTmE8
Down By The River: https://youtu.be/NSltvKoE7sI
Linky:
https://www.thenewroses.com
https://www.facebook.com/TheNewRoses/
Zdroj: Napalm Records, Foto: Frank Dursthoff
Victorius – chystaný album
31.7.2019
Názov nového albumu nemeckých power metalistov Victorius bude  Space Ninjas From Hell. Dátum vydania je stanovený na 17. januára.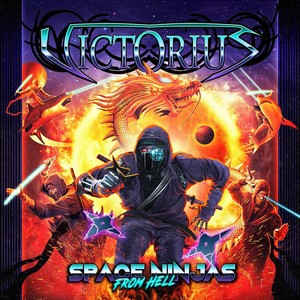 Linky:
http://www.victoriusmetal.net/
https://www.facebook.com/victoriusmetal/
Zdroj: Napalm Records Label
Luboshio (MÄSO) je späť s novým projektom. Čakajte ostré riffy, úderné songy a kvalitné texty s posolstvom
31.7.2019

Nový projekt skúseného metalového hudobníka dostal názov DEMONIC-EYED.
ZVOLEN. Ruku na srdce. Kto v slovenských metalových kruhoch by nepoznal legendárnu zvolenskú trojicu MÄSO? Kapela v súčasnosti neprodukuje, no bez muziky to už nevydržal gitarista a spevák Luboshio.
Tvorenie hudby je jeho najväčšou vášňou, a tak vznikol projekt DEMONIC-EYED, pre ktorý zložil  8 úderných thrashcorových songov, vrátane intra. Gitarové riffy sú svižné a ostré, zvuk basgitary a bicích prispieva k rytmickej presnosti. Do toho zúrivý spev a pre neho typicky frázovaný vokál (nie nepodobný jeho domovskej skupine MÄSO) a old schoolový zvuk.
Dôležitosť textov
DEMONIC-EYED však v rovnakej miere kladú dôraz aj na texty. Sú v nich ukryté odkazy na dávnu minulosť a naše korene, mystiku, ale aj pálčivé problémy dnešnej doby. Do nabrúsených zvukov Luboshiových gitár ich presvedčivo vtepala Pa(e)tka.
"Sága o černokňažníkovi od Juraja Červenáka bola inšpiráciou pre skladbu "Demonic-eyed". Černoboh,  vládca noci, vyvrheľ a nepochopený sa ukrýva v temnom vnútri každého z nás. "Labyrinths of Depth", "Dagon" a "Innsmouth Blues" je triumvirát ovplyvnený tvorbou H. P. Lovecrafta. Textovo je naplnený v Dagonovi, pánovi oceánov a hĺbok, je v ňom symbolika kolobehu života. Do akých klimatických zmien sa to svojpomocne rútime? Ako bezcitne jazvíme našu matku Zem? Nad tým sa zamýšľame v "Our Mother (Earth)".
Problematiku ľudských práv a stále prítomnej hrozby fašizmu sme zhmotnili v skladbe "Fasces". A čo práva zvierat? Kto bude z lesa utekať, ak dáme pušku, napr. vlkovi ("The Wolf with a Gun")? Byť sám sebou, ísť bez strachu do svojej podstaty, nebáť sa vytŕčať z davu, ako v songu "The Son of a Fearless Hawk". Taký chce projekt DEMONIC-EYED byť, " zhrnula obsah anglických textov Pa(e)tka.
Piesne pasujúce k muzikantskej osobnosti
O hudbe ďalej hovorí Luboshio, ktorý pôsobí na scéne už viac ako dve desaťročia: "Snažil som sa vytvoriť songy, ktoré pasujú k mojej muzikantskej osobnosti. Vždy chcem dostať zo seba to najlepšie, čo ma napĺňa, bez ohľadu na to, čo čakajú ľudia… Je to vec filozofie, presvedčenia a prirodzenosti – robím to, čo mi káže moje srdce a myseľ."
O nádherný artwork albumu, na ktorom je Černoboh, sa postaral známy zvolenský umelec Robo Ivan. Album sa nahrával v SPK Audio, v koprodukcii zvukového mága Mira Speváka.
"Prajeme si, aby sa naša tvorba dostala k ľuďom. Nečakáme nič extra, chceme len, aby si to fanúšikovia vypočuli a urobili si na našu hudbu a texty vlastný názor. Záleží mi na výpovednej hodnote našej tvorby, chcem vďaka nej zlepšiť seba, ľudí okolo a priniesť aj do metalu angažovanosť a témy, ktoré sú podľa mňa dôležité," opísal Luboshio svoj návrat na scénu.
Album dostal rovnaký názov ako celý projekt "Demonic-eyed".  Bude k dispozícii od 1. augusta 2019 na adrese www.crashsound.com.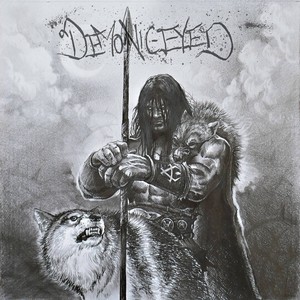 Zaujímavosťou je, že o tento nový projekt ostrieľaného borca prejavili záujem aj v zahraničí, Luboshio už poskytol rozhovor portugalskej odnoži časopisu Metal Hammer. Jedna z  piesní sa dostala aj na kompilačku, ktorá vyšla spoločne s časopisom.
Post Scriptum od Luboshia: "Tento album by som chcel venovať môjmu kamarátovi Dyftymu. Je mi smutno, že si ho už nemôže vypočuť…"
Facebook: https://www.facebook.com/demoniceyed/
YouTube Channel: https://www.youtube.com/watch?v=zs74oSav9gk&list=UU5PY5mU2qX8SHhSa9374OHg
Tlačová správa: Stillborn, Pa(e)tka
SYMFOBIA natočili nový klip so silným posolstvom: Svet plný technológií nás začína ovládať
29.7.2019
Viac ako rok trvalo pokým sa fanúšikovia kapely SYMFOBIA dočkali nového klipu. Čakanie sa však vyplatilo.
NITRA. Slovenskí symfonici SYMFOBIA vydali v marci kritikou i fanúšikmi veľmi dobre prijatý album "Smog of Tomorrow", práce na ňom trvali dva a pol roka. Kapela má za sebou úspešné slovenské turné so skupinou NOCONTROL a vystúpenia na niektorých festivaloch a koncertoch. Za všetky spomeňme Masters of Rock, kde sa ako jediní Slováci predstavili na hlavnom pódiu.
Nový videoklip ku piesni "Bury It" je poďakovaním verným fanúšikom. "Ľudia si už dlho pýtali klip práve na skladbu Bury It. Je to silná pieseň s veľkým a dôležitým odkazom," prezradila jedna zo speváčok Erika Strečková.
Text z pera Rastislava Gettu hovorí o svete plnom technológií, ktoré nás začínajú ovládať. Namiesto toho, aby nám slúžili. Je o svete, kde je trend byť úspešný za každú cenu, kde reklama a marketing nepoznajú hranice a pre človeka samotného už neostáva priestor. Dopláca na to jednotlivec i planéta.
Videoklip sa natáčal v podstatnej miere na vrakovisku v Šali, kde sa filmárom podarili znamenité zábery. Kameru a strih mal na starosti Kubo "Točič" Chochula, scenár a réžiu Valentín Kozaňák, dramaturgiu Vladimír Dubeň. Okrem záberov na muzikantov zo SYMFOBIE, hlavnej úlohy sa parádne zhostil herec Rado Konečný.
"My v skupine sme mali nejaké predstavy a chalani začali s nimi pracovať. Postupne začali vytvárať niečo nové, tak aby to sedelo s textom piesne. Celú dejovú linku a príbeh, ktorý skladba má, vymysleli oni, čím nás milo prekvapili," ozrejmila Erika.
Výroba nového klipu mala mierne dobrodružný charakter. "Zábery na šrotovisku si vyžadovali aj kúsok ekvilibristiky, keď sme natáčali v zhorenom aute alebo keď chalani stáli na starých vrakoch," prezradila so smiechom Erika a pokračovala: "Točili sme aj na obrovskom smetisku pri Čiernej Vode, kde sa šíril poriadny zápach a pod nohami štábu občas prebehli potkany."
Ako sa hovorí, lepšie raz vidieť, ako stokrát čítať. Dámy a páni, nový klip SYMFOBIE je na svete.
TS: Stanislav "Stillborn" Černák
Facebook kapely – https://www.facebook.com/Symfobia/
YouTube Channel https://www.youtube.com/channel/UCtl56TgM8nsrZSNz_0S5P5A-