Gothic rock z Finska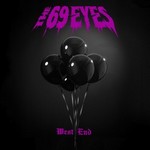 Temná, místy ponurá, melodická hudba, doprovázená hlavně hlubokým hlasem zpěváka, jenž je znám jako Jyrki 69. Ten oslavil loni v říjnu padesáté narozeniny, ovšem na jeho hlase to ani přinejmenším nepoznáte.
Na scéně nejsou zrovna krátce: Zformovali se roku 1989 v Helsinkách a o tři roky později vydali svoje první album. Od té doby se co do hudby v průběhu své kariéry rapidně změnili: Z původního industriálního glam rocku přešli v roce 2002 ne gothic rock/metal. Byla to změna, která se setkala s nemalým úspěchem. Jejich hudbě se od té doby říká slangově "goth n' roll."
Minule nic moc
Minulé album jménem Universal Monster se nesetkalo s takovým úspěchem a bylo považováno za slabší. Spousta fanoušků tedy čeká na letošní album v naději, že si The 69 Eyes napraví reputaci. Musím se přiznat, že jsem jeden z těch nespokojených. Jeden z těch, pro které byla Univerzální monstra po předchozím albu "X" opravdu zklamáním. Těžko říct, jaká kritika a v jakém rozsahu se snesla na samotnou kapelu, ovšem ať už jim řekl kdokoliv, cokoliv, tak nová deska napravila všechny křivdy.
Západní konec
Nové album nepůsobí vůbec zšedle a ačkoliv má volnější tempo a není tolik svižné, jeho skladby si poslechnete rádi několikrát dokola.
Když jsem desku naposlouchával, první co mi blesklo hlavou, byla slova – road music. Ano, tohle je hudba, kterou si pustíte v autě, když nebudete chtít letět jako blázni, dáte si jednu ruku z okýnka a budete si kývat hlavou do rytmu. A až to album dohraje, necháte ho hrát znova… a znova a znova… Hudba je to chytlavá a The 69 Eyes předvedli, že mají stále ještě dobré nápady a do starého železa je jich rozhodně škoda.
Závěrem lze tedy říct, že si kapela napravila reputaci, její hudba se zase posunula nějakým způsobem dál, ale ti z nás kteří jejich hudbu posloucháme od prvních alb, novou desku nepřejdeme chladným pohledem, nýbrž uznalým přikývnutím a slovy: "Jo, borci! Jste zpět…"
Lineup:
Jyrki69 – spev
Bazie – gitary
Timo-Timo – gitary
Archzie – basa
Jussi69 – bicie
Hostia:
Dani Filth – (vokál Two Horns Up)
Calico Cooper – (vokál Two Horns Up)
WEDNESDAY 13 – (vokál Two Horns Up)
Tracklist:
Two Horns Up
27 & Done
Black Orchid
Change
Burn Witch Burn
Cheyenna
The Last House On The Left
Death & Desire
Outsiders
Be Here Now
Hell Has No Mercy
Rok vydania: 2019
Vydavateľstvo: Nuclear Blast
Youtube ukážka:

Linky:
https://www.69eyes.com/
https://www.facebook.com/the69eyes/
https://www.instagram.com/the69eyesofficial/
https://www.nuclearblast.de/the69eyes/
Hodnotenie: 6/6
Páčil sa ti tento článok?