Dawn of Disease – the second single from their upcoming album
20. September 2019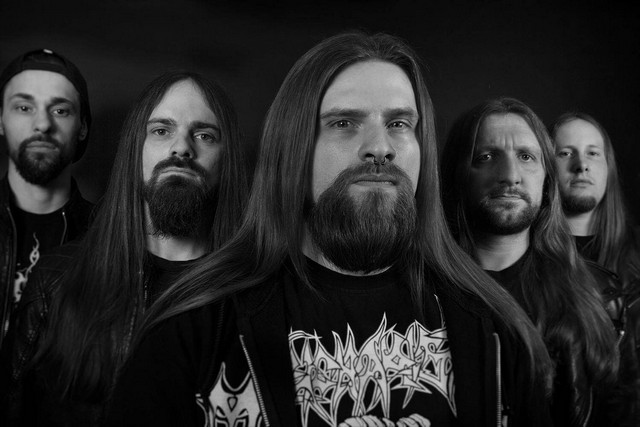 DAWN OF DISEASE return with their terrific new single "Shrine" which is digitally available on all streaming platforms today! The combination of the classic Swedish Death Metal parts with a dash of Black Metal, all held in a dark atmosphere, shows the versatility of the five-piece from Osnabrück.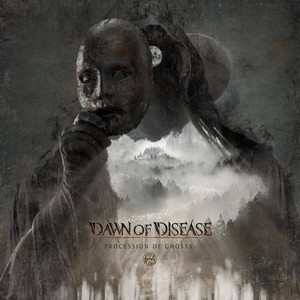 Tracklist:
Lapsarian
Procession of Ghosts
May the Waves Take Me
Shrine
Where the Clouds Reach the Ground
As Heaven Shatters
Autumn Days
Apotropaic
With "Shrine", DAWN OF DISEASE tap into the mystical parts of the world and accompany their newest album with a bone-chilling second single. Additionally, the five guys bestow upon us the corresponding official video! Watch it below!
DAWN OF DISEASE on the new single & video:
"Today we present another song of our upcoming album Procession of Ghosts to you. "Shrine" is a really exceptional song as it combines elements of typical Swedish Death Metal with a very various drumming and an obscure atmosphere that is highlighted by a tiny punch of Black Metal. For this video we chose an old church as a location in order to put the atmosphere of the song into visual form. But while one would expect a fast video we decided to go a completely different way to highlight the deep and metaphorical meaning of this track. Enjoy our new video and open the shrine!"
Founded in 2003, DAWN OF DISEASE release their fifth studio album Procession of Ghosts and third with Napalm Records on 1st November 2019. The album represents phenomenal melodic death metal sounds, with more than enough energy to stand out from the masses. It secures DAWN OF DISEASE's status at the forefront of German Death Metal. Melancholy meets relentless brutality, while hymnal passages, dark growls, fast riffs and catchy hook lines create a perfect sonic landscape.
The first single Procession Of Ghosts: https://youtu.be/YcysmZExgRo
Links:
http://www.dawnofdisease.com/
https://www.facebook.com/DawnOfDisease
https://www.youtube.com/user/dawnofdisease
Source of Information: Napalm Records Promotion Team
BLOOD EAGLE – Sign Worldwide Deal With Nuclear Blast
20. September 2019
BLOOD EAGLE is proud to announce that they have signed a worldwide deal with Nuclear Blast Records. The Denmark based death metal band is comprised of former members of VOLBEAT, MNEMIC, HATESPHERE, ILLDISPOSED, and RAUNCHY. Officially surfaced in 2013, good friendship and love for old school death metal have made BLOOD EAGLE an unstoppable force.
The band is proud to reveal they will release their album "To Ride In Blood & Bathe In Greed" over 3 EP's this Fall. Today marks the release of the first EP!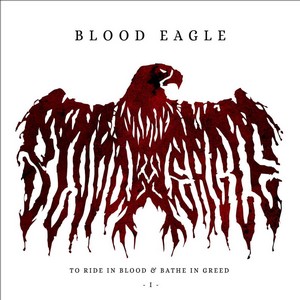 Tracklist:
Part I
Feed On The Blood Of Man
Unsung Zeros
Impact Irreversible
Part II:
Eyes Sewn Shut
Doctrine Of Death
Kill Your Tyrants
For Those Who Remain
Part III:
A Life That Rots Away
Worship The Wolf
Wall of Hate
Check out the visualize for the first single, 'Feed On The Blood Of Man', here:

The band comments, "We are honored to have signed with one of the world's leading record labels, Nuclear Blast Records! The excitement level of BLOOD EAGLE finally finding the right home to release new material, is higher for us than we can ever express. There are people who want to hear this band, as was evident in the reaction to our performances on multiple European festivals in the last couple of years. We are excited and grateful to be working with the guys at Nuclear Blast, as they strongly will help facilitate and take the Eagle to the next level. 
On a musical note, we took all our inspirations from NAPALM DEATH, BOLT THROWER, MORBID ANGEL and a tad (like 2%) of MASTODON and threw them into the musical cooking pot. The result is our new release, "To Ride In Blood & Bathe In Greed" I, II, III which will be released as three EP's in September, October and November. Out on Nuclear Blast Records."
"To Ride In Blood & Bathe In Greed" Part II will be released on October 18th while Part III will be released on November 22nd. The album was produced, engineered, mixed and mastered by Tue Madsen at Antfarm Studios. All artwork was created by Rune Stigart. Stay tuned for more information on the EP's!
ABOUT BLOOD EAGLE
BLOOD EAGLE is a death metal band comprised of former members of VOLBEAT, MNEMIC, HATESPHERE, ILLDISPOSED and RAUNCHY, all bands from Denmark. A group founded by two ex-guitarists, Franz Hellboss and Mircea Gabriel Eftemie (formerly of VOLBEAT and MNEMIC). After playing for years in their own respective bands, the two guitarists decided to team up and consolidate their passion for punk, grind and death metal music alongside their best friends and touring partners. The band surfaced and raised traction for the very first time in 2013, by releasing a 3-song EP for free download, recorded at the Antfarm Studios with Tue Madsen (MESHUGGAH, BEHEMOTH, THE HAUNTED) at the helm. Playing select shows and festival appearances the band kept writing material but never released the new material to the masses, until five years later.
So what do you get when you throw NAPALM DEATH, BOLT THROWER, MORBID ANGEL and a tad
MASTODON into the musical cooking pot? The answer is; BLOOD EAGLE. Glorified by the metal media as a Danish "supergroup" consisting of metal veterans, according to the band, there is nothing super about it, other than their good friendship and love for old school death metal. BLOOD EAGLE is an unstoppable force, launching their long-awaited debut album in three parts: "To Ride In Blood & Bathe In Greed" I, II, III via NUCLEAR BLAST RECORDS.
Lineup:
Michael Olsson | Vocals
Mircea Gabriel Eftemie | Guitars
Franz Hellboss | Guitars
Mikael Ehlert | Bass
Morten Toft Hansen | Drums 
Links:
https://www.facebook.com/bloodeagledk/
Source of Information: NUCLEAR BLAST Fabienne Zwicker
Strigoi – unveil haunting music video for single 'Phantoms' and start pre-order for "Abandon All Faith"
20. September 2019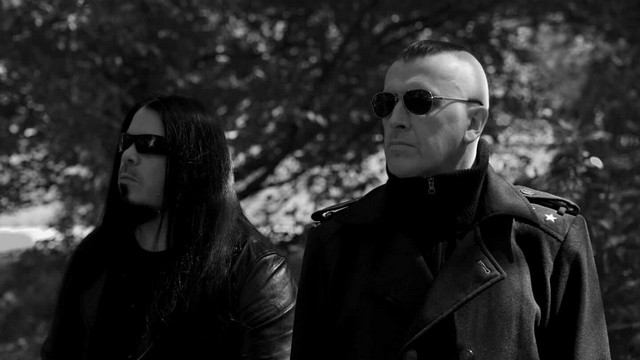 Only few days after PARADISE LOST guitarist Greg Mackintosh put to rest his side project VALLENFYRE, that helped him to overcome the death of his father John, a new ghost appeared in the fog and STRIGOI was born. With an approach that was as nihilistic and crusty as it was cinematically grand, this dire spirit rises from it's crypt and prepares to unleash its debut album to the world on November 22nd. »Abandon All Faith« is a bonecrushing beast comprising old-school death metal, grindcore and haunting left turns, which conjure feelings of both dread and hostility and is laced with Mackintosh's trademark lead guitar lines and biting death metal roar.
Named after the troubled spirits in Romanian mythology who could rise from the grave and assume an entirely different form, STRIGOI's lineup is rounded out by former EXTREME NOISE TERROR and VALLENFYRE bass player Chris Casket, who was also responsible for the project's lyrics. Mackintosh gave him simple thematic guidelines: Attack organized religion, sparingly discuss grief and dive into the countless horrible things humanity continues to inflict upon itself.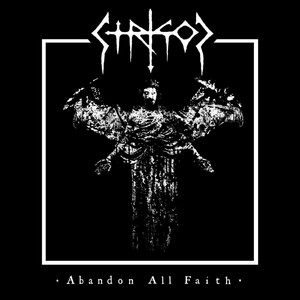 Tracklist:
The Rising Horde
Phantoms
Nocturnal Vermin
Seven Crowns
Throne Of Disgrace
Carved Into The Skin
Parasite
Iniquitous Rage
Plague Nation
Enemies Of God
Scorn Of The Father
Abandon All Faith
The resultant 12-song-debut »Abandon All Faith« was recorded and mixed at Greg's Black Planet Studio between January and March 2019 and today, the English duo unveils a hauting music video directed by Ash Pears. Designed in the same black and white vein of the band's overall look, 'Phantoms' will clearly evoke some ghosts:
Links:
www.strigoi.co.uk
www.facebook.com/strigoibandofficial
www.instagram.com/strigoi_official
www.nuclearblast.de/strigoi
Source of Information: NUCLEAR BLAST Anne Swallow
WALTARI premiere brand new video, Postrock!
20. September 2019
The "Crazy Finns" have a new album at the ready and upfront already return with an anthem for the "post rock generation" who – due to their later birth – are not blessed to know anything about the original rock times, when people were living in optimism towards the future and life in general.
POSTROCK, the first new output of yet to come long play works, is a tribute to this generation zero that is waking up in this delicate period of time and into this difficult world. Be it populistic demagogues across the globe, giant environmental problems etc. – yet still longing for something better, and, yes, deserving something better! Musically the song stands for "a" typical WALTARI song, a speedy rhythm with a metal riff, combined with a melodic hookline and a separate rap part. Turn up the volume – finally it's WALTARI time again! Be prepared for total madness combined with musical genius. Simply WALTARI
 Check out the brand new lyric video for 
Links:
https://www.waltariband.com/
https://www.facebook.com/waltarimusic/
Source of Information: Napalm Records