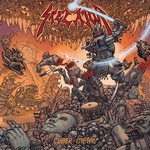 Rád sledujem albumy hnutia New Wave Of True Heavy Metal a väčšina je balzám na dušu. Pre nás staromilcov doslova povinnosť. Takže keď som objavil debut americkej pätice Skelator vedel som, že sa na to musím pozrieť.
Je to ich piaty počin. Na Cyber Metal nájdeme true heavy metal, ktorý mierne evokuje prvý debut kapely Halford. Niekedy až moc. Ale spevák Jason Coude – Houston sa môže snažiť koľko chce, no Roba Halforda nenapodobní. Jeho výšky sú síce ukrutné, no proste akoby zastali tón pred správnym miestom. A tak znie dosť často falošne.
Najväčší  plus platne vidím v skvelých aranžmánoch a výbornej sólovej gitare. Rytmika úsporná a songwriting trošku sterilný. Neviem porovnať novinku s ich staršou tvorbou, ale podľa reakcií na internete zrejme naozaj ide o najslabší kúsok ich diskografie.
Cyber Metal začína rýchlou piesňou Cyber Samurai, ktorá patrí medzi jeho vrcholy. Začiatok skladby Highlander ma doslova nadchol a táto patrí tiež medzi to najlepšie. Najrýchlejšia skladba Akira bola skutočne pecka a aj tá zmena tóniny v slohe bola výnimočná, ale v druhej polovici albumu sa už takéto plusy objavovali stále menej.
Zvuk celej nahrávky je veľmi príjemný a obal krásne komiksový. Ten by sa vynímal na poriadnom tričku.
Som veľmi rád, že vychádza stále viac albumov klasického heavy metalu. No niekedy by trebalo viac popremýšľať o pesničkách a riadiť sa porekadlom menej je viac. 
Lineup:
Jason Conde-Houston – spev
Robbie Houston – gitary
Rob Steinway – gitary
Darin Wall – basa
Patrick Seick – bicie
Tracklist:
Cyber Samurai
Cast Iron
The Hammer
Highlander
Akira
Erlkonig
Seven Scars
Psychic Silver Wheels
Rok vydania: 2019
Vydavateľstvo: Gates of Hell Records
Youtube ukážka:

Linky:
https://www.facebook.com/TrueSkelator/
trueskelator.bandcamp.com
Hodnotenie: 3/6