Strigoi – unveil lyric video for new single 'Nocturnal Vermin' + announce new live members!
18. October 2019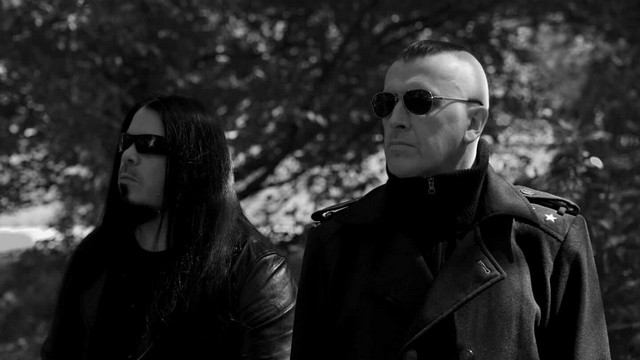 On the cold morning of November 22nd,  STRIGOI shall rise from its crypt to unleash its debut album upon the world. With an approach that was as nihilistic and crusty as it was cinematically grand, PARADISE LOST's Greg Mackintosh teamed up with former EXTREME NOISE TERROR and VALLENFYRE bass player Chris Casket to record a truly bonecrushing beast of old-school death metal, titled »Abandon All Faith.« Today the band is infecting the airwaves with their second single.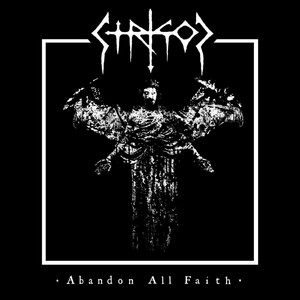 Tracklist:
The Rising Horde
Phantoms
Nocturnal Vermin
Seven Crowns
Throne Of Disgrace
Carved Into The Skin
Parasite
Iniquitous Rage
Plague Nation
Enemies Of God
Scorn Of The Father
Abandon All Faith
Watch and listen to the vicious track 'Nocturnal Vermin' here: 

The first single Phantoms: https://youtu.be/4ZGsNENJyW4
"'Nocturnal Vermin' is a short and vicious little song that blends elements of grindcore and OSDM with industrial touches to create an overall nasty yet ominous feel," Greg explains. "Lyrically it is about having the life drained out of you by other people purely out of malice and self interest, to the point where the mere thought of their skin and scent makes you want to be physically sick."
The band is also pleased to present the two new live members of the band.
Drummer Guido Zima Montanarini (The Secret, ex-Implore)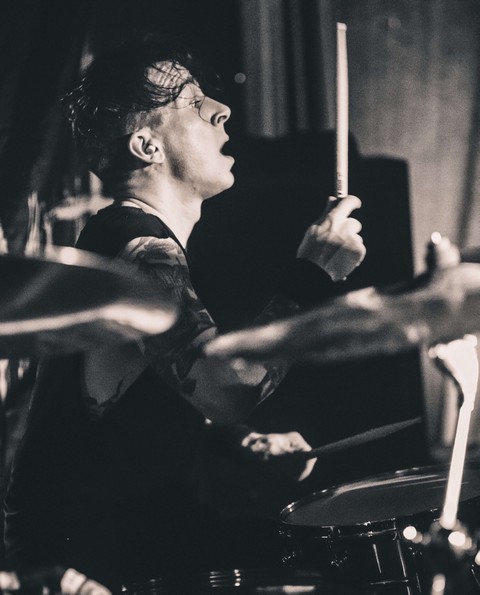 Gitarsita Sam Kelly-Wallace (ex-Vallenfyre)
Guido says, "I had the pleasure to meet Greg and Chris on a European tour supporting VALLENFYRE with my previous band IMPLORE, and we got along instantly. I'm flattered they asked me to join their new killer project and I'm excited our paths crossed again in this unexpected way. The new material sounds very dark and intense, and I can't wait to hit the stage with my mates. It's gonna be ace!"
Sam states, "It is an absolute honour to be asked to play in STRIGOI. I spent 5 years in VALLENFYRE, it was an amazing experience and getting to be a part of Greg and Chris's grim new venture is something I am very grateful for. I'm really looking forward to taking STRIGOI to the stage and performing alongside friends that I have a great musical history with and huge respect for."
Links:
www.strigoi.co.uk
www.facebook.com/strigoibandofficial
www.instagram.com/strigoi_official
www.nuclearblast.de/strigoi
Source of Information: NUCLEAR BLAST Anne Swallow, Photo: Tim Finch
British rockers SALEM to release fourth full length entitled "Win Lose Or Draw".
18. October 2019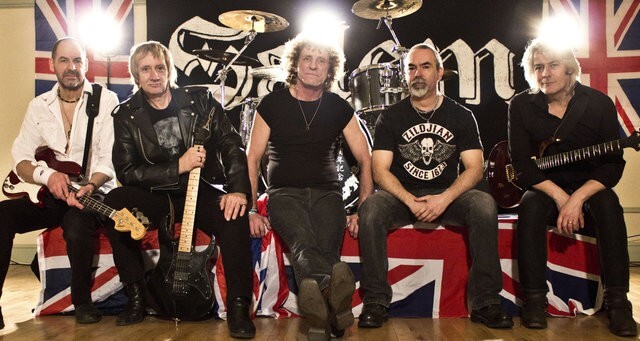 Salem UK was formed in 1979 by former Ethel The Frog members Paul Conyers and Paul Tognola. After numerous gigs and a self-released single the band split in 1983. The band reformed in 2008, releasing three four albums and touring across Europe, venturing as far as Dubai. Original members Simon Saxby (vocals) and Adrian Jenkinson (bass) still drive the band forward, now with Francis Gill (guitar), whose creative skills are a vital part of the band's new edgy presentation.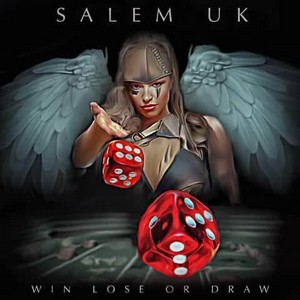 Tracklist:
The Wraith
Betrayed
Circumstances Change
Win Lose or Draw
Souls of Evermore
Blind
Sentinel
Censored
Victorious
Queen Serene
Adrian: "We've had a rough time of it over the past 18 months and there were times when we thought it was all over, but we've come through, and we want to thank Steve and Tom for believing in us throughout the process. Now we're back stronger than ever and it feels great!"
Simon: "The happiest of times was had writing and recording this album and the future looks good. Many thanks to family and friends and Teresa for her hard work, love and support. A special mention to John Cudbertson RIP my friend."
Francis: "I've been a Salem UK fan for around ten years now. I was doing a lot of work with Adrian around the time he was mixing "Forgotten Dreams" and I loved the stuff on that record. I remember thinking back then that I would love to make a record with Simon and Adrian. Thankfully for me the opportunity to fulfil that ambition presented itself rather organically last year when I was invited to play guitar for Salem UK. I'm immensely proud of the tracks on the new album. It has everything that Salem UK fans have come to expect, but with a much more contemporary angle in terms of the arrangement and delivery of the guitars. I may be biased, but it's the best yet! I'd like to thank Simon and Adrian for making me feel so at home in the band. We've had an absolute ball making this record and playing shows all over Europe during the past year. I'm sure there's much more fun to be had! I'd also like to give special thanks to Craig Jackson from Axesrus Guitar Parts for tolerating my ridiculous (and often plain cheeky) demands. The man is a true friend and an absolute diamond!"
Adrian: "Win Lose Or Draw" is our fourth album of the modern era. It will be instantly recognisable as a Salem UK album to our fans, the classic melodic rock element is still there, and of course we have the unmistakable lead vocals of Simon. Francis brings a harder, more modern edge to the music and has certainly dragged our song writing into the modern era, which we have enjoyed very much. So now, alongside the Deep Purple, Rainbow, Whitesnake and Sabbath influences, you might just catch a suggestion of Evanescence, Lacuna Coil and Alter Bridge in there too! We are sure that fans will notice the musicianship too, we have worked our nuts off to make this album the best it can be, so that we can give the knowledgeable heavy metal/heavy rock community a slice of top-quality British rock. No stone has been left unturned in the recording of this album, we are immensely proud of it."
"Win Lose Or Draw" will be released on November 8, 2019, on Dissonance Productions.
Links:
http://www.dissonanceproductions.co.uk/
http://www.facebook.com/DissonanceProductionsUK/
Source of Information: Bart Gabriel
AMBERIAN DAWN – Release New Single & Lyric Video "United"
17. October 2019
A poetic sound rises with AMBERIAN DAWN – Melodic ABBA-Metal from Finland
 AMBERIAN DAWN have just released their first single, "United", from the upcoming album, Looking For You, along with a lyric video that takes the listener to a futuristic world of the 80's and synthesizer music, mixed with familiar metal sounds. "United" and its detailed lyric video reflect the deeper meaning of the album concept. The song combines elaborate arrangements with glorious, majestic melodies, while the lyrics proclaim an unambiguous statement:
"We're all together and we are standing tall.
United we stand
Divided we fall"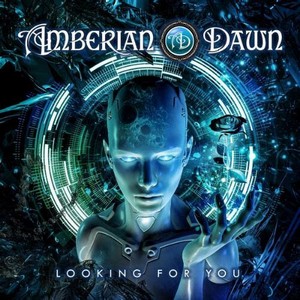 Tracklist:
United
Eternal Fire Burning
Looking for You
Two Blades
Symphony Nr. 1 Part 3 – Awakening
Go for a Ride
Butterfly
Universe
Lay All Your Love on Me (ABBA cover)
Au Revoir
Cherish My Memory (remastered)
AMBERIAN DAWN will release their eighth studio album, Looking For You, on January 31st 2020 and enter a new, but still familiar sounding, musical universe, mixing the best of both worlds into a new genre: ABBA-Metal! The new album is packed with well-polished and immaculate songwriting full of catchy melodies and epic keyboard parts that immediately send shivers down your spine.
The multi-faceted and emotional lyrics provide a suitable background for soaring guitars and elegant classical interludes: a highly addictive cocktail that is being topped off by a cover version of ABBA's "Lay all your love on me"!
Since their music changed from Power Metal to Symphonic Metal over the last years, AMBERIAN DAWN are now navigating into yet another new style, which is even more melodic, keyboard driven and influenced by the Swedish band ABBA. Therefore, they've been working closely with award-winning Finnish artist Kebu for over a month, to create the ingenious keyboard sound that can be heard on the recording.
Links:
http:/www.amberiandawn.com
http:/www.facebook.com/amberiandawn
Source of Information: Napalm Records Promotion Team; photo: Karri Harju
LION'S SHARE releases new single and lyric video "Pentagram".
15. October 2019
Swedish heavy metal band LION'S SHARE has made a new song available on on streaming services and digital service providers today, October 15th.
"The new single "Pentagram" is based on a true story about someone I know. All of a sudden he decided that his Christian name was shit. The person in question changed his name and got it approved by the authorities. The reason of the name change was due to the fact that he late in his life became a Satanist.
LION'S SHARE of course has nothing to do with religion or Satan what so ever, but this true story is so strange and hilarious that we had to write a song about it. It will be in the live set at the upcoming spring gigs as well" says LION'S SHARE singer Nils Patrik Johansson.
In late 2018 LION'S SHARE released a new five track EP, plus its complete catalog – remastered with new artwork on streaming services and digital service providers for the first time. The LION'S SHARE catalog features appearances by members and ex-members of KISS, Megadeth, King Diamond, HammerFall, Wolf, Symphony X, Chimaira, Therion, YngwieMalmsteen, Candlemass, etc.
Mixers include top engineers such as Jens Bogren (Arch Enemy, Opeth, Symphony X, Amon Amarth) – Niklas Flyckt (one-time Grammy award winner and four-time nominee) and Ronny Lahti (Roxette, Europe, Glenn Hughes, Electric Boys etc).
LION'S SHARE guitarist Lars Chriss says:  "We have all songs written for the next LION'S SHARE album and we're almost done with the recordings. We have also started booking festivals and shows for 2020. The first two confirmed dates are in Germany on March 6 and 7."
Links:
http://www.lionsshare.org/
https://lionsshare.bandcamp.com/
https://open.spotify.com/artist/4yIytMmJ2tx30YdMAMkDSo/
http://www.facebook.com/lionsshareband/
http://www.youtube.com/lionsshare/
https://www.instagram.com/lions_share_band/
Source of Information: Noterious Music