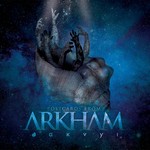 Chalani, ktorí robia hudbu podľa Lovecrafta? To som si ako jeho milovníčka nemohla nechať ujsť.
Reč je o havířovských Postcards from Arkham. Pôvodne vznikli ako projekt Øakvyl  všestranného umelca Mareka "Frodysa" Pytlíka (Awrizis, Primary Resistent), neskôr sa pretransformovali na riadnu kapelu. 7. decembra vydali štvrtý album, v ktorom tú ,,transformáciu" zavŕšili.
Studios a mastering si vzal na starosť známy Jens Bogren, ktorý spolupracuje s kapelami ako Opeth, Katatonia, alebo Swallow the Sun. Chalani z Postcards priznávajú, že spolupráca s Jensom je pre nich splneným snom. Hlavným autorom skladieb je stále Marek, ale tentoraz spoluhráči mali oveľa väčší podiel na vyznení svojich nástrojov, prípadne priamo stoja za niektorými aspektami piesní.
Hudba akoby nie z tohoto sveta, prichádza a odchádza vo vlnách, aby vás pripravila na potopenie sa do hĺbok k R´lyeh, kde Cthulhu čaká na svoj návrat. Výborné silné skladby, vymakané gitarové časti a spev, ktorý mrazí až do morku kostí. Texty podľa kníh známeho spisovateľa hororov musia dostať všetkých fanúšikov. Každá jednotlivá pieseň vás presvedčí, že "Frodys" je ozaj pán muzikant. Pekne vypracovaný obal je už len potvrdením kvality celej platne.
Ponorte sa do fantastického sveta Lovecraftových poviedok, z hlbín mora práve vychádza Cthulhu, aby nastolil nový poriadok. Pridajte sa k jeho uctievačom.
Lineup:
Marek "Frodys" Pytlík – spev, gitary
Jaroslav Mahr – gitary
Jakub Moj – basa
Jan "Lobotom" Gajdoš – bicie
Tracklist:
Prologue feat. Jeden Kmen
Yidhra feat. Jeden Kmen
Mutual Distortion
Spiritual Transcendence
Against Binding Gravity
Lost Home
Erich Zann Syndrome
Violet Suicide
Ten Steps Forward and Eleven Reasons to Go Back
Happily Never After
Rok vydania: 2019
Vydavateľstvo:Metal Gate
Youtube ukážka:

Linky:
facebook.com/postcardsfromarkham
postcardsfromarkham.bandcamp.com
instagram.com/postcardsfromarkham
Hodnotenie: 5/6