Behemoth – nová muzika v roku 2021
13.3.2020
Posledný album poľských black metalistov Behemoth –  I Loved You at Your Darkest vyšiel v roku 2018. Tento rok v máji bude znovuvydané ich EP And the Forests Dream Eternally z roku 1995. No podľa slov frontmana Nergala si na novú muziku budeme musieť počkať, až do roku 2021.
Linky:
http://behemoth.pl/
https://www.facebook.com/behemoth/
Zdroj: Blabbermouth, Foto:@summerbreezeopenair @natalia.die.hexe
Korpiklaani – singel so spevákom Achsar
13.3.2020
Fínski Korpiklaani zverejnili singel k skladbe Pivo Pivo, kde si zaspieval Milan Krištofik zo slovenskej kapely Achsar.
,,V júni 2018 nás oslovil Tuomas z kapely Korpiklaani, nakoľko sme práve s nim už predtým spolupracovali na našom singli Loud And Proud. Oslovil nás s ponukou zahostovať na ich vtedy čerstvo rozbehnutom projekte. Jednalo sa o projekt, kde ich skladbu "Beer Beer" prespievajú speváci zo 14 kapiel z rôznych kútov sveta vo svojom rodnom jazyku. Skladbu teda naspieval aj náš spev ak Milan. Oficiálne všetky skladby vyšli na nosiči ako bonus CD k ich tour edícii nového albumu Kulkija vo februári 2019. V marci 2019 dokonca naša verzia Pivo Pivo zaznela naživo na ich koncerte v bratislavskom MMC. Všetky skladby postupne zverejňujú ako na youtube, tak aj v iných streamovacich službách ako spotify a pod. Konečne došla na rad už i ta naša slovenská verzia ako predzvesť k ich slovenskému turné." – kapela Achsar.
Linky:
Korpiklaani:
http://korpiklaani.com/
https://www.facebook.com/korpiklaani/
Achsar:
https://www.achsar.bandcamp.com/
https://www.facebook.com/achsarofficial/
Zdroj: NUCLEAR BLAST Leoni Dowidat
Warbringer – druhý singel  z chystaného albumu
13.3.2020
Americkí thrasheri Warbringer 24. apríla vydajú vo vydavateľstve Napalm Records nový album Weapons of Tomorrow.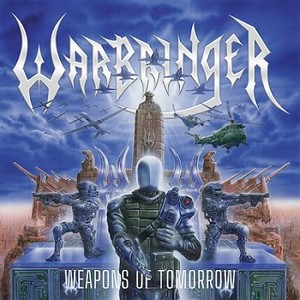 Tracklist:
Firepower Kills
The Black Hand Reaches Out
Crushed Beneath the Tracks
Defiance of Fate
Unraveling
Heart of Darkness
 Power Unsurpassed
Outer Reaches
Notre Dame (King of Fools)
 Glorious End
Druhým singlom k nemu je skladba The Black Hand Reaches Out:
Prvý singel Firepower Kills:
youtu.be/i1F_wfU19uQ
Linky:
www.facebook.com/Warbringermusic
www.warbringermusic.com/
Zdroj: All Noir – Mona Miluski
Ex Deo – singel so spevákom z Fleshgod Apocalypse
13.3.2020
Asi tri roky po vydaní albumu The Immortal Wars sú tu epickí death metalisti Ex Deo s novým singlom The Philosopher King. Na ňom si zahosťoval spevák talianskych symfonikov Fleshgod Apocalypse – Francesco Ferrini.
Ex Deo je bočným projektom speváka Kataklysm – Maurizia Iaconeho. Medzi členmi nájdeme ľudí z jeho domovskej kapely a basáka Dana Apekiana z Ashes of Eden. Ich texty sú orientované na tematiku starých Rimanov.
Linky:
https://www.facebook.com/exdeo
https://www.youtube.com/user/exdeo
Zdroj: Napalm Records