Rage – zmena zostavy a plány do budúcnosti  
6.5.2020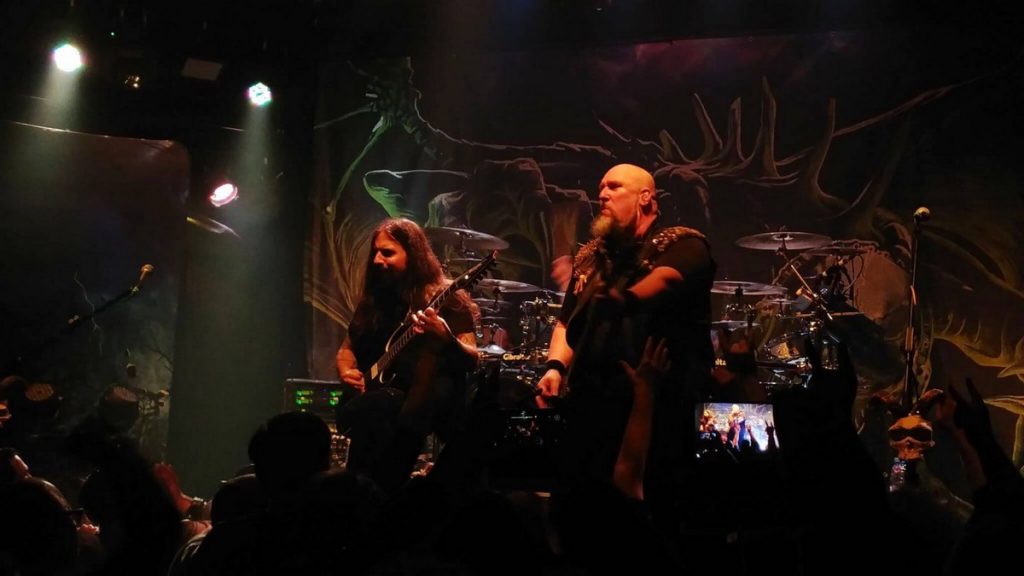 Opäť sa mení zostava v zoskupení Petra ,,Peavyho" Wagnera. Z Rage odchádza gitarista Marcos Rodriguez. Sam Peavy vyhlásil, že odchádza z osobných dôvodov a naďalej ostanú priateľmi a taktiež budu naďalej spolupracovať v zákulisí.
Ďalej uviedol: ,,Zároveň mám mnoho plánov do budúcnosti. Uvažujem o rozšírení zostavy o dvoch nových gitaristov. Mojou víziou je dokonalá zostava Rage, tak ako tomu bolo v 90-tch rokoch len lepšia a modernejšia. Teraz tvrdo pracujeme na tom, aby sme sa posunuli na túto úroveň a onedlho vám predstavíme novú zostavu kapely. Sledujte novinky a zostaňte zdraví…"
Linky:
http://www.rage-official.com/
https://www.facebook.com/RageOfficialBand
https://www.youtube.com/channel/UC_ETohsfT1X0H1pbWdFxq3w
Zdroj: https://www.facebook.com/RageOfficialBand
Nová zostava Nervosy
6.5.2020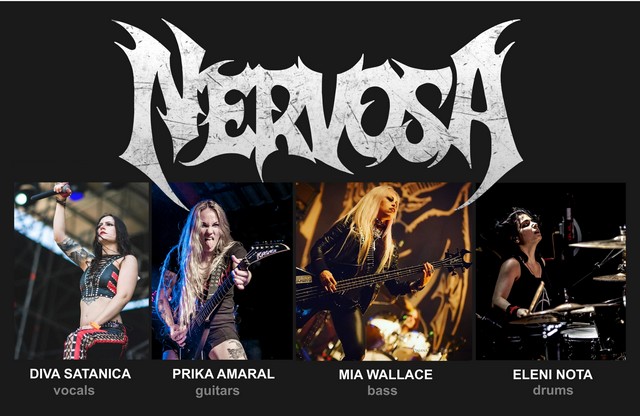 Koncom apríla došlo ku definitívnemu rozpadu brazílskeho tria Nervosa. Gitaristka Prika Amaral ostala sama. Dnešným dňom su už známe mená nových členiek.
Nervosa sa mení na kvartet. Za mikrofón sa postaví Diva Satanica, ktorá spieva aj v španielskej kapele Bloodhunter. Basu bude obsluhovať Mia Wallace (ex Abbath) a bubeníčkou bude Eleni Nota.
Linky:
https://www.facebook.com/femalethrash
https://www.nervosaofficial.com
Zdroj: Napalm Records Press News
KAAR vs. MURDER INC. 12" LP (29.05.2020), CD-DIGIPACK (05.05.2020)
7.5.2020
Třetí SPLIT titul v naší historii, jenž nabízí účast dvou smeček, jejichž tažení na scéně jsou už nějaký ten pátek spojená právě s naším skromným podnikem.
Po společných emisích 1000bombs s Bajonet a vinylovém trháku Exocizphobia/Catastrofy/Kaar přichází tentokrát na řadu úderka Murder Inc. v "překvapivé" společnosti neznabohů Kaar.
Obě formace se dle našeho (soukromého a zcela nepodstatného) názoru už nějaký ten pátek řadí ke špičce tuzemského thrashového pelotonu a troufáme si tvrdit, že s ohledem na obsah tohoto díla svoje těžce vydobyté pozice jednoznačně potvrdí!!!
01. Sodoma Gomora (3:40)
02. Nic nám není svatý (3:15)
03. Gehen zur Wand (4:09)
04. Potomci zrazení církví (3:40)
05. InTroll (1:30)
06. Anal Canal (2:45)
07. Pól chladu a krutosti (2:50)
08. Průmyslová smrt (2:10)
09. Totální válka (3:30)
Hudba: Kaar (1-4), Murder Inc. (5-9)
Texty: Kaar (1-4), Murder Inc. (5-9)
Kaar: studio DAVOS Records, produkce/master Otyn
Murder Inc.: studio HELLSOUND, produkce/master Jan Kapák
Artwork: Pen´n´ink design
Grafické zpracování: Lukáš Prskavec
KAAR:
Kouďák – basa, vokály
Honza – rytmická kytara, vokály
Tomas – sólová kytara, zpěv
Ozz – bicí
MURDER INC.:
Petr – zpěv, kytary
Lukáš – kytary
Fanda – bicí
Vendy – basa
Bandcamp: https://kaarthrash.bandcamp.com/
Facebook: https://www.facebook.com/KAARthrash/
Bandzone: http://bandzone.cz/kaar
E-mail: kapela.kaar@seznam.cz
Bandcamp: https://murderinc.bandcamp.com/
Facebook: https://www.facebook.com/RawThrash666/
Bandzone: http://bandzone.cz/murderinc
E-mail: Murder.Inc.Thrash@seznam.cz
Official Album Trailer: https://www.youtube.com/watch?v=DdhdvB5vhhE
Tlačová správa
Dávka adrenalínu na skalách, ale aj boj so závislosťou v novom klipe od SYMFOBIA
Slovenské jednotky symfonického metalu využili koncertnú pauzu na natočenie ďalšieho videoklipu.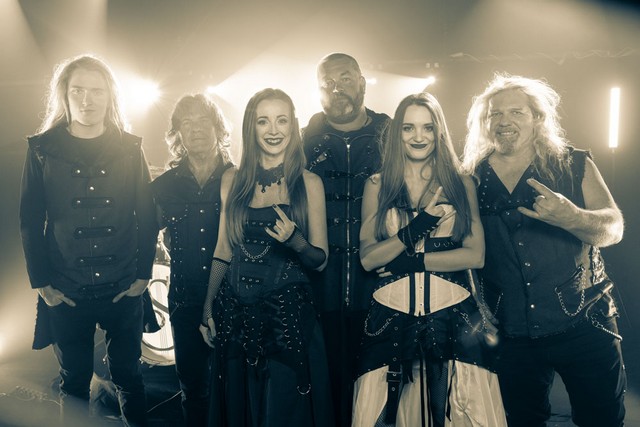 NITRA. Slovenská kapela SYMFOBIA mala v týchto dňoch končiť dve české turné s kapelami CITRON a NO CONTROL a pomaly sa pripravovať na letné festivaly. Súčasná situácia s pandémiou nového koronavírusu im tieto plány zmarila.
Symfonici však pracovali aj na novom videoklipe a koncertné vákuum vyplnili ďalším vydareným obrazovým materiálom ku titulnej skladbe "Smog of Tomorrow" zo stále aktuálneho albumu, ktorý vyšiel v marci 2019.
SYMFOBIA spolupracovali už s osvedčeným triom – kameramanom Jakubom "Točičom" Chochulom, režisérom "Vladimírom "Valom" Kozaňákom z Nitry a scenáristom Vladimírom Dubeňom, ktorí sa podieľali aj na predošlých videoklipoch ku skladbám "Bury It" a "Flowing Down".
Prečo sa videoklip ku titulnej skladbe druhého albumu točil až po roku od jeho vydania? "Chceli sme ho urobiť už dávnejšie. Minimálne rok sme o tom hovorili, ale nakoniec sme sa vždy rozhodli pre videoklip na inú skladbu, vždy z iného dôvodu. Každopádne, naši fanúšikovia si ju stále pýtali, čiže sme vedeli, že ju určite raz urobíme," prezradila s úsmevom jedna zo speváčok kapely Erika Strečková.
Klip sa natáčal na troch miestach počas dvoch dní. Najskôr sa točilo v Kultúrnom dome v Šali, odkiaľ pochádzajú vydarené zábery s kapelou. Lezecké zábery sa točili na Zobore na dvoch menších skalách dookola.
"V klipe to vyzerá, akoby sme zdolávali veľkú skalu," zasmiala sa Erika. Ako ďalej prezradila, točenie lezeckých záberov bolo veľmi príjemné a aspoň si všetci trošku zašportovali.
Na natáčanie dozeral skúsený horolezec
Z klipu sa môže zdať, že natáčanie bolo adrenalínové, prípadne nebezpečné. "Celý čas bol s nami skúsený horolezec Rasťo Kaňa, ktorý zdolal kopce ako Mont Blanc, Elbrus, Ararat či Kazbeg. Čiže pri ňom sme sa naozaj obávať nemuseli ničoho. Všetko nám vysvetlil a dával na nás veľký pozor," povedala Erika.
Aj keď priznala, že raz jej všetko jedno nebolo. "V rozpakoch som bola, keď odo mňa chceli zahrať ten pád, ktorý je v klipe. Nerozumela som, čo odo mňa chcú, pretože režisér si to predstavoval inak, kameraman tiež a Rasťo Kaňa mal o tom svoju predstavu. Každý mi hovoril niečo iné. A to rozhádže človeka aj na zemi, nie to ešte keď visí vo vzduchu," zasmiala sa.
Smog zajtrajška ako zrkadlo našich temných stránok
Skladba "Smog of Tomorrow" je taký malý paradox. Niekto by možno čakal, že podľa zvolených tém druhého albumu SYMFOBIA, či temného bookletu, bude titulná skladba o nejakej kritike spoločnosti. Avšak, opak je pravdou.
"Táto pieseň je o povzbudení konať správne, aby sa nám tu spolu žilo lepšie. Myslím, že každý si z tej skladby vie nájsť to svoje, pretože je tam veľmi veľa odkazov a nedá sa povedať jednoslovne o čom skladba je. Avšak smog zajtrajška vnímame ako zrkadlo našich temných stránok. V našich textoch hovoríme o momentálnych globálnych problémoch, doposiaľ sme ale ešte ani v jednom texte nespomenuli závislosť na niečom či niekom, pritom je to veľmi dôležitá téma, o ktorej treba hovoriť. Preto sme boli radi, keď nám náš filmársky tím oznámil, že chce spojiť túto tému s našim textom," vysvetlila Erika.
Simona ako závislá
Simona Janovičová sa vo videoklipe prezentuje ako človek závislý na alkohole a drogách. "Je to také zvláštne, že práve ja, čo v bežnom živote odmietam aj tabletku od bolesti hlavy, som obsadila rolu závisláčky od tabletiek, drog, alkoholu… Samozrejme, nik z nás nemôže tvrdiť, že "toto sa ma netýka", alebo "mne sa to stať nemôže". Ako som si to mohla v klipe vyskúšať, určite nechcem zažiť pocit, že strácam kontrolu nad vlastným životom. Že to už nie som ja, kto o ňom rozhoduje. Viem si predstaviť, aké je ťažké túto úlohu získať späť. Našťastie sú medzi nami ľudia, ktorí pomáhajú," vyjadrila sa Janovičová ku svojej úlohe v najnovšom videoklipe kapely.
Metal si nevyberá
Obe speváčky sa však zhodujú, že samotné natáčanie videoklipov je zábavné a prináša kopu vtipných a nezabudnuteľných momentov. "Veľa sme sa nasmiali, vlastne ako vždy," povedala Janovičová.
"Ako vždy keď natáčame videoklip, aj tentokrát sme zažili nezabudnuteľné momenty. Predstavte si, že máte vypeckovanú hudbu na celú sálu v kultúrnom dome, a príde za vami nejaký pán, že či by sme to nemohli stíšiť, pretože vedľa majú baptisti omšu. O ďalšiu pol hodinu, práve keď sa točia zábery s bubeníkom, ktorý do toho práši o stošesť, príde za vami ďalší pán, že dokedy tu budeme, pretože nad nami majú šachový turnaj a nemôžu sa sústrediť. Hold, metal si nevyberá…," zakončila so smiechom Erika.
Text: Stanislav "Stillborn" Černák
www.symfobia.sk
https://www.facebook.com/symfobia/
https://www.facebook.com/ErikaStreckovaOfficial/
Youtube Channel: https://www.youtube.com/channel/UCtl56TgM8nsrZSNz_0S5P5A
Tlačová správa