Primal Fear – new single and video "I Am Alive" out now!
19. June 2020
PRIMAL FEAR will release their highly anticipated 13th studio album, "Metal Commando" on July 24th. The title of the album is self-explainatory – "Metal Commando" contains 110% PRIMAL FEAR and is full to the brim with their signature power and energy.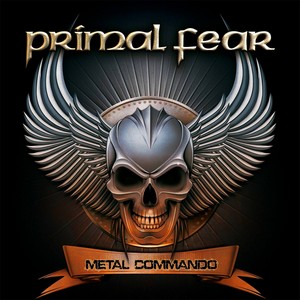 Tracklist:
I Am Alive
Along Came The Devil
Halo
Hear Me Calling
The Lost & The Forgotten
My Name Is Fear
I Will Be Gone
Raise Your Fists
Howl Of The Banshee
Afterlife
Infinity
Bonus CD (Ltd. Edition 2-CD Digipak)
Rising Fear
Leave Me Alone
Second To None
Crucify Me
Last month, the band released the first single 'Along Came The Devil' and also kicked off the pre-order for physical products. Today, the second single 'I Am Alive' is released digitally, along with a video clip, that you can watch here:
"'I Am Alive' is the opening track of the new album and a statement in these rough times. Between the speed of the double bass drumming plus grooves and fat guitar riffs, is one of the best PRIMAL FEAR hooks ever. You can look forward to a real banger of a song that is representative of our new album – "Metal Commando".", comments bassist and producer Mat Sinner.
"Metal Commando" was produced by Mat Sinner and mixed by Jacob Hansen – an experienced dream-team.
"I don't want to throw around superlatives, but each of us went to their utmost limits and we are all very happy with the sound and song material. It's pretty safe to say that this is a top album and maybe even our strongest record to date", comments bassist and producer Mat Sinner.
"It's the perfect mix between our origins and our current style, a perfect balance and all band members did an awesome job playing and recording it. For me, "Metal Commando" is the right album at the right time!".
The first single:
https://youtu.be/ReyDqJIxx5g
Links:
https://www.primalfear.de/
https://www.facebook.com/PrimalFearOfficial/
Source of Information: NUCLEAR BLAST Markus Wosgien
UNLEASH THE ARCHERS Releases Otherworldly Music Video for New Track "Abyss"
18. June 2020
Earlier this month, Canadian melodic power metal quartet UNLEASH THE ARCHERS announced the upcoming release of their fifth full-length album, Abyss, out August 21, 2020 via Napalm Records. Lifted by the urgent, breathtaking vocals of frontwoman Brittney Slayes, on Abyss, the band re-cements themselves as an unequalled, undeniable metallic force with their strongest album to date.
Today, the band is thrilled to reveal a brand new, otherworldly music video for the album's colossal title track, "Abyss". Musically, the track unveils the diversity of UNLEASH THE ARCHERS, delivering one earworm moment after another.
Its accompanying video, directed by Rod Scobie (also director of the band's music videos for "Awakening" and "Northwest Passage"), takes the viewer on a CGI rollercoaster ride – launching them firmly from the terrestrial plane to the celestial one. At first, the viewer could assume they're viewing a regular performance video, but little hints here and there begin to reveal that it is far from your average clip!
Frontwoman Brittney Slayes says about "Abyss":
"This track set the tone for the whole record; conceptually, lyrically, musically, it all started here.  Andy came up with the opening riff back when we were writing Apex, but I knew right away it didn't belong on that record.  When we finally started writing Abyss in 2019, this was the first song we wrote and it was the first song I listened to when the record was done. It symbolizes five years of hard work for us, and I think it does a great job of putting the listener in the right place emotionally to start the record. It hints at what the rest of the album is all about, but also doesn't give it all away, not by a long shot!"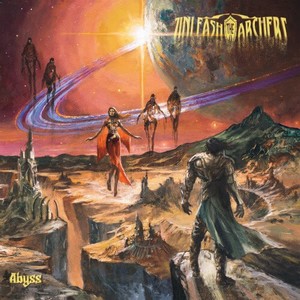 Tracklist:
Waking Dream
Abyss
Through Stars
Legacy
Return To Me
Soulbound
Faster Than Light
The Wind That Shapes The Land
Carry The Flame (feat. guitarist Andrew Kingsley on guest vocals)
Afterlife (feat. orchestration by Francesco Ferrini)
Watch the otherworldly music video for "Abyss

Beginning with a dreamlike acoustic introduction accented by the smoky beckonings of singer Brittney Slayes, opener "Waking Dream" quickly punches into a colossal wall of sound, setting the stage for the auditory escape that is Abyss.
Powerful anthems such as the immense power metal-encapsulated title track "Abyss" and metallic pop-tinged earworm "Through Stars" conjure classic elements while maintaining an entirely fresh, forward-thinking approach.
Guitarists Andrew Kingsley and Grant Truesdell turn heads with wicked work on stellar tracks such as "Legacy" (fans of artists like Devin Townsend and Astronoid, take note), while Slayes showcases her incredible vocal diversity and range on mighty epics like "Return To Me" and "The Wind That Shapes The Land". 
Drummer Scott Buchanan makes technical strides on burners "Soulbound" and "Faster Than Light" – setting breakneck twists and turns ablaze with his bandmates. UNLEASH THE ARCHERS rounds the edge of Abyss with throwback-hued "Carry The Flame", and wraps up with the soaring, rewarding concept closer "Afterlife".
Thematically, Abyss is the direct sequel to the band's 2017 album Apex. Brittney Slayes explains about the concept:
"Our protagonist, The Immortal, is once again awakened at the beginning of our story, but this time he is in an unknown place: a ship out in deep space. He wanders alone for a time, reflecting on his misdeeds, searching for his new master. Finally, he finds him, and learns that it is the Grandson of The Matriarch, our antagonist.
The Immortal had taken The Grandson's father away some sixty years before, to be sacrificed by The Matriarch in a ritual to achieve immortality (the events from Apex) and now the Grandson seeks revenge against The Matriarch with the aid of her own weapon, The Immortal.
This album is a classic take on good versus evil, light versus dark, The Grandson versus The Matriarch, but it also uses the 'person versus self' literary device in that The Immortal is battling with the good and evil within himself, and must decide in the end if he is simply a tool for others to use, or a man with free will and the ability to choose his own path; a struggle I think every human can relate to."
Abyss was once again engineered, mixed and mastered by Jacob Hansen of Hansen Studios in Denmark (Volbeat, Delain, Amaranthe), with production by guitarist Andrew Kingsley. Additionally, transcendent closer track "Afterlife" features orchestration contributions from Francesco Ferrini of Italian symphonic death metal machine Fleshgod Apocalypse. 
Fans will notice that, unlike on Apex, Abyss incorporates a weighty dose of synth in the mix, and for the first time ever, all tracks were written on seven strings – adding to the massive expanse of the album's sound as it explores the celestial realm.
The first teaser:
https://youtu.be/XRD3vrSLPaw
Links:
https://www.facebook.com/UnleashTheArchers
https://www.unleashthearchers.com
Source of Information: Napalm Records, Photo: Shimon Karmel, Cover: Adam Burke
MERCURY CIRCLE (feat. members of SWALLOW THE SUN) sign worldwide record deal with Noble Demon and announce first EP!
16. June 2020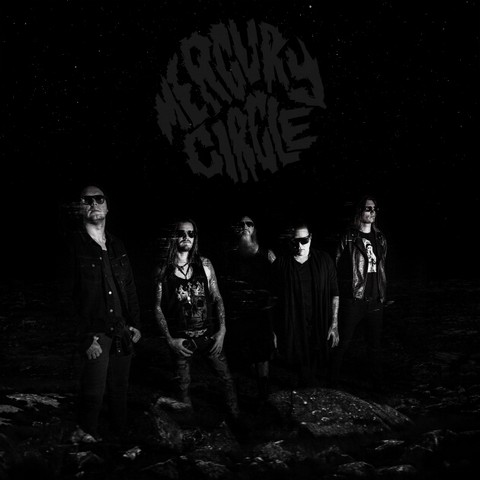 Noble Demon is proud to announce the newest signing to their eclectic artist roster: MERCURY CIRCLE, the brand new project by ICONCRASH's and SWALLOW THE SUN's Jaani Peuhu, has signed a worldwide deal with the German record company!
Dark metal infused with powerful synth/electro waves and doom – Helsinki, Finland based MERCURY CIRCLE is creating a diverse offering of atmospheric and darkly music where the songs differ wildly in expression and sonic aesthetics.
Truly a genre of its own, grabbing the listener's attention while establishing their very own kind of "New Doom".
Says Jaani Peuhu about the signing:

"We are so excited about these news! I was on a North American tour with Swallow the Sun supporting Children of Bodom and we shared a bus with Wolfheart. One day I was chatting with Tuomas Saukkonen about our future plans and he told me about this new label who will release the Dawn of Solace album.
I have known Tuomas since he started with Before the Dawn because I produced their first two albums and I know that he knows what he is doing. Always.
I'd already forgotten the conversation we had, but a few months later I was talking about the Mercury Circle album with an A&R of one of my fav labels and he said that Noble Demon would be a perfect label for us because I want to do something fresh and fearless with this band. No rules and 100% artistic freedom. Our agent then contacted Patrick and he instantly understood my vision and we have been a team since."
Furthermore he comments: "Noble Demon does not care about social media numbers or how many gigs we have played. They were willing and excited to start an adventure with a band who were still working with their first demos. That is rare these days when nothing is certain in the music industry. All that matters to me and Noble Demon is the quality of the art."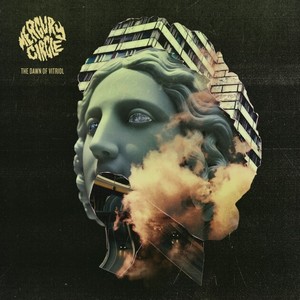 Tracklist:
Oil Of Vitriol
The Beauty Of Agony
Black Flags
The Last Fall
New Dawn
Already preparing for their first full length record for late 2020, today MERCURY CIRCLE announced the release of "The Dawn Of Vitriol", the band's first EP and a fantastic preview of what to follow.
To be released on August 14th on Noble Demon (Digital) and The Vinyl Division (Vinyl + Digipack CD), make sure to check out the official trailer and a first appetizer for "The Dawn Of Vitriol", streaming here:
 Two times Finnish grammy award nominated producer, songwriter and musician Jaani Peuhu, who joined SWALLOW THE SUN in the year of 2019 and has also worked with various multiplatinum-selling Finnish pop artists and metal acts like Before The Dawn, Lord of the Lost, Thunderstone and Hallatar, continues to stir up the scene with his brand new and unique sounding project, MERCURY CIRCLE.
MERCURY CIRCLE are:

Jaani Peuhu – Vocals, Guitars, Synths (Iconcrash, Swallow the Sun, Hallatar)
Jussi Hämäläinen – Guitars, Synths, Backing vocals (Hanging Garden, The Chant)
Juppe Sutela. – Guitars (To/Die/For)
Ande Kiiski – Bass (Sleep of Monsters, Rytmihäiriö)
Juuso Raatikainen- Drums (Swallow the Sun)
Links:
https://www.facebook.com/Mercurcy Circleofficial
https://www.instagram.com/mercurycircleband
http://nobledemon.com
https://fb.me/nobledemonrecords
https://www.instagram.com/nobledemonrecords/
https://nobledemon.bandcamp.com/
http://facebook.com/TheVinylDivision/
Source of Information: Dominik Goncalves dos Reis/ALL NOIR, Photo: Raisa Krogerus & Digital retouch: Danna
THE AGONIST Releases New Video For "Orphans"
15. June 2020
September 2019 saw melodic death metal juggernaut, THE AGONIST, release their sixth studio album, Orphans, via Rodeostar Records.  With Orphans the band delivered their most extreme, melodic, and larger-than-life sounding record to date.
Filmed in haunting black and white, the video dances between striking, dramatic and abstract images of frontwoman Vicky Psarakis as she delivers the eerie message of the track:
"The story behind "Orphans" was inspired by the novel "We Have Always Lived in the Castle" by Shirley Jackson. It emphasizes the feeling of "not belonging" and the social and physical isolation that comes as a Even though we've all felt like outcasts at some point in our lives, it's important to remember that we're never truly alone and that there's always someone there for you. We're all "Orphans", but we're in this life together."
Links:
https://www.facebook.com/TheAgonistOfficial
Source of Information: Rodeostar Records