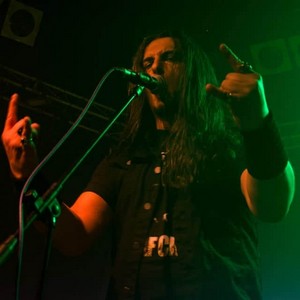 Na talianskych heavy metalistov Walkyrya si možno niektorí pamätáte zo žilinského koncertu. V súčasnosti pracujú na návrate na Slovensko. Spevák Vincenzo Santopietro porozprával o tom, ako si spomína na hranie v Žiline, o ich poslednom albume aj o všeličom inom.
Zdravím Vincenzo, je Walkyrya pripravená návrat na Slovensko?
Vincenzo: Zdravím. Samozrejme. Walkyrya je pripravená. Na predošlom turné sme už hrali na Slovensku (v Žiline) a nemôžem sa dočkať, kedy sa vrátime aby sme mohli opäť hrať pred úžasnými slovenskými fanúšikmi. Skutočne dobre publikum. 😉
Na čo sa môžeme tešiť na vašich koncertoch?
Vincenzo: Na úžasné živé prevedenie nášho albumu The Invisilbe Guest a srdečnú show, headbang, čistú energiu a zapojenie fanúšikov a navyše nejaké nové piesne.
Vedel by si už povedať nejaké konkrétne detaily o vašich pripravovaných koncertoch?
Vincenzo: Zvyčajne hrávame v malých kluboch – v zahraničí aj v Taliansku. Na Slovensku sme hrali v krásnej Žiline – v nádhernom klube, ktorý sa volá 12 opíc. Snívame o návrate na Slovensko – o tom, že zahráme v ďalších mestách.
Zatiaľ posledný album The Invisible Guest ste vydali v roku 2018. Ako ho hodnotíš s odstupom času?
Vincenzo: The Invisible Guest bol album zmeny – zmena pre fanúšikov aj pre nás. Uplynuli už dva roky, no fanúšici nám hovoria že sa nikdy neopočúva. Vďaka nemu sme sa stali známejší v Taliansku aj medzinárodne. Groove, energia a melódie z albumu stále sršia!
Zmenil by si na ňom niečo?
Vincenzo: Nie. Na tomto albume by som nič nemenil – vznikol pod šťastnou hviezdou. Možno v budúcnosti poviem niečo iné, ale teraz som s ním spokojný.
Ako to vyzerá s jeho nástupcom?
Vincenzo: Áno, už počas posledného turné vo východnej Európe, ktoré sa konalo minulú jeseň sme prichystali dve nové piesne. Keď sme mali lockdown, gitarista Federico dal do kopy nejaké nápady a ja som písal texty, takže sme vytvorili songy na nový album, ešte tvrdší ako naposledy.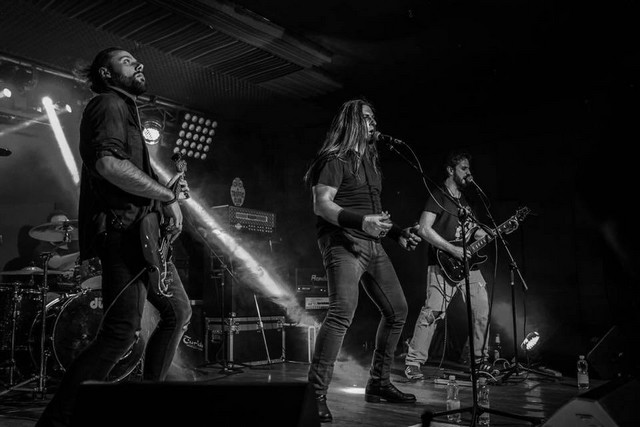 Porozprávaj niečo o bežnom živote členov kapely Walkyrya (záľuby, záujmy).
Vincenzo: Ja som účtovník vo firme, zaoberajúcej sa veľkoobchodom s pivom a alkoholickými nápojmi. Mojím hobby sú knihy, komixy a všetko súvisiace s domorodými Američanmi a svetom hororu. Gitarista Federico je fyzioterapeut a športový expert. Jeho záľubou sú videohry. Basák Aran je tréner a jeho koníček je Taekwondo. Tiziano – bubeník pracuje v miestnom rádiu a taktiež sa venuje videohrám.
Ako hodnotíš taliansku rock/metal scénu z tvojho pohľadu?
Vincenzo: Talianska metal scéna rastie a jej kvalita sa tiež zlepšila. Ale nemáme miesta na koncerty.
Ok, ďakujem za rozhovor a poprosím ťa o nejaký ten odkaz pre čitateľov.
Vincenzo: Bratia a sestry zo Slovenska. Ja a Walkyrya sa nevieme dočkať, kedy už konečne zahráme vo vašej nádhernej krajine. Snáď čoskoro vydáme niečo nové. Ostaňte pozorní!
Youtube ukážka:
Linky:
https://www.facebook.com/pages/WALKYRYA/185816099602/
https://walkyryaband.bandcamp.com/
https://twitter.com/walkyryaband/
Za spoluprácu na článku patri poďakovanie Jurajovi Ondrejmiškovi 🙂