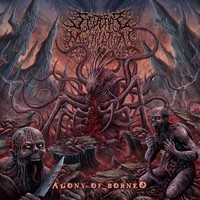 Takže toto je brutal death metal projekt jedného muža z Tanah Grogot. Ten sa nachádza vo Východnom Kalimantane, ktorý je jednou z provincií Indonézie. Rozkladá sa na východe Kalimantanu, indonézskej časti ostrova Borneo. Hlavné mesto je Samarinda so 600.000 obyvateľmi.
Kapely z týchto krajín nemajú na ružiach ustlané. Niekde to síce ako tak tolerujú, inde nie. Napr. egyptská televízia pred časom natočila a odvysielala film, ktorý mal všetkých odradiť od počúvania nevhodnej hudby. Snímka pojednáva o štvorici káhirských metalistov, ktorí prepadnú satanizmu a skončia ako narkomani a kriminálnici. Americký historik umenia Mark Levin študoval, ako západnú muziku prijímajú ľudia v islamských štátoch. Zistil, že medzi mládežou od Maroka po Pakistan je veľmi populárny práve metal a jeho rôzne odnože.
Štyri z deviatich skladieb má anglický názov. Zvyšok je pravdepodobne v indonézštine. V spomínanej oblasti sa ešte používa banjarština a dajácke jazyky. Dve kompozície, Carcass Amputated a Kerusakan Organ Otak, vyšli už minulý rok na Promo 2019. Obe vydal Pathologically Explicit Recordings. Album otvára intro akoby z oného sveta. Po ňom sa začína výlet do pekla na vlastné uši. Tým peklom je džungľa. Dekadencia bažín s jej agóniou doženú poslucháča k zúfalstvu. Pred treťou skladbou nasleduje ďalšie skvelé apokalyptické intro. Ultra hlboký vokál, občas sa mihne druhý, rýchle, aj pomalé technické riffy lemujú celý tento adventúrny hororový survival. V kanáloch džungle na vás striehnu všetky druhy rytmov. Na chvíľu si ešte vydýchnete počas nepredstaviteľnej hrôzy v intre pred šiestou skladbou a potom už definitívne padnete k zemi
Čakajú na vás viac ako tri desiatky minút strávených v labyrinte frustrácie a s nohami v blate Bornea. Avšak uvítal by som viac rôznych hlasov. Do tohto zverstva sa to priam pýta.
Lineup:
Putra Riezky – spev, všetky nástroje
Tracklist:
Impending Destruction (intro)
Emas hitam pualu bormeo
Murka dunia
Human Rotten
Membunuh atau mati
Kerusakan organ otak
Jeritan kesakitan
Carcass Amputated
Infected Agony
Rok vydania: 2020
Vydavateľstvo: Pathologically Explicit Recordings
Youtube ukážka:
Linky:
https://www.facebook.com/sederai.mutilation/
https://sederaimutilation.bandcamp.com/
Hodnotenie: 5/6