BRUTAL ASSAULT #25
10. – 14. srpna 2021 | pevnost Josefov
5 dnů – 5 pódií – 130+ kapel – horor kino – výstavy
Léto je bez festivalů, vpusťte si jeden až do domu! BRUTAL ASSAULT je součástí EMFA – mezinárodního online festivalu!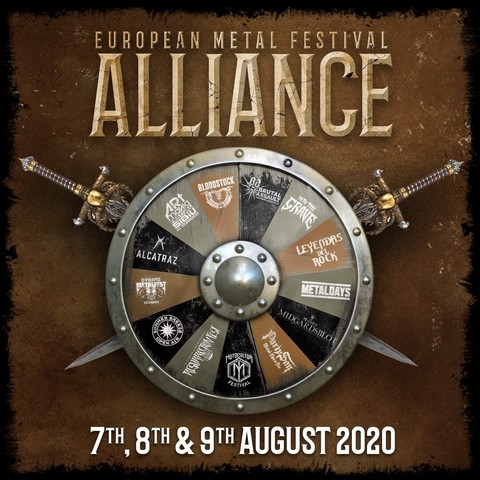 Jezdíte každé léto na fesťáky? Chybí vám? Rádi byste, aby se příští rok vše vrátilo do normálu? Pořiďte si vstupenku na EMFA festival, jehož součástí je i BRUTAL ASSAULT!
EMFA, Evropská aliance metalových festivalů, je letošní léto de facto jediný fest, na který se 'tak ňák' můžete dostat. Navíc z pohodlí domova. Tenhle unikátní online projekt 13 festivalů z 10 evropských zemí vznikl pro záchranu a rozmělnění letošního nefestivalového léta, které je v tomto období obvykle nabito akcemi. Pokud je pro vás zachování festivalového sektoru v Evropě důležité, dejte EMFA a zúčastněným kapelám svou podporu a spolupodílejte se na přežití nezávislých festivalů, které se virové době postavily společně.
Tato jedinečná akce během víkendu 7. – 9. srpna přinese speciální streamovaný festival s primárně novými a exkluzivními vystoupeními dle výběru každého festivalu, která byla na různých místech Evropy natočena výhradně pro tuto příležitost.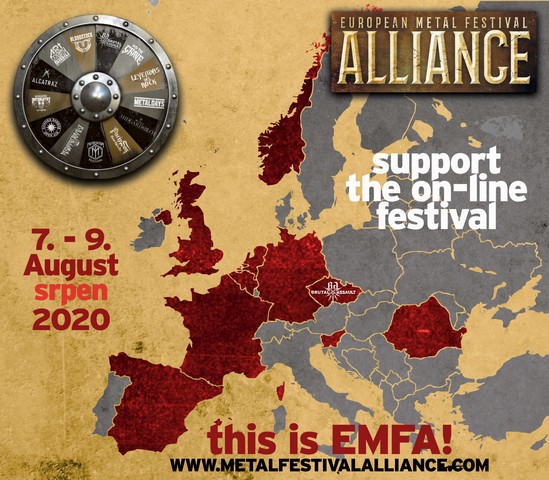 O tomto festivalovém víkendu dostanete:
– předtím neviděné a nikde zveřejněné sety: SABATON (headliner show z Bloodstocku 2019), AVATAR (headliner show z Alcatrazu 2019), stejně jako koncerty THY ART IS MURDER, NAPALM DEATH, GRAND MAGUS a BATTLE BEAST (ze Summer Breeze 2019), HARAKIRI PRO SKY (Party.San 2015) a DEMOLITION HAMMER a TERROR (koncerty z Brutal Assaultu 2019 a 2018). A také dříve nevydané živé skladby DEE SNIDERa (z Bloodstocku 2019)
– širokou škálu zcela nových, pro EMFA speciálně natočených koncertů: ROTTING CHRIST, AMENRA, GUTALAX, HEIDEVOLK, BUTCHER BABIES, PRIMORDIAL, KAMPFAR, VENOM INC., ALIEN WEAPONRY, ORANGE GOBLIN, LEGION OF THE DAMNED, EVERGREY, CULT OF FIRE, ANGELUS APATRIDA, EVIL INVADERS, DER WEG EINER FREIHEIT, SVART CROWN, DESERTED FEAR, PARASITE INC., VENOM PRISON, MASS HYSTERIA, UNLEASH THE ARCHERS ad.
– krom živých vystoupení řadu nových videohovorů, pořízených rovněž speciálně pro EMFA: co např. DEVIN TOWNSEND, JAMEY JASTA, PHIL RIND, DEE SNIDER, BIFF BYFORD, WINSTON MCCALL, CRISTINA SCABBIA, WEDNESDAY 13 a mnoho dalších dělali, aby se doma během pandemie zabavili, připravovali novou hudbu atpd.?
– z pohodlí vlastní pohovky 3 dny exkluzivní zábavy (koncerty, rozhovory ad.) se zpětným přehráním do 48h od více než 40 metalových kapel plus další speciální obsah
– šanci vyhrát něco z více než 100 cen od všech festivalů – vstupenky na všech 13 festivalů, na festivaly dle vlastního výběru, vouchery do e-shopů ad.
"Celodenní festivalová vstupenka" v hodnotě € 6,66 a další balíčky jsou k dostání na adrese www.MetalFestivalAlliance.com, kde rovněž naleznete další informace a celou řadu dalších záběrů, včetně koncertních setů, které též nebyly dříve vysílány.
Evropská metalová aliance je společný podnik festivalů Brutal Assault (CZ), Summer Breeze (Německo), Bloodstock (UK), Metal Days (Slovinsko), Motocultor (Francie), Alcatraz (Belgie), Party.San (Německo), Resurrection (Španělsko), Dynamo (Nizozemsko), Into The Grave (Nizozemsko), Leyendas Del Rock (Španělsko), ARTmania (Rumunsko) a Midgardsblot (Norsko).
Takže ještě jednou, EMFA festival se koná 7. až 9. srpna – dejte evropským festivalům svou podporu a staňte se součástí historické akce!
Tlačová správa