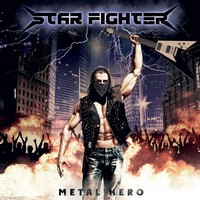 Debut amerického projektu Star Fighter – Metal Hero je priam určený pre všetkých milovníkov metalového klišé 80-tych rokov. Jedným z nich som aj ja, tak sa nehnevám. Všetko je to tak nejak príjemné, texty úsmevné, obal komický. Tento projekt doslova nesie odkaz Scorpions, NWOBHM a Riot.
Čo ma skutočne mrzí je hrozný naprogramovaný zvuk bubnov a tenký zvuk gitary. Niekedy ju basa doslova prehlučí. Pri tretej Storm King, ale dôjde pocit áčkovosti a začnete si album užívať. Tá je asi aj vrcholom. Ide to vlastne jedna dobrá vec za druhou a ničím to neurazí. Len žiaľ asi ani tak neohúri, že sa k tomu budem často vracať. Celá platňa ale znie ako metalová verzia Scorpions aj vďaka riffom, ale hlavne kvôli spevu. Ten má podobné nosové zafarbenie.
Myslím, že snaženie tohoto zoskupenia má určite potenciál a budúcnosť. Len sa musí viac zaoberať hudbou pri skladaní a nie len si povedať veď takto to stačí.
Lineup:
Ross Percy – spev
Steve Hays – gitary, basa, doprovodné vokály, klávesy, bicie
Hostia:
Mark McGee – všetky sóla
Adam Bernie – klávesy
Tracklist:
Metal Hero
Star Fighter
Storm King
Chasing the Dragon
Princess of Darkness
Live to Rock
I Want More
Jonestown
Epilogue (Star Fighter Theme)
Rok vydania: 2020
Vydavateľstvo: Samovydanie
Youtube ukážka:
Linky:
https://www.facebook.com/starfighter.us/
https://www.youtube.com/channel/UCw8O9QUcNvUe6Mxy7-GHD5w
Hodnotenie: 4/6
Páčil sa ti tento článok?