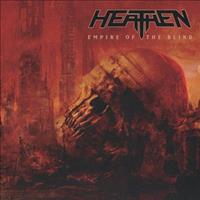 Táto americká thrash metalová kapela vznikla už v roku 1984. V 1993-ťom prerušila činnosť a znova začala hrať až v roku 2001. Napriek tomu, že nikdy nedosiahla výraznejší komerčný úspech, je Heathen všeobecne považovaný, spolu s kapelami Testament, Violence, či Forbidden za jedného z lídrov thrash metalovej scény 80-tych rokov. Doteraz páni vydali len štyri štúdiové albumy. Ten najnovší Empire of the Blind vychádza po jedenástich rokoch 18. septembra 2020 v nakladateľstve Nuclear Blast.
Pri kvalite, akú mali predchádzajúce tri albumy, je celkom zvláštne, že táto banda nie je známejšia. A po vypočutí si novinky to chápem ešte menej. Možno je to tým, že vydali tak málo albumov, alebo ja mám divný vkus.
Prvá vec, na ktorú ma okamžite dostali, sú vážne skvelé gitarové sóla a samozrejme, nájdete tu aj silné drásavé vokály a slušné bicie. Hudba si zachováva stabilnú kvalitu celým albumom a vyslovene slabé miesta tu nenájdete. Aj keď nijako nevybočuje z klasickej predstavy thrash štýlu, komu to vlastne vadí? Je chytľavá a parádne vás nabudí.
Novinku Empire of the Blind som si vychutnala ako dobrú whisky. Ak si nejaká kapela zaslúži viac fanúšikov, je to Heathen.
Lineup:
David R. White – spev
Kragen Lum – gitary
Lee Altus – gitary
Jason Mirza – basa
Jim DeMaria – bicie
Hostia:
Gary Holt – gitary
Rick Hunolt – gitary
Doug Piercy – gitary
Tracklist:
This Rotting Sphere (instrumental)
The Blight
Empire of the Blind
Dead and Gone
Sun in My Hand
Blood to Be Let
In Black
Shrine of Apathy
Devour
A Fine Red Mist (instrumental)
The Gods Divide
Monument to Ruin (instrumental)
Rok vydania: 2020
Vydavateľstvo: Nuclear Blast
Youtube ukážka:
Linky:
https://www.facebook.com/heathen.official/
https://heathentrash.bigcartel.com/
https://www.nuclearblast.de/heathen/
Hodnotenie: 4,5/6