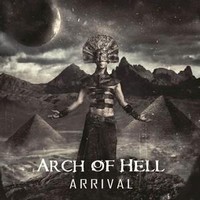 Česká a slovenská metalová scéna je až prekvapivo plná dobrých kapiel. Naozaj asi nedokážete sledovať všetky. Ale Arch of Hell, melodic death metalová kapela z Brna, jednoznačne stojí za sledovanie a to nie len kvôli skvelým vokálom Terezy Nesvadbovej. Len pre predstavu tým, ktorým Arch of Hell nič nehovorí – hudobne sa dá prirovnať k Children of Boodom.
Ich najnovší kúsok Arrival vyšiel 26. októbra 2020 vo vydavateľstve MetalGate. A je to vážne "pecka". Jedenásť parádnych energiou nabitých skladieb, ktoré chvíľami znejú akoby boli z inej dimenzie, vás jednoducho pohltí. Aj textovo je to veľmi zaujímavé. Ide o koncepčný príbeh – bytosti z iných svetov ovplyvňujú život na našej planéte.
Štepánov variabilný hlas, striedaný s Terezinými vokálmi, výborné aranžmány každej skladby, gitarové parádičky, silné bicie, zaujímavé klávesy... To všetko je šialený mlynec, ktorý vás pekne zomelie na prášok, zaleje vodou, vytvaruje podľa svojej predstavy a upečie si z vás za pár minút fanúšika. Je možné, že na koncertoch Arch of Hell to vyzerá ako stretnutie Golemov.
Pri počúvaní som mala neuveriteľné zimomriavky. Neviem, akého boha, či bohyňu začnem vzývať, ale Sachmet je vraj práve voľná
Lineup:
Štěpán Fiala – škrekot
Tereza Nesvatbová – spev
Martin "Kozdič" Kozdera – gitary
David "Childy" Pešák – gitary
Michal Moric – basa
Jana Poskerová – klávesy
Tracklist:
Chariots of the Gods
Arrival
Nile
Sachmet
Curse of Reincarnation
19.07.13
Stardust
Follow the Sphinx
Ambrosia
Ungrateful
Vanishing Out of the Earth
Rok vydania: 2020
Vydavateľstvo: MetalGate
Youtube ukážka:
Linky:
http://www.archofhell.com/
https://www.facebook.com/archofhellofficial
http://bandzone.cz/archofhell
https://archofhell.bandcamp.com/releases
Hodnotenie: 5/6