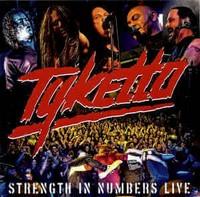 Tyketto platili začiatkom deväťdesiatych rokov k úplnej špičke amerického hard rocku. Ich najväčší hit Forever Young omieľalo MTV do zblbnutia. Vďaka zmenám na poste speváka sa veci začali meniť k horšiemu. Ani nie kvalitou, ale proste Danny Vaughn (ex – Waysted) bol kult a jeho odchod kapele výrazne poškodil.
Danny je už ale naspäť roky a Tyketto sa usadili na pevnom mieste v oblasti hard rocku. Je síce pravda, že radových platní až toľko nevydávajú ako živákov, ale všetko stojí za to.
K tomuto som sa dostal síce s ročným oneskorením, ale stojí za to. Ako napovedá názov živáku, tak je postavený väčšinou na albume Strength In Numbers. Čo je pre mňa ich najlepší album. Koncert bol nahraný v Škótsku a má hodne dobrý zvuk.
Danny spieva ako Boh a ďalší pôvodný člen bubeník Michael Clayton Arbeeny podáva strhujúci výkon. Nováčikovia rovnako skvelí. V zostave prekvapil basák Greg Smith (ex-Alice Cooper, ex-Rainbow), ktorý nahradil Billyho Childsa z Thunder.
Atmosféra koncertu je výborná a reakcie publika skvelé. Čo ma u nich už dlhšie trápi je zaradenie klávesov, čo trochu zmierňuje razantnosť a bluesovosť nahrávky.
Tento živák sa oplatí, ale Live In Milan si asi budem púšťať radšej.
Lineup:
Danny Vaughn – spev
Chris Green – gitary
Greg Smith – basa
Ged Rylands – klávesy, doprovodné vokály
Michael Clayton – bicie, doprovodné vokály
Tracklist:
Inherit The Wind
Meet Me In The Night
All Over Me
Catch My Fall
The End Of Tthe Summer Days
Wait Forerver
Ain't That Love
Write Your Name In The Sky
Why Do You Cry
Rescue Me
The Last Sunset
Standing Alone
Strength In Numbers
Rok vydania: 2019
Vydavateľstvo: Frontiers Music
Youtube ukážka:
Linky:
https://tykettoofficial/
https://www.facebook.com/TykettoTheOfficial/
https://www.youtube.com/channel/UCbNl9BgNgH9KEUIMJkzUD0Q/
https://open.spotify.com/artist/0Yf2kOVTtWIw0lJsAkfE5s/
Hodnotenie:
Páčil sa ti tento článok?