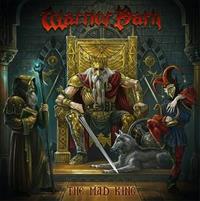 Gréci svetu dali veľa vecí. Demokraciu, olympijské hry alebo napr. aj metalové formácie Firewind a Rotting Christ. Je jasné, že v ich krajine existuje aj množstvo ďalších kapiel, ktoré čakajú na objavenie.
Gitarista Andreas Sinanoglou rozbehol v 2019-tom zaujímavý projekt Warrior Path. V rovnakom roku vydali debut, ktorý nahrala hviezdna zostava. Basu obsluhoval Bob Katsionis (v tej dobe člen Firewind) a spevu sa ujal Yannis Papadopoulos z Battle Beast.
Začiatkom tohto roka vyšiel jeho nástupca The Mad King. Z Warrior Path sa nakoniec stala plnohodnotná kapela. Bob a bubeník D. Rundle sa stali riadnymi členmi, a pridal sa k ním aj nový spevák – Švéd Daniel Heiman. Toho niektorí možno poznáte zo zoskupenia Lost Horizon. To v rokoch 2001 – 2003 vydalo dve veľmi kvalitné albumy, no potom sa vytratili zo scény.
Dominantným prvkom na tejto platni sú hlavne melodické Anderasove riffy, ktoré pripomínajú zlaté časy NWOBHM. Aj Daniel Heiman si skvelo plní svoju úlohu. No extrémne výšky ako u Lost Horizon by ste tu hľadali márne.
V prípade L. H. sa doslova ,,odtrhol z reťaze", teraz, sa však drží pri zemi. Samozrejme, stále však vie čím zaujať. Piesne majú väčšinou dĺžku okolo 5 minút, v dvoch prípadoch (Dont Fear the Unknown, Last Tale) niečo cez 7. Vôbec však nenudia. Andreas a spol. jednoducho dokážu spraviť aj dlhšiu skladbu, ktorá je plná zaujímavých momentov.
Warrior Path na The Mad King neprinášajú nič nové. No  je to poctivá old schol heavy/power metalová muzika (bez nejakých moderných prvkov) , ktorá určite osloví každého správneho metlistu/rockera.