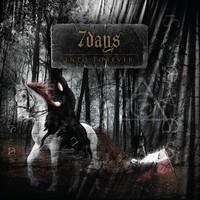 7days, progressive metal kapela zo Švédska, vydala od svojho vzniku (2004) len dva albumy (vydavateľstvo Rivel Records a Liljegren Records). Vydavateľstvo Ulterium Records sa rozhodlo ich znovuvydať v remastrovanej a remixovanej podobe. Into Forever bol svojho času hodnotený pozitívne, po vypočutí musím viac menej súhlasiť.
Hudba je trocha pompézna a zložitá, ale na druhej strane kvalitne prevedená.
Jedenásť skladieb s takmer filmovými aranžmánmi a peknými vokálmi, množstvo rôznych hlasov a ich striedanie tvorí v piesňach akýsi rozhovor. Jednotliví speváci však až tak nevyniknú, čo je občas na škodu. Sú tu ozaj výrazné gitarové riffy a bicie znejú výborne.
Sprevádzanie spevu klávesmi je zaujímavé. Zmeny tempa sú pričasté, no dá sa na to zvyknúť. Celkovo máte chvíľami pocit silného vplyvu Dream Theater.
Piesne sú o hľadaní cesty životom, o viere, o temnote v nás a snahe prekonať samého seba aj o túžbe stať sa lepším človekom. Každý drží kľúč k svojmu životu, máme silu nájsť v sebe to dobré, prestať klamať a pochopiť, na čom ozaj záleží.
Ak ste fanúšikom Dream Theater alebo Rhapsody of Fire, 7days sa vám páčiť bude. Album síce neprináša nič prelomové, ale je to slušná ukážka tohto štýlu hudby.
Lineup:
Thomas Vikström – spev
Erik Tordsson – spev
Christian Rivel – spev
Caroline Sigfridsson – spev
Markus Sigfridsson – gitary, klávesy
Andreas Olsson – basa
Daniel Flores – bicie
Hostia:
Kaspar Dahlqvist – klávesy
Tracklist:
Through Dark and Light (instrumental)
Into Forever
The Innocence in Me
You Hold the Key
Enter a Dream
Crossing (instrumental)
We Cry No More
Under the Sun
Scattered Mind
Final Wisdom
What Matters
Rok vydania: 2010 (pôvodné vydanie), 2021 (reedícia)
Vydavateľstvo: Liljegren Records (pôvodné vydanie), Ulterium Records (reedícia)
Youtube ukážka:
Linky:
https://7daysmetal.bandcamp.com/
Hodnotenie: 4/6