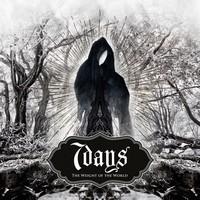 Niekedy je dobre si pripomenúť aj zabudnuté kapely. Medzi také patria aj Švédi 7days. Názov vám pravdepodobne mnohým nič nepovie, no ich hráči sa neskôr uplatnili v známejších formáciách (Therion, Darkwater, Royal Hunt…).
7days vznikli v r. 2004. Debutový album The Weight of the World vydali v 2006-tom. Spomínanú platňu, spolu s jej nasledovníkom Into Forever znovu vydajú Ulterium Records. Udeje sa tak 28. mája.
Čo nájdete na T.W.o.t.W.? Približne 55 minút skvelej progresívno power metalovej muziky. Markus Sigfridsson tu ukazuje, že nie je len skvelým gitaristom, ale aj zručným klávesakom a aranžérom.
Taktiež mal šťastnú ruku pri výbere speváka. Vyššie položený hlas Thomasa skvelo pasuje. V niektorých momentoch trochu pripomína slávnejšieho kolegu Jamesa LaBrieho. Občas ho podporujú zborové spevy a v štvorke (Fall Again) si zaspieva aj hosťka – Caroline Sigfridsson.
No treba povedať, že pre bežných poslucháčov tento album nie je určený. Typického konzumenta Helloweenu, Sabatonu tento počin zrejme neosloví. No si ho pustí viackrát, môže ho zaujať. Minimálne vďaka atmosfére.
Každopádne ak ste milovníkmi kvalitného a originálneho metalu alebo rocku, určite neváhajte a obstarajte si tento počin.
Lineup:
Thomas Vikström – spev
Markus Sigfridsson – gitary, klávesy, programovanie
Andreas Olsson – basa
Daniel Flores – bicie
Hostia:
Kaspar Dahlqvist – klávesy
Caroline Sigfridsson – spev
Tracklist:
Redeemer
Confession
The Darkest Winter
Fall Again
Where Are You
The Weight of the World
Save Me
With You Forever
Wisdom Calls (Veni Domine cover)
Rok vydania: 2006 (pôvodná verzia), 2021 (reedícia)
Vydavateľstvo: Rivel Records (pôvodná verzia), Ulterium Records (reedícia)
Youtube ukážka:
Linky:
https://lnk.sk/bctm/
https://7daysmetal.bandcamp.com/
Hodnotenie: 5/6