Five Finger Death Punch začali nahrávať deviaty album
10.7.2021
Americkí groove metalisti Five Finger Death Punch nahrávajú v štúdiu Hideout Recording Studio (Nevada) 9-ty album. Producentský dohľad nad jeho vznikom má Kanaďan Kevin Churko (Ozzy Osbourne, Disturbed…).
9. júla basák Chris Kael napísal na svoj Instagram: ,,Jedna z najťažšie pracujúcich kapiel na svete pracuje na albume číslo 9. Ste pripravení?"
Okrem iného kapela ma v pláne znovu nahrať svoj debutový album The Way Of The First (2007).
Zdôvodnil to gitarista Zoltan Bathory: ,,Bol to vlastnoručne vyrobený album, z väčšej časti nahratý v mojej obývacej izbe. Preto sme sa rozhodli, že by bolo zaujímavé si ho vypočuť, s poriadne veľkou produkciou."
Pozrite si tento príspevok na Instagrame
Linky:
https://www.fivefingerdeathpunch.com/
https://www.facebook.com/fivefingerdeathpunch/
https://www.youtube.com/channel/UCQjw3b3Ay5zMmEHUAxL93Rw
https://www.instagram.com/fivefingerdeathpunch_official/
Zdroj: https://skr.sk/xTmxC, Foto: Sven Mandel, CC BY-SA 4.0, Wikimedia
Saxon – nový album
9.7.2021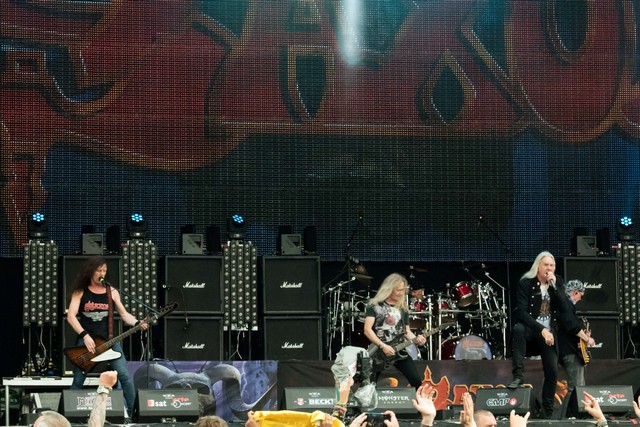 Biff Byford v novom videu oznámil, že heavy metalová legenda Saxon vydá 4. februára 2022 nový album.
Prvý singel z neho budete môcť počuť koncom tohto roka.
Tento rok vydala kapela album Inspirations, obsahujúci covery. Posledná plnohodnotná platňa Thunderbolt vyšla v roku 2018.
Linky:
http://www.saxon747.com/
https://www.facebook.com/saxon/
https://www.instagram.com/saxon.official/
Zdroj: https://skr.sk/2dBCt, Foto Saxon: Frank Schwichtenberg, CC BY-SA 3.0, Wikimedia,
Gaupa – zmluva s Nuclear Blast
9.7.2021
Dnešný deň Gaupa, švédska formácia hrajúca psychadelic rock, podpísala zmluvu s gigantom Nuclear Blast.
Predstavu o nich si môžete spraviť zo singlu Mjölksyra, live verzie piesne z ich prvého full albumu Feberdröm (2020).
Linky:
http://www.gaupaband.com/
http://www.facebook.com/gaupaband/
http://www.instagram.com/gaupaband/
Zdroj: NUCLEAR BLAST – Arne Jamelle, Foto: George Grigoriadis
Threshold – chystaný album
5.7.2021
Britskí progresivisti Threshold momentálne nahrávajú nasledovníka posledného počinu Legends Of The Shires z roku 2017. Deje sa to v štúdiu Thin Ice Studios. Termín vydania zatiaľ nepomenovaného albumu je stanovený na prvú polovicu budúceho roka.
Linky:
http://www.thresh.net/
https://www.facebook.com/threshold/
https://www.instagram.com/thresholdofficial/
http://www.youtube.com/user/ThresholdOfficial
Zdroj: NUCLEAR BLAST – Fabienne Zwicker