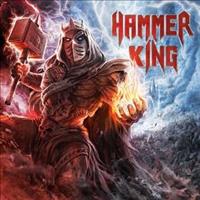 Nové album Hammer King je klasická stará škola německého melodického heavy metalu s novou energií.
Nemohu říct, že každá písnička mě zvedne z pohovky, ale jako celek je to fajn deska a jsou tu silné momenty. Asi ta skutečně nejsilnější písnička je hned první Awake the Thunder a samozřejmě byla vybrána na jeden z klipů. Kořeny, ze kterých asi, alespoň já mám ten dojem, muzikanti vychází, najdete u Helloween, Maidenů, Running Wild a možná i u Rage. Takže šlapavá melodická klasika.
Další písnička, která se mi líbí je třeba Ashes to Ashes. Sloky jsou svižnější, než refrén, ale ten slogan má sborově zazpívaný svou sílu. Další hezký moment je třeba ve skladbě Atlantis, kdy se na konci postupně přidávají různé zpěvové linky, až zní všechny najednou a přesto jsou jasně rozpoznatelné.
Najděte si k této písnišce video a uvidíte to sami názorně, protože právě podle jednotlivých linek se mění počet muzikantů v obrazu. In the Name of the Hammer je "potomek" právě zmíněných Running Wild.
No pusťte si to sami. Pokud je to váš styl, bude se to líbit. Něco víc, něco možná míň, ale jako celek to vůbec není špatné album. Zvykám si na něj a nacházím postupně další, na první a druhý i pátý poslech, trochu ukryté drobné hezké momenty, jako třeba ty čtyři hlasy v Atlantis.
Jen mě mate, že sastava skupiny je udána jako trio, ale v klipech už hrají a zpívají čtyři. To si musíte rozklíčovat sami.
Lineup:
Titan Fox V – spev, gitary
Gino Wilde – gitary, zbory
Gladius Thundersword – basa
Dolph A. Macallan – bicie, zbory
Hostia:
Isaac Delahaye – gitary (4)
Andreas Geremia – spev (4)
Tracklist:
Awaken the Thunder
Baptized by the Hammer
Onward to Victory
Hammerschlag
Atlantis (Epilogue)
We Are the Kingdom
Into the Storm
Ashes to Ashes
In the Name of the Hammer
Kings of Kings
Holy (Outro)
Hammerschlag (HK Version) Bonus Track (physical only)
Rok vydania: 2021
Vydavateľstvo: Napalm Records
Youtube ukážka:
Linky:
https://hammer-king.com/
https://www.facebook.com/thehammerking/
https://www.instagram.com/hammerking_official/
Hodnotenie: 4,5/6