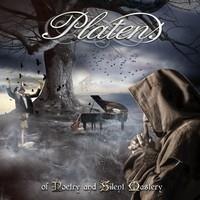 Taliansko je nepochybne liahňou top metalových a rockových kapiel. Svetu dali formácie ako Rhapsody of Fire, Lacuna Coil, Elvenking.
Avšak treba spomenúť aj zoskupenia  Saints Trade, Nightglow, N.Ex.U.S.., ktoré ešte čakajú na to, aby ich svet objavil.
Medzi skvelých talianskych hudobníkov určite patrí aj Dario Grillo – spevák, gitarista, klávesák. Kto má rad epický power metal, mohol ho počuť na prvých albumoch Thy Majestie. Jedným z jeho ,,detí" je aj projekt Platens.
Debut Platens – Between Two Horizons (2004) vydal známy label Frontiers Records. Nedávno vyšla ich tretia platňa Of Poetry And Silent Mastery. Tá však bola vydaná pod Art Of Melody Music & Burning Minds Music Group
Vyššie spomínané vety naznačia, čo môžete od Poetry and Silent Mastery očakávať. Príjemný melodický (sem tam až AOR –Where The River Flows) rock, umne skombinovaný s metalovými prvkami.
Dario disponuje skvelým, príjemne zafarbeným a vyššie položeným hlasom. Trochu pripomína Michaela Sweeta z Stryper. Vie ,,vytiahnuť" tie správne registre a v správny moment sa pustiť do vyšších polôh (Wait For Me).
Ostré gitary dopĺňajú príjemne znejúce klávesy a v niektorých piesňach bubeník Alex Grillo dá dôraz na dvojkopákové rytmy (napr. Easily, End Of The World). Samozrejme, ako je u takéhoto žánru zvykom nebudú chýbať ani pekné balady – Give Or Let Go, Where The River Flows.
Navyše na svoje si prídu aj milovníci talianskeho jazyka – v podobe záverečného bonusu Fragile.
Na záver len toľko: Vynikajúca vec pre všetkých, melodicky orientovaných rockerov a metalistov. Ak sa vám páčia spolky ako Place Vendome, Journey, určite oceníte aj toto.
Lineup:
Dario Grillo – spev, gitary, basa, klávesy a orchestrálne aranžmány
Alex Grillo – bicie a perkusie
Hostia:
Katya Miceli – spev v Winter, Close But Far
Gabriels – klávesové sólo v Conspiracy, End Of The World, Inferno
Mirko Turchetta – gitarové sólo v Open Arms
Dan Logoluso – gitarové sólo v End Of The World
Orazio Fontes – gitarové sólo v Close But Far
Davide Perruzza – gitarové sólo v Paralyzed
Tracklist:
Conspiracy
Wait For Me
Easily
The Path
End Of The World
Paralyzed
Winter
Open Arms
Give Or Let Go
Where The River Flows
Close But Far
Fragile (Bonus Track)
Rok vydania: 2021
Vydavateľstvo: Art Of Melody Music & Burning Minds Music Group
Youtube ukážka:
Linky:
https://www.facebook.com/platensmusic/
https://www.facebook.com/artofmelodymusic/
https://www.burningmindsgroup.com/art-of-melody-music/
https://www.instagram.com/burning_minds_music_group/
Hodnotenie: 5/6