Všetci poznáme vetu ,,život je zmena". To nepochybne platí aj u muzikantov. Niektorí časom opustia svoje kapely. Občas dokonca rozpustia celú formáciu.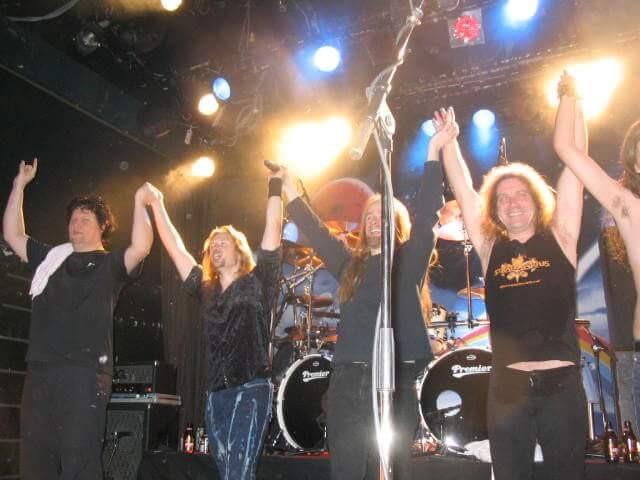 Pozrime sa, ako samotní hudobníci komentovali spomínané zmeny:
1. Timo Tolkki a Stratovarius
Stratovarius patria medzi najslávnejšie zoskupenia z Fínska. Ich zakladateľom a dlhoročným leaderom bol gitarista Timo Tolkki. Okrem iného zložil veľkú časť ich skladieb.
Po vydaní druhého dielu albumu Elements (Elements pt. 2) v r. 2004 šokovali oznámením posledných koncertov v najslávnejšej zostave. V rámci nich dokonca zavítali aj na zatiaľ jedinú ,,slovenskú edíciu" festivalu Masters of Rock (2004 – Senec).
Problémy boli hlavne vo vzťahu ,,dvoch Timov" (Tolkkiho a Kotipelta – speváka). Novou speváčkou mala byť tajomná Miss K.
Nakoniec nastal reunion. Výsledkom bol pomerne netypický (ale kvalitný) rovnomenný album z r. 2005. Ten bol prijatý pomerne vlažne a nakoniec kapela ohlásila, že chystajú novú platňu so skladbami v duchu ich klasiky Visions (1997).
Krátko na to oznámili ďalšie prerušenie činnosti. Celý svet riešil, čo bude so Stratovarius ďalej.
V roku 2008 však Timo Tolkki oznámil definitívny koniec Stratovarius:
,,Od doby, keď do kapely prišli Jörg Michael a Timo Kotipelto, panovalo medzi nami napätie. Myslím, že zárodky problému boli zasiate už pred dvanástimi rokmi. Rútiť sa to začalo po našom poslednom albume, ktorý bol otrasný…"
Poznámka na okraj: Hlavne, že na albume Stratovarius mali skladbu United, kde spievali:
,,United we stand – divided we fall Our destiny's here tonight with you all Through wind and thunder we sailed to your shore We did not give up, so open the door."
Timo pokračuje:
,,Atmosféra v kapele bola divná. Na turné ako keby sa nikto o nič nestaral. Jörg sa choval arogantne, Timo si držal zdvorilý odstup, ale vycítil som z neho nepriateľstvo. Myslím, že ho vždy štvalo, že na albumy nemohol prispievať svojimi skladbami ani textami…. Minulý rok na festivale vo Wackene som si uvedomil, že už je definitívny koniec."
Ostatní členovia sa však nakoniec s Timom dohodli na ponechaní značky a výsledok poznáme. V mierne pozmenenej podobe Stratovarius existujú dodnes.
Pripravovaný album nakoniec vyšiel pod hlavičkou nového (v súčasnosti už neexistujúceho) zoskupenia Revolution Renaissance. Názov bol symbolický – New Era.
No na Youtube nájdete aj demoverzie náhravok s Timovim spevom.
2. Ilker Ersin a Freedom Call
Kto má rád pozitívne ladený power metal, určite miluje Nemcov Freedom Call. Medzi ich kľúčové osobnosti patril gitarista a spevák v jednej osobe Chris Bay, a spievajúci basgitarista – Mníchovčan tureckého pôvodu Ilker Ersin.
Po nahratí The Circle of Life (2005) však od Chrisa odišiel. Po vystriedaní niekoľkých basákov (Armina Donderera, Samyho Saemanna) sa v r. 2013 Ilker ku F. C. vrátil.
Vydržalo mu to však do roku 2018, keď odišiel definitívne. Spolu s ním F.C. opustil aj bubeník Ramy Ali (v súčasnosti Serious Black, Iron Mask).
Jeho bezprostredná reakcia bola:
,,Po vážnych osobných nezhodách, rovnako ako v r. 2005 som sa rozhodol opäť odísť z kapely. Rešpekt a slušné vystupovanie sú nevyhnutnosť, ak spolu trávite veľa času ako kapela!
Chcel by som sa poďakovať Ramymu a Larsovi, a do budúcnosti želám Freedom Call len to najlepšie!…"
V r. 2020 pre nemecký rockmagazine.net povedal:
,,Počas koncertov je vždy ťažké vychádzať s viacerými ľuďmi v uzavretom priestore. Najväčší rešpekt som mal pred Chrisom Bayom. Stále ho mám rád, ale on mi v niektorých situáciách rovnaký rešpekt neprejavoval. Až sa pohár naplnil. Rovnako ako v r. 2006, keď som odišiel prvýkrát. Prajem jemu aj Freedom Call všetko najlepšie. No skôr sa priatelím s Larsom. V prípade potreby by som im však kedykoľvek pomohol."
3. HammerFall a Stefan Elmgren
Gitarista Stefan Elmgren prišiel do HammerFall v r. 1997. Nahral s nimi skvelé dosky – Legacy of Kings (1998), Renegade (2000), Crimson Thunder (2002), Chapter V: Unbent, Unbowed, Unbroken (2005), Threshold (2006) a potom odišiel pracovať ako pilot.
Ako komentoval svoj odchod?
,,Pohyboval som sa v hudobnej branži jedenásť rokov a som rád, že som mal príležitosť podieľať sa na nahrávkach kapely, a cestovať po celom svete. Súčasne som cítil, že je čas na niečo nové. Letecká spoločnosť mi ponúkla prácu pilota, po ktorej som vždy túžil. Preberali sme to s ostatnými či by sa to nedalo skĺbiť. No nakoniec sme sa dohodli, že by to vzhľadom k nabitému programu HammerFall nebolo možné…"
4. Roland Grapow a Helloween
Helloween v r. 1988 šokovali svojich priaznivcov rozchodom so zakladajúcim gitaristom Kaiom Hansenom. Jeho náhradníkom sa stal známy Roland Grapow (členom ,,Hells" sa stal v r. 1989).
Spolu s Ulim Kuschom (bubeník, ktorý prišiel k Hells v r. 1994) vydržali v zostave až do r. 2001, kedy obaja museli zostavu opustiť. Ako dôvod sa uvádza relatívne málo úspešná platňa The Dark Ride (2000).
Pre slovenskú edíciu časopisu Rockhard Roland povedal:
,,Samotný album nebol dôvod, prečo nás s Ulim vyhodili. Bolo toho viac. Z ich strany však kontroverzný výsledok zviedli na nás. Ale úprimne, od tej doby za mnou prišlo obrovské množstvo ľudí s tým, že to bol jeden z najlepších albumov Helloweenu. Som na to hrdý a považujem ho za míľnik svojej hudobnej kariéry…"
Roland a Uli neskôr založili Masterplan, kde sa preslávil aj Nór Jørn Lande. Podľa najnovších rozhovorov, napätie medzi Helloweenom a Rolandom už neexistuje. O Masterplane však už dlhšie nebolo počuť.
5. Victor Smolski a Rage
Rage sú jednou z mnohých formácií, ktoré majú veľký problém udržať si zostavu. Začali v r. 1983, pôvodne ako Avenger. Roku pána 1986 zmenili názov na Rage. Trpeli ale častými odchodmi členov.
V r. 1999 sa okolo ,,Peavyho" sformovala zaujímavá zostava.
Gitary sa chopil virtuóz Victor Smolski (pôvodom z Bieloruska) a za bicie zasadol Američan Mike Terrana. Terannu v r. 2007 nahradil André Hilgers.
No v 2015-tom prišla obrovská rošáda – aj André, aj Victor skončili v Rage.
Vo vyhlásení sa hovorilo:
,,Po dôkladnom zvážení sa Peavy a Victor rozhodli ukončiť spoluprácu. Dôvodom sú hudobné a osobné rozdiely…"
Samotný Victor povedal:
,,Drahí priatelia. Po 15. rokoch, desiatich nahrávkach a množstve koncertov s Rage som sa rozhodol sústrediť na iné hudobné výzvy. Naozaj, chcem poďakovať všetkým fanúšikom Rage, ktorí ma podporovali celé tie roky".
Victor Smolski pokračuje pod hlavičkou Almanac, kde pôsobia aj Frank Beck (Gamma Ray), Kevin Kott (Masterplan) a ďalší… Rage momentálne fungujú ako kvartet.
6. Michal Kovalčík a Metalinda
Prvé albumy Metalindy patria medzi slovenskú rock/metalovú klasiku. S ich začiatkami je neodmysliteľne spojený aj gitarista Michal Kovalčík. Ten sa neskôr uplatnil u Petra Nagyho, s ktorým spolupracuje dodnes.
Mišo z Metalindy odišiel po nahrávke Láska holých prenáša (1994).
V r. 2011 o svojom odchode povedal:
,, Z Metalindy som odišiel pre určité názorové nezhody a potrebu robiť aj inú muziku… Chvíľu to trvalo, kým sa Metalinda dala na cestu, ktorú Gladiátor a Desmod bez váhania nasledovali. Kvázi rock a to už nie je pre mňa."
Zdroje:
Spark (5 2008), 3 Spark (5 2008), 4. Rockhard (február – marec 2013)
Titulná foto:
Stratovarius a Timo Tolkki: Riude from Helsinki, CC BY-SA 2.0, Wikimedia