EDENBRIDGE Presents First Single & Music Video From Upcoming, New Album "Shangri-La"!
25. March 2022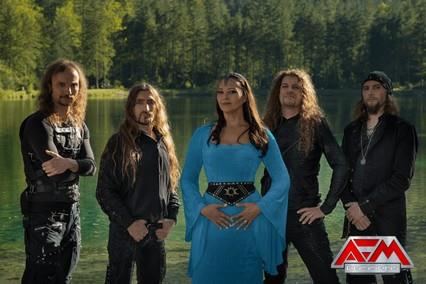 With an incredibly successful back catalogue of ten records under their belt, and a recent signing with powerhouse label AFM Records, Austria's symphonic metal force EDENBRIDGE has announced the first details about their upcoming, new album.
Shangri-La will be released on August 26, 2022 and is featuring nine epic tracks, seeing the band to deliver their most diverse album to date!
Shangri-La takes the dedicated EDENBRIDGE listener on a musical ride into the realms of finest symphonic metal
The band's eleventh studio album unleashes a sophisticated range of compositions along with an intoxicating and bombastic sound atmosphere.
Despite constantly high quality standards and as the new offering proves, EDENBRIDGE continually expands their musical expression from album to album without abandoning their trademarks.
This time, the band has created a fine balance between emotionally magical moments, an ever-present mystical atmosphere and heavy, fast-paced riffage.
This day, they are presenting a first track taken of Shangri-La, alongside a lyric video for 'Somewhere Else But Here'! Says lead vocalist Sabine Edelsbacher:
"'Somewhere Else But Here' is about our phantasy, that takes us on a journey into a world we would like be different. In some extent, we also use it to write a part of our book of life, which lies at the bottom of the lake and life leafs through it."
Tracklist:
At First Light
The Call Of Eden
Hall Of Shame
Savage Land – feat. NDR Radio Orchestra flutist Daniel Tomann-Eickhoff
Somewhere Else But Here
Freedom Is A Roof Made Of Stars
Arcadia (The Great Escape)
The Road To Shangri-La
The Bonding (Part 2) – feat. Erik Martensson (Eclipse, W.E.T.)
 The Bonding Overture
Alpha and Omega
The Eleventh Hour
Round and Round
The Timeless Now – Finale
Watch the new EDENBRIDGE video for 'Somewhere Else But Here':
Formed in 1998, EDENBRIDE belongs to one of the most style-defining bands of their genre, spearheading its domain since their pathbreaking debut album "Sunrise in Eden" (2000).
Their forthcoming magnum opus, Shangri-La, was recorded at the Farpoint Station Studio, mixed by Karl Groom and was produced by Lanvall himself. "Instead of going on a European tour in spring 2020, it was a matter of flipping on our creative switch and channelling those intense energies into a transformative song writing process for the new album," he says.
The cover art was created by United Arab Emirates artist, Muhammad K. Nazia, and features a pictorial representation of Shangri-La embodied as a synonym for paradise.
The term was first mentioned in the novel "Lost Horizon" by James Hilton. It is described as a mystical place where people live in peace and harmony. However, the story itself is based on the ancient Far Eastern legend of "Shambala" depicted in long-preserved Buddhist scriptures.
The legend depicts a paradise that is to become accessible again only when humankind is ready for it and only when a few have the spiritual maturity to understand and preserve the teachings. Sabine reveals: "For me, 'Shangri-La' is a wellspring of wisdom, a deeply secluded spiritual centre and a realm of retreat that casts a magical allure over we humans. And there is a reason why it is so meaningfully said: 'You do not enter paradise with your feet, but with your heart'."
Links:
https://www.edenbridge.org/
https://www.facebook.com/EdenbridgeOfficial/
https://www.instagram.com/edenbridgeofficial/
https://www.afm-records.de/
Source of Information: Mona Miluski – All Noir
Blind Guardian discover the "Secrets Of The American Gods"
18. March 2022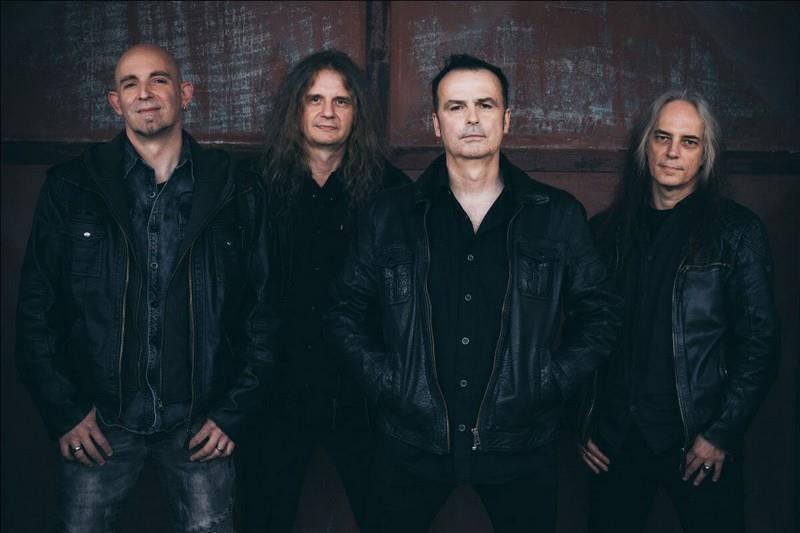 Mysteries darken the sky these days and only the bravest dare to lift the veil between the mere mortals and ominous forces lurking in the night: BLIND GUARDIAN trackened down the "Secrets Of The American Gods" and reveal their eponymous new single today!
The powerful, majestic new track comes with a performance video that was filmed during the recordings for the band's new album in the Twilight Hall Studios between March 2020 and 2021. Once again, the masterfully arranged artwork for the single was created by Andrea Christen.
Singer Hansi Kürsch comments:
"The time has come to unveal another secret: With 'Secrets Of The American Gods', we proudly present you the epic side of our new album that's going to be released in September. This single edit focuses on the essence of this magnificent composition and gives you an insight into our creative work in these eventful times.
The vivid construction of this song circles around its core, the monumental chorus – hopefully the "American Gods" worthy. A thoroughly felicitious ear candy, in my opinion. I promise you, it's not easy to get rid of the refrain. The tracks gets completed with the fantastic making-of-clip that Dirk Behlau created.
Enjoy the moment and keep the secret: Be assured that we still haven't played all our cards and still have some aces up our sleeves. Maybe no additional secrets but celestial surprises. Stay tuned!"
Previous singles:
Deliver Us from Evil: https://www.youtube.com/watch?v=d1mkqz422lg
Links:
https://www.blind-guardian.com/
https://www.facebook.com/blindguardian
https://www.instagram.com/blindguardian/
Source of Information: NUCLEAR BLAST Leoni Dowidat, Foto: Dirk Behlau
WOLFHEART Frontman Joins Forces With Ukrainian Pack WOLFANGER And Releases New Single!
18. March 2022
Wolfheart leader Tuomas Saukkonen teamed up with Petro Solovey, the frontman of the Ukrainian melodic death metal band Wolfanger, to release the single "Glory to the Heroes".
With Petro on vocal and lyric duties and Tuomas providing the music, all royalties of the track will be donated to www.comebackalive.in.ua and the label Stay Heavy Records has agreed to donate 1000€ of royalties upfront as help for Ukraine is needed as soon as possible!
In addition Wolfheart, Before The Dawn and Dawn of Solace are offering their support with a joint merch campaign provided by RECORDSHOP X, with all proceeds going directly to www.comebackalive.in.ua.
Petro and Tuomas already collaborated on the Wolfheart single "Skull Soldiers", released in March 2021, which paid tribute to the legendary Finnish soldiers of the Winter War (1939-1940), and just one year later they are back in the studio to honor the fighting heroes of Ukraine.
Petro Solovey comments:
"The song is about the Ukrainian people, who became more united than ever at the sight of the threat. We fight not only armed but also with our bare hands, defending the lives of our loved ones, our landand our freedom. On February 24th we met the enemy face to face. We are united and that is our main weapon."
Tuomas Saukkonen adds:
"Slava Ukraini, Heroiam slava!"
Links:
Wolfheart:
http:/www.wolfheartofficial.com
http:/www.facebook.com/WolfheartRealm
https://www.instagram.com/wolfheartofficial/
Wolfanger:
https://www.facebook.com/wolfangerua/
https://www.instagram.com/wolfangerua/
https://www.youtube.com/channel/UCFjA-pP82MtU9BW60MUFkZw
Source of Information: Napalm Records Press
VAN CANTO Drops New Official Video for "Turn Back Time"
15. March 2022
This past summer, Germany's most thundering voices VAN CANTO set free their eighth studio album, To The Power Of Eight, to spread their unique soundscapes as the world's most exciting acapella metal masters.
Now, the energizing powerhouse is ready to impact the new year with their unique Rakataka-style by unveiling a brand new atmospheric music video for "Turn Back Time", cut from their latest full-length.
The harmonizing song appeals to the calmer side of the multifaceted outfit and showcases the wide range of creativity that VAN CANTO stands for since releasing their first record, A Storm To Come, in 2006.
VAN CANTO on "Turn Back Time":
"'Turn back Time' is a ballad that has quite a history behind it. I wrote it together with Bastian back in 1999 for our former band Jester's Funeral. At that time, the instrumentation was more like 'Bard's Song', with acoustic guitars and a lead singer. We never finished the songwriting on this one, and over 20 years later we came across it again while listening through old demos.

Since the lyrics are about what would happen if you could turn back time (but maybe you don't even want to), we thought it would fit quite well that a composition from our teenage years would finally see the light of day on the eighth album of a seasoned band. Listening to the song now, you'd think it had always been written for VAN CANTO and with eight singers in mind."
Links:
https://vancanto.de/de/
https://www.facebook.com/vancantoband/
https://www.instagram.com/vancanto.official/
https://www.youtube.com/user/vancanto/
Source of Information: Napalm Records Press