Gothic Metal Institution CREMATORY Reveals New Single "Break Down The Walls" + Official Music Video
14. April 2022
"Break Down The Walls" marks the second single off the upcoming record from German Gothic Metal pioneers CREMATORY, entitled Inglorious Darkness, out May 27, 2022 via Napalm Records.
The newest single is a straightforward hit of a track – emerging as a gentle melody wrapped in heavy metal drums that will creep right into your head to stay, providing another metallic preview of the album. Stay tuned!
Tracklist:
Inglorious Darkness
Break Down the Walls
Trümmerwelten
Rest in Peace
The Sound of My Life
Tränen der Zeit
Until We Meet Again
Zur Hölle
Not for the Innocent
Forsaken
Das Ende
Watch the music video for "Break Down The Walls":
CREMATORY on "Break Down The Walls":
"Gothic Rock'n Roll Motherfuckers! This is what modern Dark Rock must sound like. After our first Gothic Rock'n Roll hit "The Fallen" from the millennium year 2000, here is the second Gothic Rock'n Roll steam hammer, which drills directly into the auditory canal! The CREMATORY hit factory is still running at full steam!
The lyrics of 'Break Down The Walls' are about the fact that there will be always someone stronger and better and that sometimes it's necessary to break some rules to achieve your goal."
EMATORY mark 30 years of German Gothic Metal greatness with Inglorious Darkness!
Inglorious Darkness is chock full of dark and resonating hymns, setting off with title track "Inglorious Darkness" – a true Gothic Metal anthem and a worthy opener that sets the mood for what's to come.
"Break Down the Walls" hits direct, accented by a gentle melody wrapped in Rock n' Roll drums that will infiltrate the listener's brain, and is further solidified by the clean vocals of Felix in the verses mixed with mighty growls in the chorus.
Standout track "Trümmerwelten" lyrically illustrates a dystopian scene, while opulent keyboards build epic melodies to create orchestral, symphonic soundscapes underlined by heavy drumming.
Monumental career highlight track "Tränen der Zeit" shines as bright as its original version – one of the highpoints of the band's famous live shows – but in a modern new light. The band breathes new life into one of their all-time classics, engulfing the listener in melancholy and nostalgia alike reuniting with an old friend.
On tracks like "Sound of my Life" and "Not for the Innocent", the band's tried-and-true use of keys and electronic elements are a noted standout, while tracks such as "Das Ende" blaze with headbang-inducing, stomping drums and hammering energy as German lyrics further intensify the Gothic Industrial Metal aura.
With Inglorious Darkness, CREMATORY prove that their passion burns brighter than ever, and that even after more than 30 years, they are solidified as a Gothic Metal genre giant.
CREMATORY on Inglorious Darkness:
"New band line-up and back to the roots with only one guitar and no other singer besides Felix, who sang everything on this album alone, even the cleaner vocals. Hardness, melody and gloom are excellently combined on Inglorious Darkness.
Real Gothic Metal is the catchword, which can be enjoyed here. Numerous hits sung in German and English, partly electronic, partly orchestral and partly full on the face in Gothic Rock'n Roll style!"
The first single:
Inglorious Darkness: https://youtu.be/lMdF5uwy4lg
Links:
http://www.crematory.de/
https://www.facebook.com/CREMATORY/
https://www.instagram.com/crematory_official_page/
https://www.youtube.com/c/CrematoryDe
Source of Information: Napalm Records, Foto: Stefan Heilemann, Cover: Olga & Outfit: Inner Sanctum Latex Fashion
Based On A True Friendship: Swedish Grammis-Nominated Hard Rock Alliance NESTOR Reveals New Single + Music Video "Signed In Blood"
14. April 2022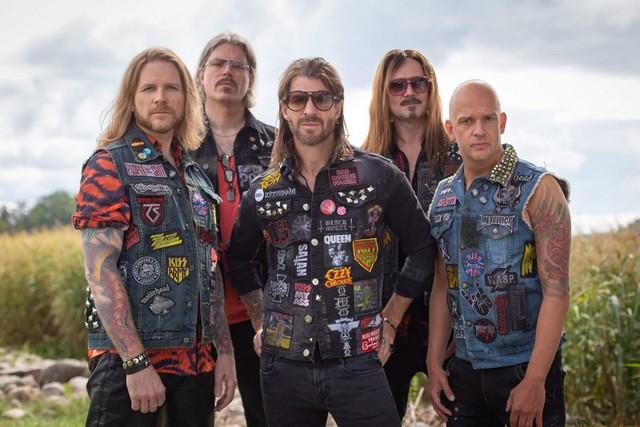 Formed more than three decades ago in 1989 only to fall into a slumbering hibernation lasting until last year, Swedish hard rock outfit NESTOR decided to reunite, reinvent the iconography of rock and restore its glory in 2021 with their debut album – yes, their debut album – Kids in a ghost town.
With friendship as the fundament of this unique, seemingly unbreakable bond, NESTOR are back for good and better than ever!
"'Signed In Blood' is a song and video about true friendship and brotherhood!"
– Tobias Gustavsson (Singer, NESTOR)
Upon its initial release, NESTOR's acclaimed first album, Kids in a ghost town, sent their fans on a journey back in time to the 80s, both in sound and spirit, as well as with their completely self-produced music videos – all of which spurred a nomination for a Swedish Hard Rock/Metal Grammis-Award!
This is an album of such impressive scale in fact, that Napalm Records has decided to re-release Kids in a ghost town as an exclusive Deluxe Edition, set for release on September 30, 2022!
The new single, "Signed In Blood", is the first of many bonus tracks to be included in Napalm Records's re-release of Kids in a ghost town.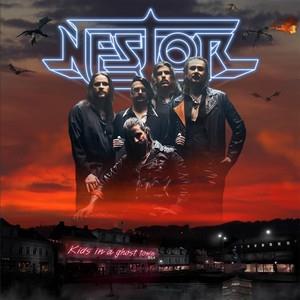 Watch the new music video for "Signed In Blood"
Links:
https://www.nestortheband.com/
https://www.facebook.com/nestortheband/
https://www.instagram.com/nestor_theband/
Source of Information: Napalm Records, Foto: Henrik Eriksson
Kerion – upcoming album
13. April 2022
Kerion are finally back with their new album, led by the female vocalist Flora Spinelli! Impressive concept album that can be described as "Comics metal", a blend between symphonic power metal and cinematic metal with electro influences!
The album includes guests like Elisa C. Martin (Dark Moor, Fairyland), Raphael Dantas (Ego Absence), Vitor Veiga (Aquaria) and Phil Giordana (Fairyland).
Release date: June 3rd
Artwork by GENZOMAN (World of Warcraft, Marvel).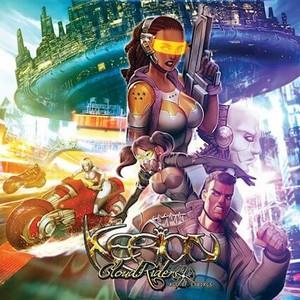 Tracklist:
Riders Theme (Age of Cyborgs)
Nova Prime
The Mission
Red Squad
One Way Love
The Desert
Nowhereland
Final Race
Virtual Rhapsody
Alert
Cyborg Hunt
Before the Storm
Global Annihilation
Electric Requiem
Teaser:

Kerion is a symphonic metal band from Nice, France that was formed in 2002. They released two demos conceptually based on the heroic-fantasy tale "Staraxis" written by Chris Barberi: the "Conspiracy of Darkness" and "The Last Sunset".
In 2008 their first album "Holy Creatures Quest" was released and showed a powerful and distinguished kind of Symphonic Metal: direct, aggressive, epic and poetic.
Links:
https://www.facebook.com/KERIONmetalband/
https://www.youtube.com/user/kerionband/
https://open.spotify.com/artist/2WhkDIejwHmIWe9RRb5tsq/
Source of Information: Beyond the Storm Productions
Symphonic Metal Visionaries VISIONS OF ATLANTIS Release Second Single "Melancholy Angel" + Music Video
12. April 2022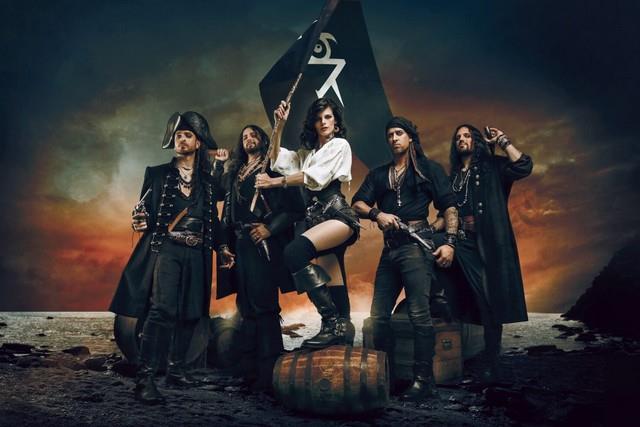 From the Deep & the Dark…Pirates arise!
VISIONS OF ATLANTIS are set to release their upcoming studio album, Pirates, on May 13, 2022 via Napalm Records! Today the band released the second single "Melancholy Angel" – a song that has already proven to be one of the fan favorites, when played live during the ongoing US tour.
The single comes together with a stunning official video, including great visual effects and outstanding acting by the band around singer Clémentine Delauney, who has clearly developed further vocally and has both beautiful high tones and deeper more soulful colorings in her vocal repertoire.
The mighty new single "Melancholy Angel" is representative of the new VISIONS OF ATLANTIS sound, who with Pirates, reveal their most honest and intimate album to date.
With their latest albums, visionaries VISIONS OF ATLANTIS have without a doubt proven that they are on top of the scene. Now, the band sets sail on an adventurous new journey and exciting chapter, marking a turning point in their discography with the upcoming album, Pirates.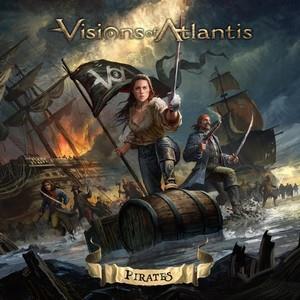 Tracklist:
Pirates will Return
Melancholy Angel
Master the Hurricane
Clocks
Freedom
Legion of the Seas
Wild Elysium
Darkness Inside
In my World
Mercy
Heal the Scars
I will be Gone
Watch the stunning music video for "Melancholy Angel"

With their eighth full-length, VISIONS OF ATLANTIS deliver their most confident and honest record so far, proving that they have definitely stopped wandering to finally unleash their rebellious side and a free spirit as untamed as the seven seas.
VISIONS OF ATLANTIS on Pirates: 
"Being a Pirate to us is being fully aware and having our lives in our own hands, living and thinking freely, embracing life as an adventure with all its light and darkness. With the new album we are opening a new era for VISIONS OF ATLANTIS, fully embracing the identity we have been flirting with for several years now – making the music that truly resonates with our souls. We continue our journey taking us through darker waters, heavier storms, where all serves as background for a metaphor about personal growth and spirituality. If Wanderers was more about the bright side of our path, Pirates definitely takes us deeply into shadow work, where we are facing other kinds of monsters along the way!"
The first single:
Legion of the Seas: https://youtu.be/NN7eGh86-WQ
Links:
http://www.facebook.com/visionsofatlantisofficial
http://www.napalmrecords.com
http://www.facebook.com/napalmrecords
https://www.instagram.com/visionsofatlantis/
Source of Information: Napalm Records, Foto: Stefan Heilemann