Blind Guardian evoke The God Machine – the metal giant's new album on September 2nd
27. May 2022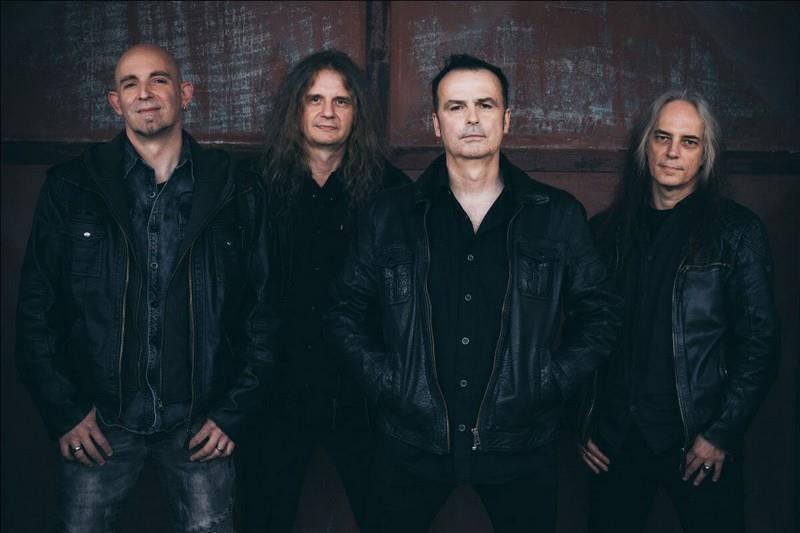 A distant mechanical sound is getting louder from afar and heralds the arrival of exciting happenings – throwing their shadows on this fateful day of September 2nd. It's the day that the metal legend BLIND GUARDIAN will release their eleventh studio album The God Machine via Nuclear Blast and errects a new monument of their outstanding career.
Hansi Kürsch about it:
"We didn't want to rehash our qualities from 1995, but didn't want to continue down this complex path forever either. 'The God Machine' is a new beginning for us. We've set a new course and gone back to certain things that we've neglected a bit on the last few albums."
The God Machine marks another pinnacle in BLIND GUARDIAN's impressive discography by not attempting to pretend it is still the nineties yet instead successfully relying on the muscle memory of this period.
It is a gripping, addictive and brilliantly arranged album in the tradition of records with which BLIND GUARDIAN reached for the stars in the 90's; yet, by no means, is it a throwback. The God Machine represents the heart and soul of BLIND GUARDIAN's timeless metal in the here and now, unifying the bards' past, present and future secrets in one consistent, well thought out masterpiece.
Cover: Peter Mohrbacher
Tracklist:
Deliver Us From Evil
Damnation
Secrets Of The American Gods
Violent Shadows
Life Beyond The Spheres
Architects Of Doom
Let It Be No More
Blood Of The Elves
Destiny
Together with the announcement, the band shares a video for their new raging single 'Blood Of The Elves', a galloping anthem that is destined to become a live staple.
Singer Hansi Kürsch comments:
"'Blood Of The Elves' features a pretty heavy side what the avid fan of BLIND GUARDIAN hopefully enjoys well. More than well, I'd guess. Instrumentally, the tracks has some kind of an early Nineties appeal that blends well into the vocal parts of the opera/twist era and catapults both epochs into a new era for the band. A perfect hybrid. The chorus has some very strong sing along vibes, despite its complexity.
What else do you need? Inspired by the 'The Witcher' computer game series, the lyrics even reinforce the power of this banger and the clip by Dirk Behlau fits perfectly to the whole setting. Let me tell you: 'The God Machine' has even more to offer. And that's no promise – that's the ultimate truth. Stay tuned."
Previsious songs:
Deliver Us From Evil: https://youtu.be/d1mkqz422lg
Secrets Of The American Gods: https://youtu.be/ReaFJ_MD2cs
Links:
https://www.blind-guardian.com/
https://www.facebook.com/blindguardian
https://www.instagram.com/blindguardian/
Source of Information: NUCLEAR BLAST Leoni Dowidat
NILE Mastermind KARL SANDERS to Release New Solo Album, Saurian Apocalypse, on July 22 via Napalm Records
25. May 2022
NILE mastermind and multi-instrumentalist KARL SANDERS is thrilled to announce that the subterranean slumber of his Eastern-ambient Saurian series has finally ceased with the impending release of its dark third chapter, Saurian Apocalypse, out July 22, 2022 via Napalm Records.
This segment of the hypnotizing saga arrives 13 years after the release of its predecessor, 2009's Saurian Exorcisms, and nearly 20 after 2004's equally lauded Saurian Meditation.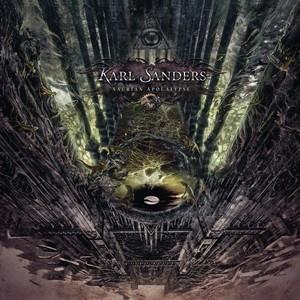 Tracklist:
The Sun Has Set on the Age of Man
The Disembodied Yet Slither Among Us
The Evil Inherent in Us All
Skull Fuck Ritual (Skull Breach Edition)
Nada Zaag
An Altered Saurian Theta State
Nihil Emplexus
Divergence: The Long Awaited Third Primordial Ascension
Mask of Immutable Self Delusion
No Creature More Deserving of Cataclysmic Annihilation
Watch the new music video for "The Sun Has Set on the Age of Man"
Emphasized by unique instruments like the baglama saz (Turkish lute), Ancient Egyptian Anubis Sistrum, Dumbek (Middle Eastern goblet drum), glissentar and gongs, the album's score weaves cinematic auras and deep grooves, accented by the tribal percussive stylings of original NILE drummer Pete Hammoura and returning Saurian vocalist Mike Breazeale.
A wealth of musical growth and refinement, both in Sanders' guitar technique and compositional development, is strikingly evident. Eons more than just an album of interludes or ambient scores, Saurian Apocalypse is a shining advancement in the Saurian series, and the most dynamic, detailed KARL SANDERS solo release yet.
Feast your ears on the forthcoming Saurian Apocalypse by way of its haunting first single, "The Sun Has Set on the Age of Man", out today. Accompanied by an entrancing animated music video, the track instantly showcases the unique instrumentation, sparkling production, and ominous conceptual themes of the album – echoing with vibrating flutes, exotic percussion, and a contextual acoustic guest solo by guest guitar virtuoso Rusty Cooley.
KARL SANDERS says about "The Sun Has Set on the Age of Man":
"'The Sun Has Set on the Age of Man' is a great choice for people's first exposure to this album. It's the opening track of the new Saurian record, very cinematic and an eerie mood setter. Much like the score of an opening scene of a Sci-Fi movie, the song serves as an introduction for the many twisted journeys of the album that follows.
It uncannily evokes that feeling we all get right after the sun has gone down and night is upon us, conjuring an awareness of the ancient, evolutionary dread of the unknown dark and its terrors that have been imprinted on the human psyche since early prehistoric man first realized that there were things in the night that would prey upon him.
The track is also very special to me as it features two dear longtime friends of mine, original NILE drummer Pete Hammoura on percussion, and legendary guitar shredder Rusty Cooley on guest acoustic solos. Although Rusty certainly is a prolific electric guitar shredder, this track marks his debut on acoustic guitar. Thank you, Pete and Rusty!"
Links:
https://www.facebook.com/KarlSandersNileOfficial/
https://www.instagram.com/karlsandersofficial/
Source of Information: Napalm Records, Photo: Nill Silver
TRIBULATION sign new worldwide deal with Century Media Records!
25. May 2022
One of the most esteemed names in modern Swedish metal, TRIBULATION have extended their partnership with their long-standing record label, Century Media Records, and have not only entered into a new worldwide deal, but are also working on new recordings right now.
Furthermore, TRIBULATION's latest album 'Where the Gloom Becomes Sound' (2021) has just won a Swedish Grammis Award last week for best 'Rock/Metal Album'. Nominees amongst this category were At The Gates, Lucifer, The Night Flight Orchestra and Nestor.
It is the second Swedish Grammis in TRIBULATION's history after winning the first award with their 2018 effort 'Down Below'.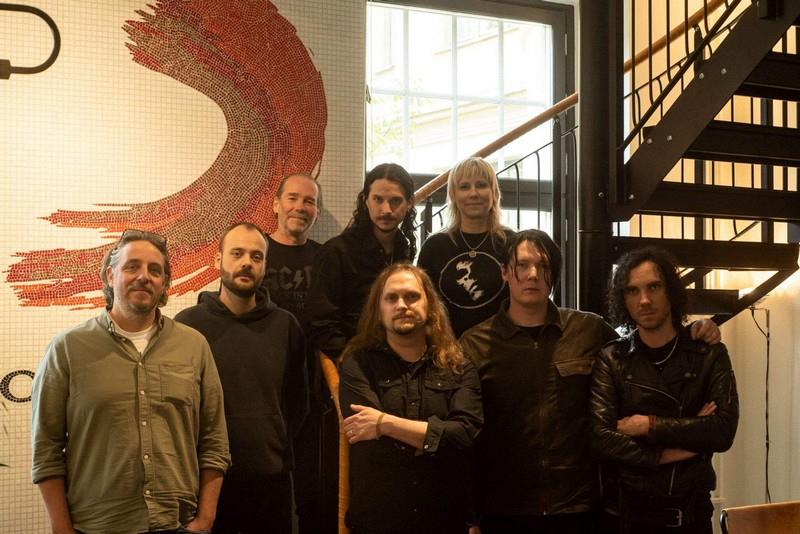 (From left to right: Philipp Schulte (Century Media / Director), Niklas Tschaikowsky (Century Media / Product Manager), Classe Brewitz (Sony Music Sweden), Adam Zaars (Tribulation / Guitars), Johannes Andersson (Tribulation / Vocals & Bass), Jenny Walroth (Tribulation PR Agent Sweden), Oscar Leander (Tribulation / Drums), Joseph Tholl (Tribulation / Guitars))
Addressing the news of their extended relationship with the CM, as well as the band's upcoming release plans, TRIBULATION guitarist and founding member Adam Zaars comments:
"After this involuntary hiatus, this global societal and cultural hiccup, we are just about to return to the stages and as already announced, we have already started our next chapter. As of now, we have a few new songs recorded that will be released digitally later this year and on wax as soon as possible after that.
It's a Tribulation you will recognize, but in a new shroud with new tastes and smells. Angrier, darker, and a tad more cynical. We have also slowly started working on our next album that we will yet again release with our long-term partners Century Media Records, with whom we have now signed a worldwide deal. Make sure to catch us live this summer!"
Philipp Schulte (Director Century Media) further states: 
"We are happy to extend our partnership with Tribulation. Band and label have gone a long way together already. We are looking forward to years ahead of us as the band's worldwide label home."
Check out TRIBULATION's most recently released 18-minute opus 'The Dhampir', which has previously only been available in full length as a bonus track on the Deluxe Vinyl Version of the band's critically acclaimed album 'Where the Gloom Becomes Sound'.
Links:
https://www.tribulation.se
https://www.facebook.com/TribulationSweden/
https://www.instagram.com/tribulation_official/
Source of Information: Century Media
German Symphonic Metal Icons XANDRIA Reveal New Single "Reborn" + Official Music Video ew Line-Up Announced!
24. May 2022
The day has finally come for German symphonic metal icons XANDRIA to dive into a new adventure and prepare for the next promising chapter in the band's history! After entering the German album charts at #17 with Theater Of Dimensions in 2017, XANDRIA mark a steadfast return today with more exciting facets than ever on their new single, appropriately entitled "Reborn".
Active since the early 90s, the band introduces this eagerly anticipated sign of life, featuring the dynamic range of new vocalist Ambre Vourvahis, impressively varying between angelic harmonies, a powerful and classically-induced chorus and even lurking harsh growls!
Accompanied by fellow musicians Robert Klawonn (guitars), Tim Schwarz (bass) and Dimitrios Gatsios (drums) the newly formed outfit around band leader, main songwriter, composer and guitarist Marco Heubaum is ready to bring its impressive career to the next level. "Reborn" coincides with a bewitching music video that introduces the new line-up and gives a promising glimpse of what can be expected from this intriguing entity in the near future. Stay tuned for more exciting news coming soon!
XANDRIA state:
"XANDRIA is reborn… and the first sign of the return to life is the respectively titled song. Like before, XANDRIA are taking you on a voyage to your imagination, and the emotional and varied voice of new frontwoman Ambre Vourvahis will show you the way there with more facets then ever – prepare for some surprises!
The new line up around mastermind Marco Heubaum will definitely start a whole new chapter that is fascinating and fresh, but still genuinely XANDRIA. Because this is what XANDRIA always has been – a voyager and explorer in the inspiring world of symphonic and heavy music. And now it is reborn!"
Links:
https://www.xandria.de/
https://www.facebook.com/xandriaofficial/
https://www.instagram.com/xandria_official/
Source of Information: Napalm Records Press, Photo: Tim Tronckoe