SOILWORK drop new banger 'Dreams Of Nowhere' of upcoming album Övergivenheten
15. July 2022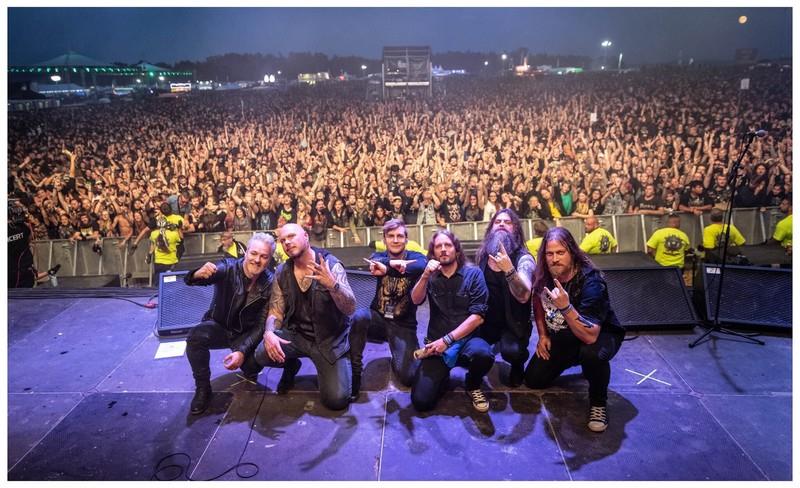 SOILWORKcontinue to please their fans by releasing the next single of the upcoming album Övergivenheten.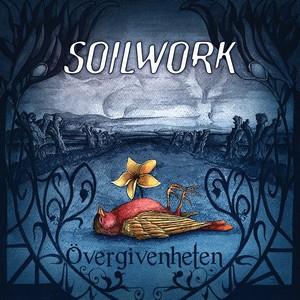 Tracklist:
Övergivenheten
Nous sommes la guerre
Electric Again
Valleys of Gloam
Is It in Your Darkness
Vultures
Morgongåva / Stormfågel
Death, I Hear You Calling
This Godless Universe
Dreams of Nowhere
The Everlasting Flame
Golgata
Harvest Spine
On the Wings of a Goddess Through Flaming Sheets of Rain
This day the Swedens release the third track 'Dreams Of Nowhere' from their new longplayer, which is out on August 19th:
Singer Björn Strid comments:
"Dreams of Nowhere serves up an atmosphere that reminds you of our roots in the Swedish mid 90's death metal scene, with soaring riffs that sends melancholic and beautiful chills down your spine, but still brings you to where the heart of the band lies in 2022. Lyrics deal with the constant battle between reality and escapism."
Previous singles:
Övergivenheten: https://youtu.be/8lnviIWjliE
Nous sommes la guerre: https://youtu.be/UBpZy6myvu8
Links:
www.facebook.com/soilwork
www.instagram.com/soilwork
www.twitter.com/soilwork
www.soilwork.org
www.nuclearblast.de/soilwork
Source of Information: NUCLEAR BLAST Leoni Dowidat, Photo:  Jungbrunn Productions
Etrange – upcoming album
15. July 2022
ETRANGE, a progressive cinematic metal band from France, will release their second concept-album (Enigme) on September 1, 2022.
It will be an immersive musical science fiction concept that takes the listener along the "Etrange" intelligent space probe's journey through the cosmos.
Influences : metal prog, heavy, 80s hard rock, black metal, classical music, soundtracks & sci-fi vintage…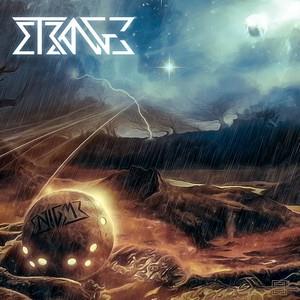 Tracklist:
Exile
Titan
Reloader
Astralis
Nebula
Gateway
Exoplanet
You can listen it here:

Links:
http://etrangemusic.com/
https://www.facebook.com/etrangeband/
https://etrange.bandcamp.com/
Source of Information: ETRANGE The Band
Arch Enemy launches video for new single, "In The Eye Of The Storm"
14. July 2022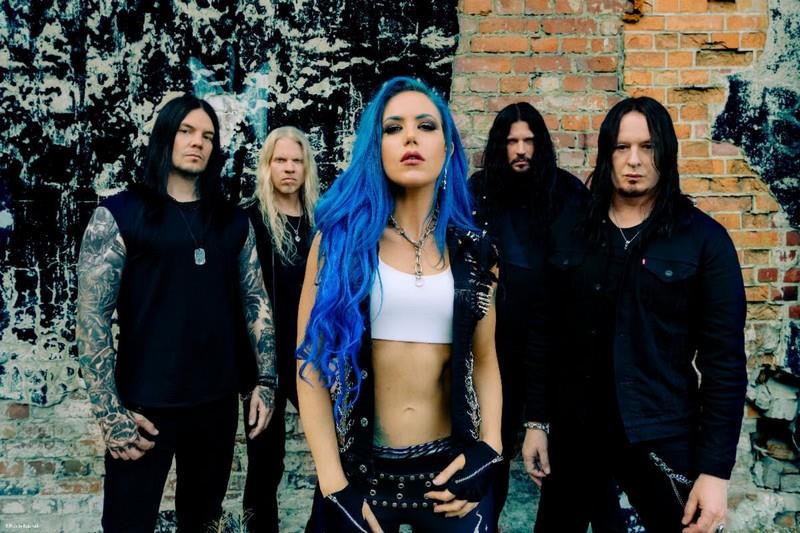 On August 12th, extreme metal masters ARCH ENEMY will unleash their 11th studio album, Deceivers, via Century Media Records.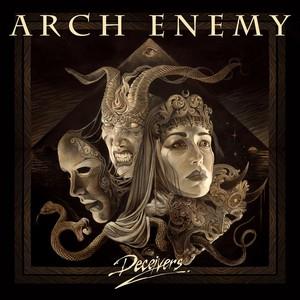 Tracklist:
Handshake With Hell
Deceiver, Deceiver
In The Eye Of The Storm
The Watcher
Poisoned Arrow
Sunset Over The Empire
House Of Mirrors
Spreading Black Wings
Mourning Star
One Last Time
Exiled From Earth
For a preview of the record, the new single, "In The Eye Of The Storm". Directed by Mirko Witzki, 
ARCH ENEMY's founder and chief songwriter Michael Amott comments:
"In The Eye Of The Storm' is a song that was built around a hypnotizing riff and a groove that's just screaming out to be played live! Shooting the video in Berlin, Germany with, for us, new director Mirko Witzki was a super cool experience, and the result is nothing less than astonishing!"
Previous singles:
Handshake with Hell: https://youtu.be/dsuhfOD7emE
Deceiver, Deceiver: https://youtu.be/m_m2oYJkx1A
Sunset over the Empire: https://youtu.be/E3mOvCMG24I
House of Mirrors: https://youtu.be/1DvDjeRs-_o
Source of Information: HEAD OF PR, Photo: Katja Kuh, Cover: Alex Reisfar
Lacrimas Profundere – upcoming album
14. July 2022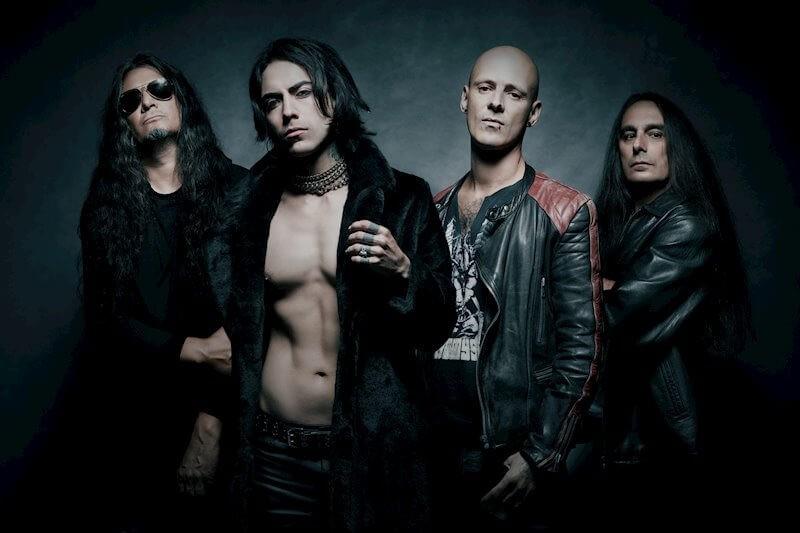 It's often the most difficult challenges that force a musician to grow artistically
For Lacrimas Profundere, one of the most innovative and successful German dark metal bands of our time, their latest studio album 'How To Shroud Yourself With Night' (scheduled for release on Steamhammer/SPV on 26 August 2022) was primarily about the implicit burden imposed by their 2019 hit record 'Bleeding The Stars', whose success had indirectly raised huge expectations: "Album of the Month" in magazines such as Metal Hammer, Orkus and Dead Rhetoric, top 10 positions in other important publications, plus a chart entry and the group's most successful headlining tour to date.
Who wouldn't be tempted to flirt with a sequel of that success story?
"For me, it was about liberating myself from the pressure to succeed and about trying to raise the bar, staying ahead of the game, challenging myself and staying true to ourselves, instead of playing it safe and writing some kind of 'Bleeding Part II'," explains guitarist, band founder and main composer Oliver Nikolas Schmid, who once again found invaluable support in his brother and lyricist Christopher Schmid.
"The new material sounds fresh, wicked, surprising and more passionate than ever before. It's also the second chapter with our singer Julian, who has inspired us and played a major part in the creation of the album," Schmid continues. "We understand what he likes and have broken away from old thought patterns and ways of doing things. Never before have we been such a tight unit, always ready to expand our own sound. That's precisely why 'How To Shroud Yourself With Night' has turned into our most spirited work by far."
An assessment that is immediately confirmed, seeing that we've probably never before heard tracks anything like the groove monster 'Unseen' or the exceptional 'The Curtain Of White Silence' with its unique mixture of dark metal, melodic hardcore and post rock from Lacrimas Profundere.
By contrast, there are typical goth rock songs such as 'In A Lengthening Shadow' and 'An Invisible Beginning', whereas the title track 'Shroud Of Night' and the album opener 'Wall Of Gloom' have evolved into flawless doom numbers that, according to Schmid, allow his love of bands like Paradise Lost to shine through.
And, last but not least, let's not forget the excellent first single 'A Cloak Woven Of Stars', which has the band continue the stylistic directives of their 2019 hit 'Father Of Fate'. The second single 'Wall Of Gloom' is set to be out in June 2022, the third single 'The Curtain Of White Silence' will following July, and the fourth 'To Disappear In You' is scheduled to be released on 12 August 2022, two weeks before the album arrives at the physical and digital stores.
Schmid:
"There's an elaborately produced video clip to support each single, for which we have once again created ingenious, occasionally disturbing images in collaboration with Michael Winkler from Der Pakt."
Like 'Bleeding The Stars', 'How To Shroud Yourself With Night' was produced by Kristian 'Kohle' Kohlmannslehner at his Kohlekeller Studios in Seeheim and mastered by Tom Porcell at the Limetree Studios.
The atmospheric, deep black cover artwork was designed by Indonesian artist Bahrull Marta and underlines the songs' dense atmosphere and great depth of focus that supports the actual theme of the album: the desire to simply disappear, to be invisible and not have to deal with yourself and the outside world any more.
Schmid:
"Each song on this album deals with that theme. It's about shadows, about darkness and mystical objects which combine the unique power of "nothingness"."
In order to appreciate all the details of the production, you absolutely have to listen to the album on headphones and you'll discover new hidden details every time you listen to it. "'How To Shroud Yourself With Night' sees us throw our oppressive veil of melancholy into the dark night and reveal the beauty that's inherent in bleak despondency.
We accompany the listener into the gloom with doomy riffs and mournful melodic guitar and keyboard passages rich in atmosphere!" Well, there's not much to add to this precise assessment!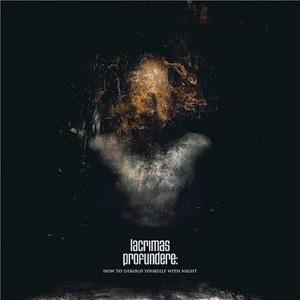 Tracklist:
Wall of Gloom
A Cloak Woven of Stars
Nebula
In a Lengthening Shadow
The Curtain of White Silence
Unseen
The Vastness of Infinity
To Disappear in You
An Invisible Beginning
Shroud of Night
Teaser:

Links:
http://www.lacrimas.com/
https://www.facebook.com/lacrimasprofundereofficial/
https://www.instagram.com/lacrimasprofundereofficial/
https://www.youtube.com/user/TheLacrimasOfficial/
Source of Information: Steamhammer / SPV