Swedish Power Metal Frontrunners BLOODBOUND Release New Single & Music Video Of Upcoming Album "Tales From The North"!
31. March 2023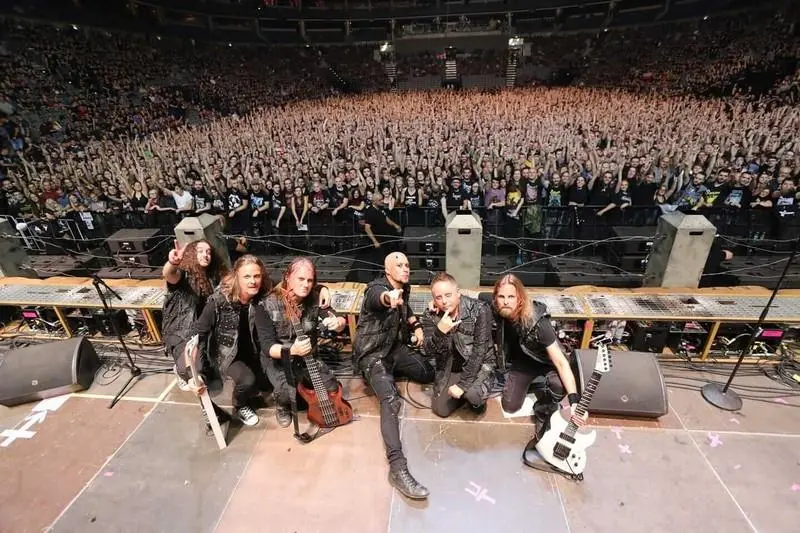 This summer, on July 7, 2023, Swedish power metal force BLOODBOUND will release their hotly-anticipated, new studio offering Tales From The North! The band's tenth album will be coming out as a 2-CD digipak including a live CD, a strictly limited box set as well as coloured vinyl LPs; the pre-sale has just recently started via AFM Records here!
When it comes to defending the core values of timeless power metal and combining them with fresh stylistic variations and exciting stories, BLOODBOUND have always been fighting at the forefront. The six-piece has proven their versatility and inventiveness countless times. Following their much acclaimed, 2021-album, Creatures Of The Dark Realm, Tales From The North will unquestionable continue to enthrall the metal community! As lead guitarist Tomas Olsson recently revealed:
"'Tales From The North' is very much a concept album about the viking era. About the lives of our ancestors up here in the dark, cold and unfriendly environments of the north. Different legends and myths intertwine during the course of the songs, leading up to the epic battle of 1066, which marks the end of the viking era."
Tracklist:
Tales From The North
Drink With The Gods
Odin´s Prayer
The Raven´s Cry
Mimir`s Crystal Eye
Between The Enemy Lines
Land Of Heroes
Sail Among The Dead
Stake My Claims
Sword And Axe
1066
After first album singles, "Odin's Prayer" and "The Raven's Cry", today, BLOODBOUND are premiering a music video for the album closing track "1066"! Fredrik Bergh adds: "1066 is one of the more epic tracks on the album. One of my favorite songs from "Tales from the North"!
Tales From The North was produced by BLOODBOUND, and was mixed and mastered by Jonas Kjellgren (Amorphis, Overkill, Sabaton) at the Swedish 'Black Lounge Studios'. The cover artwork was created by Péter Sallai (Hammerfall, Powerwolf & many more).
Olsson continues: 
"The songs are more fast-paced and closer to some of our earlier stuff like 'Moria' and 'Nosferatu', but have more complex arrangements. Compared to the predecessor 'Creatures Of The Dark Realm' there are heavier guitars and some deeper sounding keyboards. We have also incorporated some traditional nordic folk music instruments to fit the concept of the album. It`s still pure power metal but we're trying to take it to the next level."
Previous singles:
Odin's Prayer: https://youtu.be/PDBrD6qwpj0
The Raven's Cry: https://youtu.be/WSvedxlpuxM
Links:
https://www.bloodbound.se/
https://www.facebook.com/bloodboundmetal/?fref=ts
https://www.instagram.com/bloodbound_official/
https://www.afm-records.de/
Source of Information: All Noir – Mona Miluski, Photo: Lukas Urbanik
BURNING WITCHES Reveals Second Single, "Unleash The Beast" + Official Music Video
30. March 2023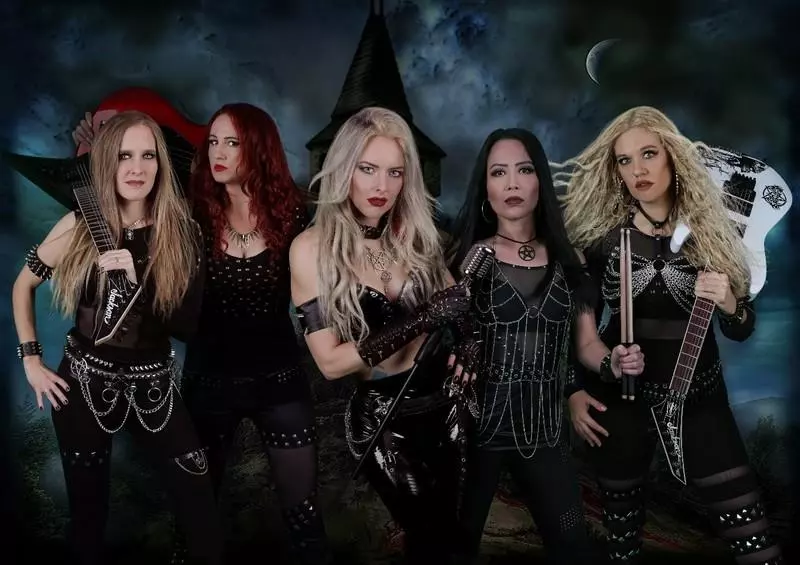 Your favorite heavy metal force, BURNING WITCHES, have unleashed their newest ounce of mischief with the brand new single "Unleash The Beast". On this track, roaring, dueling guitars battle each other with top-notch, fast-paced performances while the energy of the song rises to its climax when the sharp voice of singer Laura Guldemond combines with powerful harmonies. With the song's bloodthirsty guitars and raspy voices, the head-bopping melodies push fans against walls.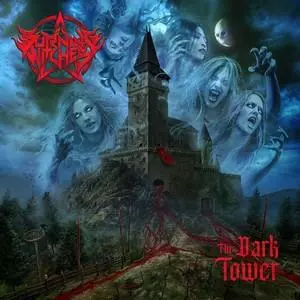 Tracklist:
Rise Of Darkness
Unleash The Beast
Renegade
Evil Witch
World On Fire
Tomorrow
House Of Blood
The Dark Tower
Heart Of Ice
Arrow Of Time
Doomed To Die
Into The Unknown
The Lost Souls
"Unleash The Beast" is the second single off of their upcoming fifth studio album, The Dark Tower, out May 5, 2023 via Napalm Records! Throughout their seven-year existence, the chart-cracking five-piece has had an exemplary career – topped by their most famous song, "Hexenhammer" (2 million clicks on YouTube), and strong appearances at Germany's most important metal festivals, like Wacken Open Air and Summer Breeze.
BURNING WITCHES on their single, "Unleash The Beast":
"We are ecstatic to present you our new single 'Unleash The Beast' featuring the skillful Courtney Cox on lead guitar! The frantic track and video got visualized by DREAMFILM FACTORY, who already did an excellent job on our last video. Thanks for the wonderful teamwork and the awesome realization!
We hope this powerful new track gets everybody even more excited about the release of album no. 5 on the 5th of May!"
BURNING WITCHES set the world ablaze, ushering in a new wave of heavy metal!
On fifteen energetic tracks, BURNING WITCHES ring the bells for a midnight mass in smoky-warm bars. "World On Fire" first gets the listener's pulse pumping due to the rising tension of flashy guitar work, before melodic six-string solos unite with unbeatable guitar onslaughts and sophisticated drum attacks – underlining conjuring vocal lines that call out for an evening zombie dance!
Restless and intense, the fierce women of BURNING WITCHES shred their instruments on The Dark Tower like no other, but with the soft mid-tempo track "Tomorrow", the witches settle down to gather their strength for just a moment.
Bittersweet melodies float up to the sky like weightless feathers, carrying a message of five confident women. Ready again to gradually increase the tempo, "Heart Of Ice" and "Arrow Of Time" ensnare with extravagant guitar tapping and heroic vocals by Laura, while "The Lost Souls" merges devilish staccato and legato riffs, creating an ominous atmosphere amid the bewitching screams of the five Swiss enchantresses.
With their new studio album, BURNING WITCHES not only bring back the glory days of heavy metal, but push it beyond – trapping the soul of each listener with energetic performances on The Dark Tower.
The first single:
The Dark Tower: https://youtu.be/jaSlR30rlCs
Links:
https://www.facebook.com/burningwitches666/
https://www.instagram.com/burningwitchesofficial/
https://www.twitter.com/burningwitches/
Source of Information: Napalm Records Press, Photo: Martin Rahn, Damier Eskic
WINTERSTORM

 Releases Music Video For Epic, New Album Single "Future Times"!
29. March 2023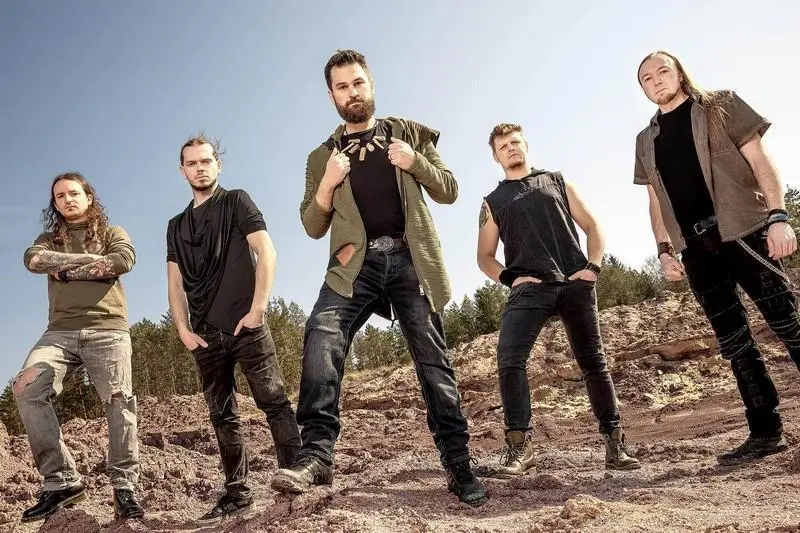 July 14, 2023 will see power metal act WINTERSTORM release their upcoming, fifth studio album entitled "Everfrost". It's their first offering since 2016, and their debut with powerhouse label AFM Records.
"Winter" stands for nordic viking and folk metal, the "Storm" for fast-paced power metal, combined with epic and orchestral metal facettes, WINTERSTORM shines in a new splendor as first single releases prove. Following the previously-shared, first album appetizer "To The End Of All Known", now, the five-piece has released a music video for "Future Times"! The comments:
"Future Times is about focusing on the changeable future instead of wasting time on the unchangeable past. 
Whether it's the small things everyday or big ones like the destruction of our planet — it's always worth getting the focus right."
Tracklist
Origin
To the End of All Known
The Phoenix Died (Remember)
Circle of Greed
Future Times
Everfrost
Final Journey
Fate of the Atlanteans
Crusade
Overcome the Fear
Silence
The new WINTERSTORM clip for "Future Times" is now streaming here:
It's the melodic grandeur, that clearly marks the foreground of WINTERSTORM, reflected in heavily catchy choruses and colossal, polyphonic vocals. Striking elements of different metal styles merge with each other and get a completely new impression, that WINTERSTORM's forthcoming record may be their most versatile and powerful album to date; one that does not have to hide behind proved genre colleagues such as Blind Guardian or Rhapsody Of Fire.
Previsious single:
To the End of All Known: https://youtu.be/kVZFWFQYoOU
Links:
www.winterstormarea.com
www.facebook.com/acomingstorm
www.instagram.com/winterstorm_official
Source of Information: Mona Miluski – ALL NOIR
Death-Thrash Frontrunners NERVOSA Reveal New Line-Up – Prika Amaral Becomes Permanent Vocalist!
28. March 2023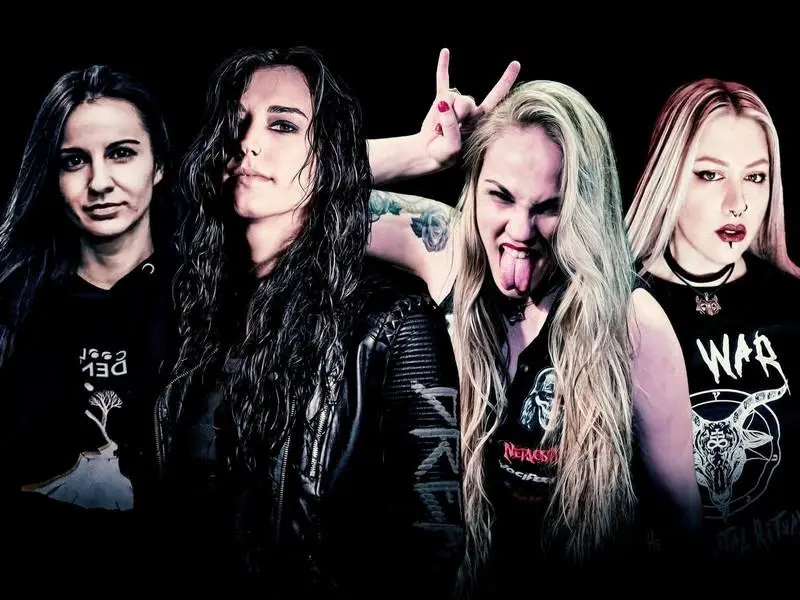 Full-speed death-thrash metal engine NERVOSA are setting the metal world ablaze with their brand new song, entitled "Endless Ambition", out today! The steamrolling track is accompanied by an inexorably energetic music video and marks a new chapter and milestone in the band's history, as it shows NERVOSA with a revitalized new line-up.
Along with this blistering new offering, the marvelous force has finally lifted the veil on who will take over vocal duties on future releases. From now on, guitarist and founding member Prika Amaral will be the voice of NERVOSA. "Endless Ambition" acts as a first harbinger for everything that is about to come and shows the incredibly powerful attitude and talent of Amaral ruling in this new position. NERVOSA brings another novelty with the addition of the immensely talented and well experienced Michaela Naydenova on drums, Hel Pyre on bass and Helena Kotina on guitars.
Prika Amaral says about becoming vocalist:
"It was a huge challenge for me. It wasn't something I planned or expected, but after a second change of vocalist, I didn't want to go through these changes again, so I decided to face what a lot of people have said since the beginning of NERVOSA – that I should be vocalist. But, as I always heard from some people that I didn't have a technique, that the way I sang hurt my throat, I got carried away by that. Now, after studying vocal techniques for the last few months, I discovered that yes, I've always had the technique and feel comfortable facing this new journey, which I am enjoying a lot".
With their latest record, 
Perpetual Chaos
 (2.8M plays on Spotify), femme thrash metal band 
NERVOSA
 not only secured their first charting positions at #18 on the German album charts, #6 on the US Hard Music Albums and #9 on the US Top New Artist Albums charts, but also played some of Europe's biggest festivals such as Summerbreeze and Wacken Open Air. The new standalone single 
"Endless Ambition"
 graces their 35k monthly listeners and 77k followers on Spotify alone with an exciting glimpse of what's about to come in 2023. Stay tuned for more exciting news coming soon!
Nervosa is:
Prika Amaral – Vocals and guitars
Helena Kotina – Guitars
Hel Pyre – Bass
Michaela Naydenova – Drums
Links:
https://www.nervosaofficial.com
https://www.facebook.com/nervosa/
https://www.instagram.com/nervosathrash/
https://twitter.com/nervosathrash/
https://www.youtube.com/user/NERVOSAthrash/
Source of Information: Napalm Records Press, Photo: Michaela Naydenova, Helena Kotina, Prika Amaral and Hel Pyre