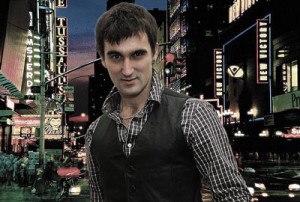 Ja som Vás spoznala na fantasickom koncerte s Mike Trampom a Jenesession v Olomouci. Doteraz ste boli pre mňa úplne utajená kapela. Povedz nám niečo o Black Tiger….
BLACK TIGER vznikl v roce 2010, původně jako projekt kytaristy Jirky a zpěváka Honzy. Jejich cílem byla nahrávka, která by čerpala z odkazu hard'n'heavy scény zlatého období tohoto žánru – 80. let minulého století.
Skladby, i když se nahrávaly doma, vzbudily zájem lidí poslouchajících tento styl a tak jsme začali shánět muzikanty, se kterými bychom dali dali dohromady kapelu.
V kompletní sestavě hrajeme od podzimu 2011 a za ten rok jsme stihli okolo patnácti koncertů, ze kterých bych vyzvedl hraní s vynikající německou kapelou Human Zoo a Kenem Hensleym (ex.Uriah Heep), byli jsme předskokani na české části evropského turné Shameless(DE) a Tuff(USA) a v neposlední řadě nedávný koncert s Mike Trampem.
 Žáner ktorý hráte je v našich končinách úplné unikum. Ako ste sa k nemu dostali.
Na čtvrté hodině kytary ve čtrnácti letech jsem uslyšel Little Fighter od White Lion a tím to začalo.. Tehdy by mě ve snu nenapadlo, že zrovna s Mikem budeme na stejném pódiu.
Všetci ste vyhraní a skúsení muzikanti. Plníte si v Black Tiger svoj sen?
Tak trochu ano, sedli jsme si v kapele lidsky i po hudební stránce a já to beru jako velké štěstí.. Je super, když po koncertě příjde tatík co poslouchá 30 let kapely jako Ratt, Whitesnake a je nadšenej. Náš sen je ale hraní ve Whiskey and Go Go na Sunset Strip 🙂
Musím pogratulovať k Vášmu CD. Totálne ma dostalo. Ako vznikalo a kedy sa dočkáme jeho nástupcu a čím bude nové CD zaujímavé?
Díky! Nahrávky vznikaly v domácím studiu kytaristy, kromě kytar jsou tam všechny nástroje samplované, zpěvové linky má na triku zpěvák. Kvalita zvuku není kdovíjaká, opravdu to byl původně pouze projekt dvou bláznů do osmdesátek.
Kapela v současnosti dokončuje promo CD, které by mělo být hotové v listopadu a objeví se na něm i zahraniční host – Dan Reed (ex Dan Reed Network).
Uvidíme Vás aj na Slovensku?
Pokud by přišlo pozvání na Slovensko, moc rádi přijedeme zahrát. Máme něco  rozjednané na jaro a až bude termín, dozvíte se to na našich stránkách www.blacktigerband.com
Ďakujem za rozhovor a posledné slová su len Tvoje …..
Poklona všem lidem, kteří dělají něco pro rockovou muziku, pořád doufám, že se jednou zase dostane do MTV klip ve stylu Girl Girls Girls, že budou na koncerty chodit plné stadiony a že se vrátí osmdesátková móda.. a že se lidi zase semknou..
Taky moc díky za rozhovor, moc si toho vážíme!
Oficiálne linky:
Web: http://www.blacktigerband.com/
Bandzone: http://bandzone.cz/blacktiger