Koncert legendárnej britskej heavy metalovej skupiny Oliver/Dawson Saxon mohol byť jeden z najväčších sviatkov heavy metalu na Slovensku v tomto roku. Všetky kapely hrali výnimočne, obrovské legendy ste mohli vidieť pekne z blízka. Porozprávať sa s nimi, užiť si skutočne parádny zvuk a príjemné prostredie nebol vôbec problém.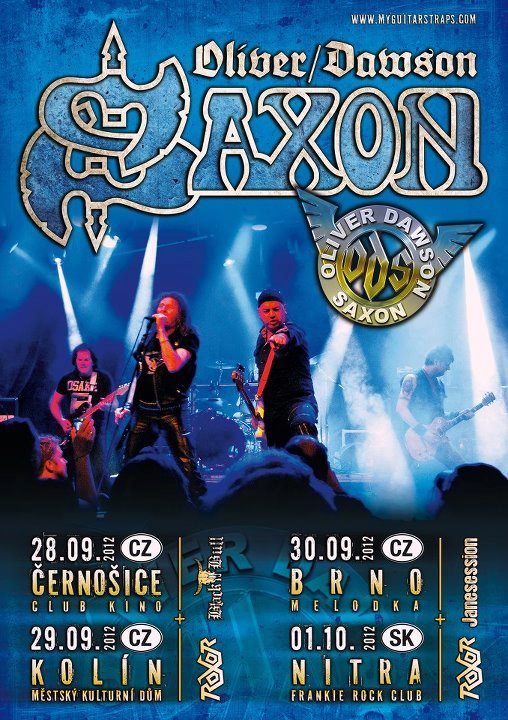 Problém bol v nenažranosti nemenovaného slovenského promotéra, ktorý dal vstupné na túto akciu 20 euro. Takže na nič mu bolo veľké promo, bilboardy, plagáty, internet, rozhlas. Ľudia sa pri dverách klubu otáčali a šli domov. Pár desiatok bohatších si lístky kúpilo. Ako sa mi vyjadril samotný Steve Dawson z O/D/S: Toto bol nepremyslený krok.
Matej z Roxor sa tomu len smial a Marc z Janesession krútil hlavou. Ja osobne keby som videla ako mi odchádza kvôli vstupnému publikum, dávala by som individuálne zľavy. V ekonomickom jazyku sa tomu hovorí podriadiť sa trhu. Ale bohužiaľ….
Koncert odštartovala česká heavy metalová legenda Roxor. Bolo to vynikajúce a zábavné. Žiadna póza len skutočná heavy metalová sila. Počas koncertu došlo aj na pre mňa už známe rekvizity ako napríklad strieborné rúcho, ale aj na pre mňa neznámy prvok a to sexy čerticu čo pózovala s kapelou po pódiu.
Druhá kapela večera boli istota slovenskej rock/metalovej scény Janesession. Musím uznať, že v takej forme som ich ešte nevidela. JS s novým gitaristom a už v päť člennej zostave doslova klub zbúrali. Basák Tommy s nápisom Will Fuck For Food na holej hrudi bol hodne originálny a Jane vyhecovala publikum do extázy. Vynikajúce!
Oliver/Dawson Saxon vtrhli na pódium bez intra a rovno s riffom Rock n´ Roll Gypsy. Od prvej chvíle bolo jasné že heavy metal britskej školy má v publiku obrovskú obľubu. O/D/S hrali fantasticky. Nezabudlo sa na žiadny zásadný hit autorského dua Oliver/Dawson z dôb Saxon a  ani na nový radový album Motorbiker z ktorého zaznela Whipin Boy. To bol pre mňa možno jediný mínus legendy, že sa venovali hlavne skladbám z obdobia Saxon a napríklad od Son of a Bitch nezahrali ani notu.
Zazneli Strong arm of the Law, Dallas 1pm, Princes of the night, Redline, Crusader, Wheels of Steel, And the Bands Play On a mnoho ďalších. Nový spevák Bri Shaghnessy ma veľmi prekvapil. Jeho hlas je v niektorých momentoch na nerozoznanie od toho Biffovho, ale na pána Wardiho, ktorý kapelu na začiatku roka opustil nemá. No ako frontman patrí určite medzi to najlepšie čo svetová metalová scéna ponúka.
Hovoriť o pánoch Grahamovi Oliverovi a Steveovi Dawsonovi je podľa mňa zbytočné. Tieto legendy pozná snáď každý a ich výkonom nemohlo byť vytknuté vôbec nič. Energia z nich sálala a hrali ako za mlada. Graham si dokonca obhadzoval gitaru okolo krku. Druhý gitarista Haydn Conway je tak isto legenda N.W.O.B.H.M. z kapely Saracen. Ten sa celý koncert xichtil a hral ako zmyslov zbavený. Nový bubenícky motor kapely je syn Grahama Olivera, Paul a musím uznať že jeho úsporný štýl a lá AC/DC mi učaroval. Vôbec sa jedná o veľmi sympatického fešáka.
Oliver/Dawson Saxon ponúkli v Nitre neuveriteľnú show a musím priznať, že to za tých 20 euro stálo aj v kombinácii so support kapelami, ale na Slovensku je to nepremyslené a nereálne vstupné. Po koncerte sa mi podarilo spraviť s kapelou kratučký rozhovor, tak snáď  ho spracujem čoskoro.
Ja dúfam, že sa sem vrátia čím skôr a znova ukážu ako sa hrá true metal!!!