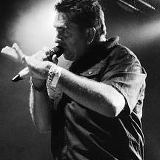 Spevák Jozef Wlaschinský je momentálne jeden z najvyťaženejších muzikantov na česko/slovenskej scéne. Okrem domovskej kapely Trigger, v ktorej okrem neho účinkujú členovia seneckých Vindex sa pridal koncom minulého roka aj ku kapele Mr. Pig, s ktorou stihol taktiež natočiť debutový album. Taktiež tento rok rozbieha aj nový projekt. O tom a aj o mnohom inom si môžte prečítať v tomto rozhovore.
Zdravím Jozef, poďme rovno na to. Teba som poznal ako speváka seneckej kapely Trigger. Minulý rok si mi spomenul, že si sa pridal aj ku kapele Mr. Pig. Ako k tomu došlo?
Josef Wlaschinský: Kdysi jsem měl chuť si jít zpívat ke skupině TAM, která hledala zpěváka. Nakonec jsme se nějak nedohodli prostě to vyšumělo, ale bubeník TAMU si na mě nechal kontakt a když Mr.Pig se mu svěřil, že hledají zpěváka dal jim na mě číslo.
Mohol by si trochu bližšie predstaviť kapelu? Niektorí členovia nie sú pre našu rock/metalovú scénu až taký neznámy.(Gitarista a tak)
Josef Wlaschinský: Tak hodně v minulosti byl viditelný kytarista Jiří Karpjuk v projektech Bestila, Krleš atď… No a ti ostatní byli odpočátku věrní skupině Mr.Pig.
Koncom minulého roka ste nahrali svoj debut? Mohol by si popísať ako vznikal?
Josef  Wlaschinský: Vznikl velmi rychle co se týče mé nahrávky zpěvu. Přesněji na první zkoušce, kterou jsme měli jsem nazpíval některé skladby a na druhé zkoušce ostatní skladby. Tedy nebylo moc času na pořádné zažití těchto skladeb, které složil právě Jiří Karpjuk s Břetislavem Hemišem.
Myslím si na to, že celou desku Jiří Karpjuk nahrával podomácku, je to dobré. Jasně, že by to v nějakém super studiu bylo o mnoho lepší, ale bohužel na to nejsou takové finanční prostředky.
Vidím, že o texty sa takmer výlučne starala managerka Pavlína Lašťovková (a veľmi sa jej podarili). Bude to tak aj do budúcnosti, alebo môžeme čakať aj nejakú zmenu? (Napríklad či neplánuješ aj ty sa zapojiť do písania textov?)
Josef Wlaschinský: Co se týče textů nechám to na jiných a nyní předem nemohu s určitostí říci kdo bude ten co napíše texty na novou desku. Nechme se překvapit.
Skladba "Nevěřím" sa mi zdala na deme o čosi viac údernejšia. Čo bolo príčinou tohto rozdielu?
Josef Wlaschinský: Ta první verze byla nahraná jako můj první demo nápěv v mém bytě na domácím PC a sám jsem si to naefektoval a podobně, ale tato verze použitá v albu byla nazpívaná na lepší studio mikrofon právě v době  kdy jsem tuto skladbu zpíval snad poprvé a tak. Jirka použil raději lepší kvalitu nahrávky mého hlasu než mé nahrané hlasy po domácku .
Bohužel komplet materiál jsem poprvé slišel až bylo CD vyrobeno 🙁
Škoda no.  Ale aj tak tá skladba je výborná. Ty si mi raz niečo naznačoval, žeby ju bolo možné použiť ako klip a pod. Podniklo sa už niečo konkrétne?
Josef Wlaschinský: Rád bych k této skladbě natočil videoklip a  ještě jednou se ji pokusil natočit jako singl  v dobrém studiu. No snad se ostatním můj nápad bude líbit a podaří se mi je přemluvit.  Tak uvidíme,  držte palec.
Ako si spokojný s ohlasom na album?
Josef Wlaschinský: Slyším, je to dobré a dobré je za 3.
Jsem rád, že se naše hudba dá poslouchat a že je více těch,kteří ji pochválí jako celek.
Sú nejaké konkrétne koncertné plány na tento rok?
Josef Wlaschinský: Samo, že ano. Naše manažerka je pilná včelička a třeba první měsíc v letošním roce máme 3 koncertíky. A další se pomalu nabalují.
Plánuje sa aj niečo aj u nás na Slovensku? (Managerka mi písala, že napr. objednávky na albumprišli aj od nás  )
Josef Wlaschinský: Tak to netuším, ale určitě co se mě týče bych si rád u Vás zabékal. To, že se CD prodává i na Slovensku je perfektní a jsem mile překvapený.
Aké sú záľuby a záujmy členov Mr. Pig?
Josef Wlaschinský: V dnešní době moc na koníčky není času  všichni jsme pod tíží zaměstnání a to nás všechny nejvíce vyčerpává. Všichni máme jediného koně a to je Mr.Pig 🙂
Správne tak to má byť.  Ty si mi spomínal, že si sa k takejto muzike dostal pomerne neskôr. Mohol by si to mojím čitateľom opísať?
Josef Wlaschinský: V mládí jsem byl spíše na Disco muziku jako Alphaville, Comunards, Depeche Mode, Erasure a podobné skupiny, ale po vojně jsem se věnoval Discotékám a návštěvníci mě nutili hrát i rock-metal hudbu a tak jsem se ji vlastně naučil poslouchat  a dnes jsem za to moc vděčný .
A tak si sa postupne dostal k prvým kapelám? (napr. tú kde spieval aj Honza Toužimský…len my vypadol jej názov 🙂 )
Josef Wlaschinský: Ano je to skupina Inside později Insiders, kde Honza Toužimský působil před tím, než dostal angažmá do muzikálu Exkalibur a tam už to byl jen malinkej krůček aby se dostal do skupiny Arakain kam ho doporučil Petr Kolář.
V skladbách ako napr. "Jiný svět" dostáva tvoj hlas pomerne dosť zabrať. Venuješ mu nejakú špeciálnu starostlivosť?
Josef Wlaschinský: Vše je jen technika a pokud se dobře používá hlasivky se tolik nenamáhají. Já mám rád i studené nápoje a nevidím v tom problém. Dříve mě vadilo, že jsem kouřil, ale těm dnům je již díky bohu dávno konec.
Jasne,  no tak to je dobré.  Taktiež si mi spomínal svoj nový projekt, čo chystáš tento rok. Mohol by si povedať niečo viac?
Josef Wlaschinský: No něco se rýsuje, ale nebudu o tom hovořit, abych to nezakřikl. Samo, že Vás budu rád informovat, ale to až bude černé na bílém.
Nebude pre teba potom problém stíhať všetky tvoje hudobné aktivity aj prácu?
Josef Wlaschinský: Budu se snažit vše stíhat a pokud ne, vypustím to co bude méně mou osobu naplňovat. A to bude asi práce. Ale to abych si pomalu začal z domova balit kufry 🙂
Čiže týmito aktivitami neutrpí ani Trigger ani Mr. Pig
Josef Wlaschinský: Myslím si,že ne.
To je dobré.  Čo bolo pre teba príjemným prekvapením v minulom roku na domácej rock/metal scéne a čo najväčším sklamaním?
Josef Wlaschinský: Příjemné překvapení pro mě bylo, že jsem v jednom roce stihl natočit 2 desky a co největším zklamáním…. Noooooooo asi nic tak závratného mě nezklamalo.
OK, tak ďakujem za rozhovor, prajem všetko dobré a poprosil by som ťa o nejaký ten odkaz pre mojích čitateľov.
Josef Wlaschinský: Děkuji za otázky a všem čtenářům přeji kopec dobré muziky a mnoho vydařených koncertů !!!
Odkazy:
Bandzone Mr. Pig: http://bandzone.cz/mrpig
Facebook Mr. Pig: http://www.facebook.com/pages/MrPig/202559166423956?fref=t
Bandzone Trigger: http://bandzone.cz/triggerband
Facebook Trigger: http://www.facebook.com/thebandtrigger?fref=ts