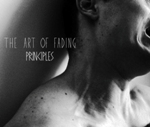 In the first place, I have to admit, that Austrian metal scene is quite unknown for me. Nevertheless I saw some gigs of bands from our south-western neighbour's country and I listened to some songs at web and they were basically good at all. Maybe this was the reason, that I welcomed to get some material of band The Art of Fading from Vienna.
Their debut EP named Principles contains of 5 tracks in style, which they identify as extreme metal. This identification is somehow unconcrete, so I would like to describe their production as mix of death metal and metal core (maybe they won't feel offended by it 🙂 ).
The first track at this EP is song Thaw, which starts really sharply and it attacks us without any unnecessary development and drags us into itself. In total it affects little chaotically, but it has nice layered guitars. This songs gives us hope, that next ones will be worth to listen to them. Next one is song Nihil. The Art of Fading chose this one to create music video (little labourious video with clips from their gigs).
The song is much better than its video. Guitars brings us nice melodies and voice of singer fits in very well to agile tempo. Song's lyrics are about "nothing", so they are about our meaningless and about the fact, that we are still making effort and in the end we will finish as "nothing".
Don't Mistake starts with very good guitar riff, but in about one minute the song drops back to standards of other songs at this EP. In about 3 minutes the track definitelly came to be boring and I couldn't wait to hear what will be next and the next piece was worth to wait for. Song As Time Passes By is the most interesting for me from this EP.
It starts with discreet strumming guitar, which outgrows to wild tempo. The tempo is changing few times with effort to escalate the atmosphere of the song. I think this track really turned out very well and the only little thing which I would change, is that there could be more sophisticated drums with better sound.
Lyrics have depressive accent with some kind of "memento mori" legacy. In time passing there will nothing remain of our plans, visions, activities… and of us. Very good job! The last track Pale is quite dignified finish of the track list of Principles.
Principles from The Art of Fading sounds and affects compactly, it has quite good sound and it can be good jumping board for this band to achieve some higher goals. These musicians really know how to play their instruments and if they keep playing and try to rise in their effort, we will hear from them in future.
Lineup:
Johannes Stangl – guitars
Robert Mang – guitars
Simon Doujak – bass
Eduard Savitchi – vocals
Sebastian Fietz – drums
Tracklist:
Thaw
Nihil
Don't Mistake
As Time Passes By
Pale
Year of release: 2014
Label: Independent
Youtube video:
Links:
Facebook: https://www.facebook.com/theartoffadingofficial
Bandcamp:  https://theartoffading.bandcamp.com/releases
Score: 4/6