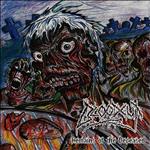 Nie je to tak dávno, čo Vám náš web priniesol rozhovor s Janekom zo skupiny Bloodcut. A riadiac sa  starým príslovím, kde je rozhovor môžeš hľadať aj recenziu, si teraz môžete jednu prečítať na album tejto skupiny Remains of the Deceased.
Veľa môže napovedať už samotný dizajn obalu. Nezasvätenému, no za to pozornému človeku zrejme dôjde, že sa nebude jednať o žiaden pop-rock, ale že skôr zabŕdneme do temnejších vôd. Tu treba za prácu pochváliť autora Adama Šlucha.
Po krátkom úvode, akoby vystrihnutého z nejakého hororu sa na nás začne valiť prvý riff a párty môže začať. Konkrétne Cemetery Party. Slovami autora Janeka – ,,death metal s koreňmi v 90. rokoch, nesúci sa v strednom tempe, s výraznou valivosťou, zapamätateľnými riffmi a trochou melodiky". V podstate sa nedá nič iné, ako súhlasiť. Skladba prebehne rýchlo bez jediného zaváhania či spomalenia, či nejakého ,,poľudštenia" (rozumej melodickej pasáže). Rovnaké to je aj s ďalšími kúskami – Necromarch, Still Undead a poslednou Back from the Dead. Aký z toho vzniká celkový rezultát?
Ako som už vyššie pozvoľne citoval Janeka, všetky štyri skladby sa nesú v strednom tempe, bez toho, aby v nich bola nejaká výraznejšia odbočka či rôzne krkolomné kompozičné manévre. Melodickosti je tiež pomenej, neskĺzne to však do stereotypnej špirály, ktorá sa nakoniec zrúti sama do seba. Všetky štyri piesne ani na chvíľu nenudia, sršia množstvom skvelých nápadov.
V zmienenom rozhovore ste sa mohli dočítať, že veľa riffov použitých na RotD pochádza ešte z Janekovej druhej bandy – grind formácie Swrab. Našťastie neskončili niekde na smetisku alebo v šuflíku. Ak malo byť cieľom, aby songy boli ľahko zapamätateľné, tak sa to podarilo. Tým je asi povedané všetko k vyvráteniu špirály.
Čo ma ale trochu zamrzelo je nevyužitie hororovej atmosféry, ktorú dizajn a aj názvy piesní môžu mnohým evokovať. Predsa len, pár strašidelných aranžmánov by mohlo celú nahrávku len oživiť a spestriť. Niečo ako pri zmienenej Cementery – 20 sekundový úvod. Inak neviem nájsť nič, čo by som mohol inštrumentálnej stránke vytknúť.
Texty sa pochopiteľne točia okolo temnoty a všetky v angličtine.
Spev: Pôsobenie frontmana v grindovej formácii by mohlo evokovať sklon k istým formám vokálov, ktoré sú v tomto žánri bežné. Avšak žiadne slumy nehrozia. Skôr nájdeme dobre zrozumiteľný growl.
Remains of the Deceased obsahuje síce iba 4 skladby, ale určite však má, čo ponúknuť (rovnako ako aj kapela). Teším sa na jeho nasledovníka.
Lineup:
Janek Lovás – gitary, spev, programovanie
Slavek – basa
Tracklist:
Cemetery Party
Necromarch
Still Undead
Back from the Dead
Rok vydania: 2016
Vydavateľstvo: Samovydanie
Youtube ukážka:

Linky:
https://www.facebook.com/Bloodcut-875037252594820/
http://bandzone.cz/bloodcut
Hodnotenie: 5/6