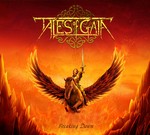 Španielsko je známe mnohými vecami – býčími zápasmi, krásnymi plážami a podobne. No ak sa pozrieme na ich metalovú scénu, tak v tom smere svetu zatiaľ veľa nedali. Existuje len zopár španielskych kapiel, ktoré poznajú aj v zahraničí – napr. Dark Moor, Mägo de Oz. To však samozrejme neznamená, že sa na tamojšej scéne nenachádzajú kvalitné spolky. Jedným z nich sú napr. power metaloví Tales of Gaia.
Vznikli v roku 2010. No patria medzi formácie, ktoré trpia personálnou nestabilitou. Zo zakladajúcich členov v súčasnej zostave pôsobia už iba dvaja gitaristi Raül Moriana, Javi Carrillo. Taktiež vystriedali aj veľa spevákov. Pred súčasným – Néstorom Catalànom si pôsobenie v ToG vyskúšali až traja (Edgar Eduardo Castro, Iván Murray, Locke Strife). Ale vráťme sa k počiatkom. Debut v podobe EP Breaking Dawn sa zrodil v roku 2015.
Obsahuje 4 skladby plus jedno intro. Je to síce typický melodický priamočiary power metal (čiže nič nové pod slnkom), no keď sa doň započúvate uznáte, že sa týmto Španielom podarilo úžasné dielo. Najväčšou devízou sú nádherné melodické gitary. Po tejto stránke je to jeden z najlepších albumov, aké som kedy počul. Tie keď doplní energická a úderná rytmika, tak výsledok je fantastický.
Možno niekto môže mať problém so spevom vtedajšieho speváka – výškara Edgara Castra. Jeho hlas znie pomerne mlado, neskúsene. Podľa môjho názoru ak by sa dlhšie povenoval spevu, časom by sa to spravilo. Ako to už v tomto žánri býva, Edgara v piesňach vkusne dopĺňajú aj zbory.
EP Breaking Dawn síce nespravilo nejakú dieru na scéne. No ak patríte medzi ,,pravoverných melodikov", resp. ak nepohrdnete týmto štýlom určite si ho vypočujte.
Lineup:
Edgar Castro – spev
Raül Moriana – gitary, klávesy
Javi Carrillo – gitary, doprovodné vokály
Niceto Aguilera – basa
Sergi Sabater – bicie
Tracklist:
Intro
The Conquerors
The Magic Land
Death to the King
Tales of Gaia
Rok vydania: 2015
Vydavateľstvo: Samovydanie

Youtube ukážka:

Linky:
https://www.facebook.com/TalesofGaia
http://talesofgaia.bandcamp.com/
Hodnotenie: 4,5/5