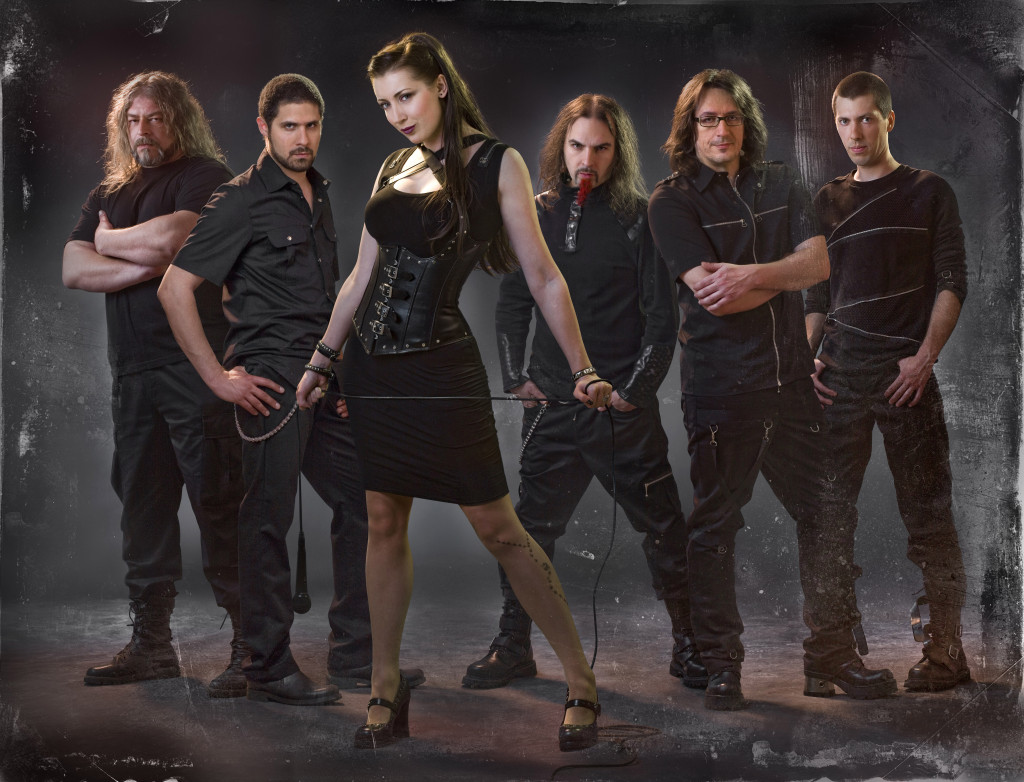 AngelSeed are very great symphonic power metal band from Croatia. People from other countries can see them like support on concerts of Within Temptetion in 2008. Few years after they released full CD debut – Crimson Dyed Abyss. More info from bassist Siniša Antunović:
Hi Siniša! How are you? What are you doing these days?
Siniša Antunovič:  Hello to you too, Lubos! Well… If I will tell you what I'm doing these days you will not have enough space to write all of that… hahaha 🙂 Kidding a bit… We are quite excited about our album release… It's such a stress, actually… Not in negative way. Just can't wait to see the CD in our hands.
Can you tell us something more about it?
Siniša Antunovič:  Well… This album is some kind of mixture of music we all like… From rock to thrash or death metal…in those songs you can find really everything… 😉 Even love and lust, in Song "Now" 🙂 We don't know what subgenre could it be, it's better someone else say what this is… for us it's just "metal" 🙂
How did the crative process look like?
Siniša Antunovič: Creative process?  Hm, that would be something you can write a book hahaha…;)   We make our music the old school way, which means I pick my instrument start playing and something comes into my mind… My computer is always on so when i get the idea just record it… Doesn't matter is it just one riff or bass line, drum sequence or something else… I just record this piece and after I work on it… Sometimes this can be a half or whole idea for song but mostly there is just a fragment… When you play just for exercise you can get a lot of such ideas… after that we listen to those on rehearsal or studio and pick parts which we consider good and then implement other instruments or other ideas, depending on the moment. You know the rest: When we agree on something we go to the rehearsal room and play it live. In that stage you can make a lot of changes in arrangements, tempo etc… That is what rehearsals are for… When we have completed song we go to studio and record a demo, just to hear what we made… That process of rehearsals and demo recordings repeats a lot until we have finished song… People usually think everybody can do that in their households, just with computers, maybe, but we have witnessed the quality of recording in real professional studio… It's unbelievable difference.
Who is the main songwriter in your band? Where do you get your inspiration?
Siniša Antunovič: There is no "main" in AngelSeed… We act together, all of us have ideas and all of us work on those ideas… when you have a band you must be aware that this band isn't you alone… Audience will not recognize just one of the band members but whole band… We put our personal egos aside…
Inspirations we get from reflections of our minds, wishes or desires… In what we see around us…If I see or hear something to piss me off surely I'll make hell of a riff, even a whole song… depends of pissing level hahaha 😉
In the last days of the world really terrible things happening. Do you think that music is the ability to say something to the world, or rather in their trying to avoid topics such as politics, war, …
Siniša Antunovič: Yes… The last few days and weeks are really awful… In our opinion music have power to do a lot , Only you must have people to listen to. In today's world music generally, is just something for fun, something to listen when you work something…  More like background noise… Most of music styles are like that. I believe metal music is one of the genres where you can express yourself and still have people who will listen what you are trying to tell them, and because of this metal is one unique genre which can pull from a person all negative feelings and leave you in calmness after you went to some metal concert… it feels like releasing from stress… Generally: war, politics, religion and all other aspects of life and situations today are themes for lyrics in most of the metal music… I think there is no avoiding those themes.
I know you were on tour last year. How you managed to get to this option?
Siniša Antunovič: Well, that must be normal for all momentous bands. If you have material to play, if you have a wish to present it to larger audience you must do such thing… Our wish is not megalomanic, but we'll be glad if our music will be listened in whole world because we are from small country, Croatia, and scene here is marginalized so we must do something about it. Maybe we will not get high score but will try to do our best for sure and promote metal music from Croatia.
Did you act with some other bands?
Siniša Antunovič: Yes, we did… We were truly surprised when we were invited to be a support for one of the biggest band in Europe, Within Temptation… That was our stage debut… In that moment we were not ready for such adventure… Our lineup was fresh and there was a lot of insecurity to do this, but we did… After that we've decided to record real thing, we went to Sweden and done recordings because audience response was so great as well as of Within Temptation … Must say that performance were most influential for us to do so… We had some invitations from some other bands to play with them, but we were so dedicated to do our job good so we declined those performances… We are not sorry about that because when we were on our first tour last year we played with your Slovakian dark metal band GALADRIEL and APRIL WEEPS… Those are really great guys and ladys…
Let's go now to you, what were your musical beginnings?
Siniša Antunovič: My musical beginning… 1984, when I got cassette from my uncle… "24carrat purple" of Deep purple and after that bought my first LP :Highway to hell and Back in black of AC/DC… But real beginning was when I got Iron maiden's Killers… hahaha 😉
And AngelSeed?
Siniša Antunovič:  AngelSeed was imagined few years ago like a project… Three of us, Damir Marijan, Jure Baljak and my humble self are in the music for a long time… About 25 years… All of us played in the thrash metal band Drinking skull. Damir was a founder of Drinking skull, Jure and I were drummers in different stages of Drinking skull. After some time Maras ( Damir), Jure and I made some ideas and decided to record it. When we listened those "root" songs, we came to the idea to try with female vocals. Of course there were few ladies before Ivana (Lara) but she stayed …  She is very good in this. After her coming into the project we found Keyboardist and better guitarist than I would ever be hahaha, so I changed my instrument and now I am playing bass… From that moment we all decided to turn project into a band.
Who are your influences?
Siniša Antunovič: There are a lot of them actually… From almost all kinds of music. I cannot name you just a few. We all listen very various music styles, from classical to brutal death metal, just name it…
We are band of wide age range so every of us have his/her few favorite bands or artists from Almann brothers, 70's rock to Modern metal styles like Mercenary, Within temptation or Evanescence… We all like music and there is no actually difference between styles… Just good or less good music…
What are your plans and goals even in music you would like to achieve?
Siniša Antunovič: There are a lot of them, but we take step by step… Everyone I know does for living something they actually don't like…  We will try to do something we really love
I hope that you manage if you want to bequeath something to our fans so you have the opportunity.
Siniša Antunovič: Of course… Don't ever stop playing, keep your dream close to you and you will have a happy life… It's a hard way but it's worth…
Youtube teaser:
Links:
http://www.angelseed.info/pages/band.html
https://www.facebook.com/AngelSeedMusic/