Presne na deň deti roku 2016 dostalo východne Slovensko od agentúry EPG pekný darček. V metropole východu sa konalo vystúpenie fínskej legendy symfonického metalu Nightwish spolu s hviezdnymi hosťami Almanac a zaujímavým supportom.
Bohužiaľ sa par dni pred jeho začiatkom objavili problémy…  T. j. začali sa šíriť tzv. kuvičie hlasy, že z neho nič nebude, lebo amfiteáter nie je k dispozícii. Našťastie na poslednú chvíľu sa podarilo podujatie presunúť  – do areálu štadiónu Lokomotívy Košice. Usporiadatelia navyše zabezpečili aj kyvadlovú dopravu, ktorá premávala popri štadióne.
Do areálu sme sa nakoniec dostali okolo pol piatej (bolo to síce trochu neskôr ako bolo avizované ale pod. problémy pri akciách tohto typu sa stavajú 🙂 ) a krátko nato sme si vychutnávali prvého predskokana, známu slovenskú formáciu Tristana.
Prekvapila celkom solídna účasť, čo počas vystúpení predkapiel nebýva pravidlom. Spomínaná Tristana vystúpila ako predskokan Nightwish aj minulý rok v Banskej Bystrici, kde mali aj hviezdneho hosťa švédskeho speváka Matsa Lévena. Tentokrát účinkovali len v základnej zostave.
Po muzikantskej stránke im niet čo vytknúť – spevák Peťo Wilsen s prehľadom zvládal prechody medzi čistým hlasom a screamingom aj ostatní muzikanti predviedli remeselne slušný výkon. Chýbalo mi však nejaké väčšie nasadenie. Setlist tvorili piesne z posledného albumu Virtual Crime, ktorým sa rozišli so svojou power metalovou minulosťou.
Medzi kapelami nechýbali aj súťaže ako je zvykom na open air podujatiach, moderovanie mala na starosti známa Libuša Říhová.
Nasledujúci účinkujúci, Sorronia od našich južných susedov, bola pre väčšinu publika veľkou záhadou. Na scéne pôsobia od roku 2011 a zatiaľ majú na konte full album Word Of Silence a EP Betrayal. V Košiciach pódiu predviedli symfonický metal postavený hlavne na klávesoch.
Zaujímavosťou bolo, že speváčka Anna Király sama spievala dvojhlasy. Celkom sa na to dalo pozerať, no niečo tomu chýbalo.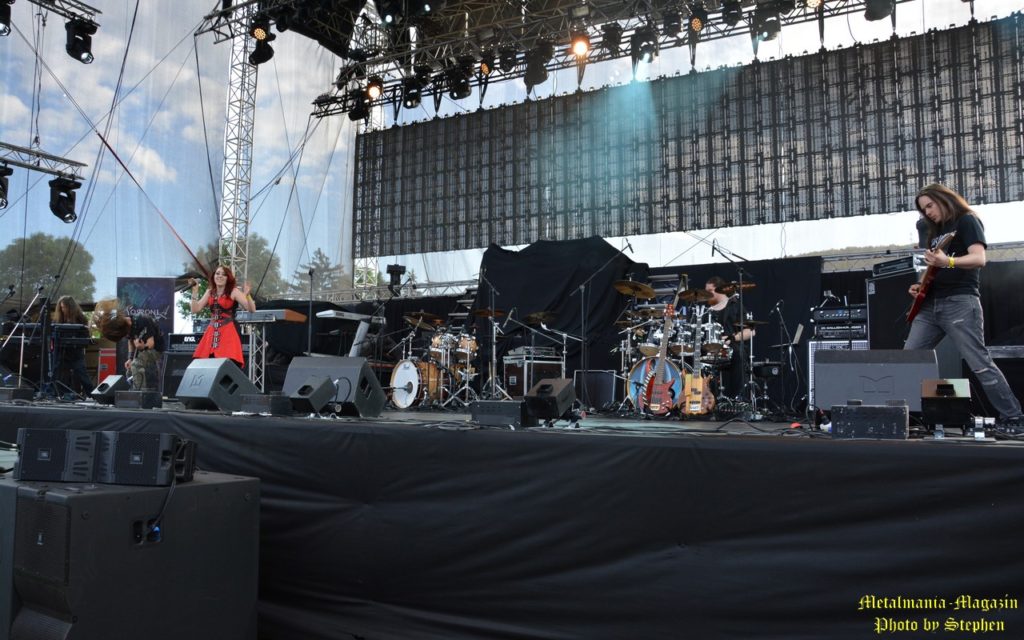 Symfobia
Posledným predskonanom boli taktiež symfonici – Symfobia z Nitry. Aj keď debut vydali ešte len minulý rok, su nesmierne koncertne aktívny. Okrem minuloročného koncertu Nightwsih v BB ste ich mohli vidieť napr. na minuloročnom Cibulafeste v Holíči, na koncerte Therionu alebo aj na tohtoročnom turné Tublatanky – Infinity Rock Tour a stihli sa už aj pozrieť aj do ČR…
Tak ako minule, aj tu predviedli kvalitné vystúpenie so skladbami z debutu Way of the Queen … Speváčka Erika, bola tentokrát  doprevádzaná dvoma vokalistkami. Na našej scéne ešte o nich určite budeme počuť (a to tvrdím napriek tomu, že pod. muzike moc neholdujem 😉 ).
Ide do tuhého
Po nich prišli na rad Almanac, nový projekt gitaristu Victora Smolského,  dlhoročného člena Rage,- špeciálny hosť Nightiwsh. Ich hudba bola postavená hlavne špecifickom gitarovom zvuku ich leadera a za mikrofónom boli  dvaja ľudia – David Reedman (známy napr. z Pink Cream 69) a Jeannette Marchewka (známa zo sólo projektu členov Rage – Liguna Mortis Orchestra).
Bal som sa trochu o nazvučenie, no spevy sa pánom zvukárom celkom podarilo nazvučiť (aj keď ostatne nástroje sa dali aj lepšie 🙂 ).
Nechýbalo ani špecifické oblečenie, druhý poznávací znak Almanac.
Aj keď bolo uvedené, že sú špeciálnym hosťom Nightwish, pre mnohých to bolo rovnaké lákalo ako zmienená kapela (a pre niektorých aj headlinerom celého podujatia 🙂 ). V setliste mal pochopiteľne najväčší priestor debutový album Tsar (Tsar, Self Blinded Eyes, Children of the Future, Nevermore, alebo hitovku No More Shadows).
Z bývalého Victorovho pôsobiska Rage zaznelo No Regrets, Empty Hollow, Innocent.
Zlatý klinec večera
Nakoniec prišli na rad tí, na ktorých všetci čakali Nightwish. Ich vystúpenie odštartovalo dlhočizné intro a po mohutnom výbuchu pyrotechniky začala prvá skladba Shulder Before The Beautiful z posledného štúdiového počinu Endless Forms Most Beautiful. Piesne z neho mali opäť najväčší priestor v setliste.
Menším prekvapením boli nadšené reakcie publika, keďže minuloročné ohlasy naň boli pomerne rozporuplné. Asi pri štvrtej skladbe Storytime sa zapla aj veľká obrazovka, kde sa objavovali zábery prírody, vesmíru a podobne, zvýrazňujúce vizuálny dojem z predstavenia. Pochváliť treba špičovké hudobné výkony a taktiež aj veľkolepú show, ktorú okrem pyrotechniky a obrazovky dotvárali aj mohutné svetla a dymové efekty.
Nazvučenie mohlo byť  však o čosi lepšie, sem tam to bolo až moc prebasované. V setliste nechýbali ani ,,povinné jazdy" ako My Walden, Élan, I Want My Tears Back (na ktorú sme sa do sýtosti vyskákali), Stargezers a narozdiel od minulého roku zaznel aj Nemo.
Chýbali však I Wish I Had An Angel a namiesto Wishmastera celú show ukončili časti dlhočiznej The Great Show On The Earth (pt. 2 a 3).
Záver
Na záver asi toľko. Nesmierne ďakujem usporiadateľom, že sa im koncert aj napriek obrovským problémom podarilo uskutočniť. Každopádne to bola jedna z najväčších akcií, ktoré sa tento rok uskutočnili na východe resp.  na Slovensku ako takom. Snáď sa ešte niekedy vrátia.
P.S: Ako tradične, úplne posledné poďakovanie patri Stephenovi za foto 🙂
Galéria: