Civil War – odchod speváka
22.12.2016
Kapela Civil War (ktorú tvoria z väčšej časti odídenci zo Sabatonu) oznámila na svojom facebooku odchod speváka Nilsa Patrika Johanssona:
,,Dobrý večer vám všetkým ! Ako niektorí z vás si už asi všimli, náš spevák Patrik náhle opustil kapelu bez akéhokoľvek odvolania. Prišlo to ako naozaj veľké prekvapenie pre nás všetkých. Práve sme mali stretnutie a prišli sme k záveru, že Civil War bude naďalej pokračovať a všetky koncerty a festivaly prebehnú podľa plánu. Vezmeme si dovolenku, musíme to všetko vstrebať a potom začneme hľadať nového speváka. S pozdravom Myhr, Mullback, Rikard a Petrus Zostaňte s nami!"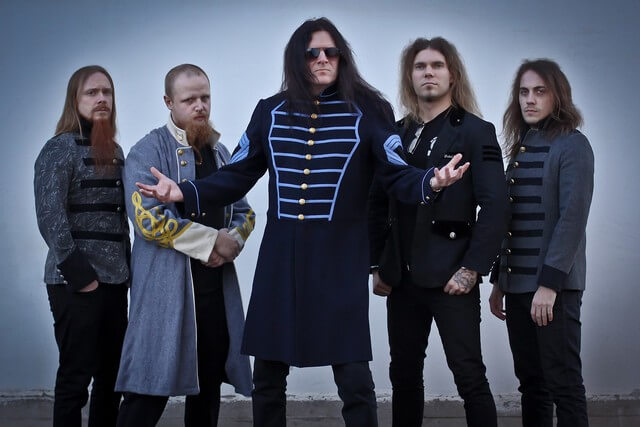 Linky:
http://www.civilwar.se/
https://www.facebook.com/Civilwarsweden/
Sinatras – lyric video k skladbe z chystaného albumu
22.12.2016
Čakanie na debutový album talianskych thrash/death metalistov Sinatras – Drowned (vyjde 6. januára 2017 vo vydavateľstve Logic Il Logic records) si môžete skrátiť zhliadnutím lyric videa k skladbe Spiral Hell:
Links:
www.sinatras-band.com
www.facebook.com/sinatrasband
www.sinatras.bandcamp.com
www.reverbnation.com/sinatras9
soundcloud.com/sinatras_official
www.atomicstuff.com
Zdroj: Atomic Stuff Promotion
Lost in Grey – videoklip k skladbe Dark Skies
21.12.2016
Fínski "theatrical metalisti" Lost in Grey zverejnili videoklip k prvému digitálnemu singlu Dark Skies, z chystaného debutového albumu The Grey Realms (dátum vydania: 3. marca 2017).
Režíroval ho spevák Anne Lill Rajla. Debutový album vyjde 3. marca 2017.
Linky:
www.lostingrey.fi
www.facebook.com/Lostingrey
www.noiseart.eu
Zdroj: NoiseArt Records
Roxor – nový videoklip
18.12.2016
Českí heavy metalisti Roxor zverejnili video klip k skladbe Kdo si počká, ktorá pochádza z tohtoročného albumu Kazatel:
Linky:
http://www.roxor-heavy.cz/
https://www.facebook.com/Roxor-217231573505/?fref=ts
http://bandzone.cz/roxorheavy
Zdroj: www.youtube.com