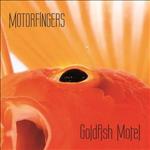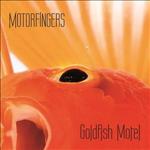 I suppose that everyone know stories about goldfish, which realize thre wishes. And now imagine that this fish has a motel, and instead of three wishes you will have eleven. And this is case of album Goldfish Motel, recorded by music group Motorfingers from Italy. So, let´s take a look on it.
First song Walk On Your Face show direct of whole album- rock-metal songs full of energy with feeling for melody. Behind This Fire walks acording the direct, and also contain short outro, where we can hear something about our motel. 🙂
First significant change come with song number five called XXXIII (33 in roman numbers I suppose), which is true rock ballad.  Next ballad, but now only acoustic figure with assistance of violins is Nothing But a Man, and for me it is the best track on Cd.
And right in these two ballads we can see talent of musicians. Besides fast, hard and sometimes aggressive songs they create beautiful ballads, which totally enrich full record. And honestly, who don´t like calm emotional songs? Rest of the album is such as it´s intro – classic heavy tracks. I would like to mention Pull the Tail (love on the first sight or hearing) and Tonight (same case like before).
Goldfish Motel is really hardly to class with some musical genre. Combination of fast and hard songs with big feeling for energy with emotional ballads is probably something between hardrock and heavy metal.
And exactly in classical heavy metal I see roots of everything. But with their own feelings about music make Motorfingers something what we hear everyday, but still never before. Or if you want, classic with new original clothes.
Instrumental side of Goldfish Motel is on a high level. Exactly if you are a lover of guitar solos. There are a lot of them, and they are awesome (majority of them). And of course, some easy to remember riffs. The only individual song is Nothing But a Man, but this acoustic track is simply masterpiece.
Vocal side of this Cd is also really good. But I have to mention, that voice of lead singer Abba sound me like voice of singer Matthew Charles Sanders from Avenged Sevenfold. But it is only my own feeling. 🙂
Goldfish Motel is interesting creation, which will be mainly adore by fans of classical metal. But i believe that every fan of good music will find out something on this album. Another good record from Italy.
Lineup:
Abba – Vocals
Max – Guitar
Spezza – Guitar, Backing Vocals
Faust – Bass
Alex – Drums
Tracklist:
Walk On Your Face
Behind This Fire
Obscene
Day Of Dawn
XXXIII
Burning Down
Nothing But A Man
Pull The Tail
Disaster
Tonight
Eat Your Gun
Year of Release: 2016
Label: logic(il)logic Records
Youtube teaser:

Links:
http://www.motorfingers.com/
https://www.facebook.com/MotorfingersBand/?fref=ts
Score: 4/6