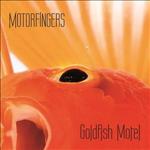 Predpokladám, že každý pozná rozprávky (prípadne vtipy), kde zlatá rybka plní rybárovi, ktorí ju ulovil tri želania. No a teraz si predstavte, že by si taká zlatá rybka založila motel, kde by vám miesto splnenia troch želaní ponúkla 11 piesní. Presne takýto hotel, resp. album Goldfish Motel vydala talianska skupina Motorfingers. A mne sa ako recenzentovi nášho webu, dostalo cti pozrieť sa naň zblízka.
Hneď prvá Walk On Your Face, to rozbalí naplno a ukáže smer, akým sa bude celá nahrávka uberať. Energická rock-metalová záležitosť, avšak so silným citom pre melódiu. V nastolenom smere pokračuje Behind This Fire, s krátkym bonusom na záver, ktorý vysvetľuje názov celého CD. Prvá výraznejšia zmena nastáva až pri piesni s číslom 5. Song nesúci názov XXXIII (predpokladám, že 33 rímskymi číslicami) je plnohodnotnou rockovou baladou. Ďalšou, tentokrát akustickou baladou je pieseň Nothing But a Man, (pre mňa osobne najkrajšia skladba na albume).
A práve v týchto dvoch songoch je možné vidieť talent hudobníkov. Veď ruku na srdce, kto nemá rád rockové balady? Ostatok, o ktorom ešte nepadla reč je v podstate rovnaký ako vyššie spomenutý úvod. Sám za seba by som vypichol ešte Pull the Tail a Tonight. Svojím spôsobom nijako výrazne nevybočujú zo smerníc albumu, (Tonight svojou výraznejšou melodickosťou trochu áno) ale napriek tomu mi prišli niečím výnimočné.
Goldfish Motel je určite obťažnejšie žánrovo zaradiť. Miešanie rýchlych agresívnych skladieb s citom pre melódie s baladami by ich však najskôr zaradilo niekde do pomedzia hardrock-heavy metal. A práve v klasickom heavy metale by som videl korene všetkého. Avšak obohatenie o svoj vlastný pohľad na hudbu ako takú, robí z tohto albumu niečo, čo sme už tisíckrát počuli a predsa ani raz. Alebo, ak chcete klasika v novom originálnom šate.
Inštrumentálna stránka obstojí aj prísnejšie hodnotenie, hlavne ak ste milovníkmi gitarových sól. Tých si užijete požehnane. A, že väčšina z nich stojí fakt zato. Jediné výrazne vybočenie je hore spomenutá akustická balada Nothing But a Man. Hlavne zakomponovanie violončela vyšlo na jednotku.
Vokálnej stránke je tiež niečo ťažko vytknúť. Ale, nedá mi nespomenúť, že osobne mi hlas speváka s menom Abba veľmi pripomínal hlas speváka Matthewa Charlesa Sandersa zo skupiny Avenged Sevenfold. To však nie je v žiadnom prípade kritika, len suché konštatovanie.
Goldfish Motel je zaujímavý počin, ktorý poteší zrejme skôr milovníkov klasického metalu. Avšak myslím si, že každý milovník dobrej hudby si nájde na ňom niečo, čo ho zaujme.
Lineup:
Abba – spev
Max – gitara
Spezza – gitara, doprovodný vokál
Faust – basa
Alex – bicie
Tracklist:
Walk On Your Face
Behind This Fire
Obscene
Day Of Dawn
XXXIII
Burning Down
Nothing But A Man
Pull The Tail
Disaster
Tonight
Eat Your Gun
Rok vydania: 2016
Vydavateľstvo: logic(il)logic Records
Youtube ukážka:

Linky:
http://www.motorfingers.com/
https://www.facebook.com/MotorfingersBand/?fref=ts
Hodnotenie: 4/6