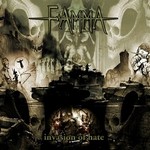 Východ našej krajiny má bohatú metalovú históriu a súčasnosť. Kapela Famma je ďalším zástupcom, ktorý má snahu zanechať svoju stopu na metalovom poli. Z veľmi chudobných informácií na bandzone profile sa dozvedám, že existuje od roku 2000 a "Invasion of Hate" je zrejme prvá naozaj seriózna nahrávka, s ktorou chce kapela osloviť potencionálneho vydavateľa.
Poďme pekne po poriadku – front cover (nič iné nemám k dispozícii) spája mimozemské výjavy s krutou ľudskou realitou, mne sa táto koláž naozaj páči.
Album obsahuje 6 skladieb, máličko presahujúcich 25 minút. Základ muziky je deathmetalový, muzika valí prevažne v strednom tempe, samozrejme s presahom či už do pomala alebo do rýchla.
Rytmicky je teda nahrávka pestrá. Väčšina riffov má náznak melodiky, avšak dočkáme sa aj technickejších pasáží. Skladby sú dopĺňané sólovými výjazdmi, väčšinou takisto melodického charakteru.
Jednou z najvydarenejších pasáží je záver "Demons around You", naozaj účelné jednoduché sólo. Túto skladbu zároveň považujem za najzaujímavejšiu z celého albumu. Klávesové intro je zaujímavé ?. Na druhej strane dvojka "Wreak Havoc" má správny ťah na bránu, tu je pre zmenu úvod náklepový.
Naopak nepáči sa mi v nej spomalenie a sólo, ktoré ju posúva do mäkších vôd. Plnohodnotných skladieb je na albume vlastne len päť, záverečná "Elise", v ktorej počujeme len akustickú gitaru a sólo, sa mi vyslovene nepáči, ale sto ľudí sto chutí.
Ďalšia vec, ku ktorej mám výhrady, je zvuk. Nahrávka znie ako dobre nasnímané demo, nie ako plnohodnotný album. Neviem, kde sa točilo, ale takto si ja štúdiový metalový zvuk nepredstavujem. Za toto u mňa bod dole.
OK, čo dodať na záver – pre mňa vcelku slušný death metalový priemer, s mnohými vybočeniami smerom k mäkším kovom. Bude to stačiť ? Na to si už musí nájsť odpoveď každý sám.
Lineup:
Peter Mišľan – gitary, basa
Ladislav Škovranko – gitary, basa
Róbert Rohaľ – bicie
Hostia:
Tracklist:
Alien-Human Hybrid
Wreak Havoc
Alter Ego
Demons Around You
Solar Enigma
Elise
Rok vydania: 2017
Vydavateľstvo: Samovydanie
Youtube ukážka:

Linky:
https://www.facebook.com/FammaSK-435625666576978/?fref=ts
http://bandzone.cz/fammask
https://famma.bandcamp.com/
https://www.youtube.com/channel/UCCOoo9YvZxZMfnXuPOfvlhQ
Hodnotenie: 3/6