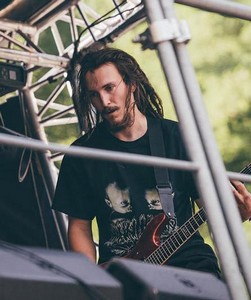 Popradskí grindcoristi Human Humus toto leto skutočne nezaháľajú. Mohli ste sa s nimi stretnúť na mnohých festivaloch a taktiež nám naservírovali nový album The Obligatory Struggle, ktorý vydali pod českým vydavateľstvom L'inphantile Collective. Viac už v rozhovore s gitaristom a vokalistom v jednej osobe Andrejom Bartekom:
Čus Andrej, ako sa máte v Human Humus v tieto sparné letné dni?
Andrej Bartek: Výborne. Flesh party, Family fest, Opičí Bál, Fluff fest, Brutal Assault, Ffud fest, Ynfest, Fekal Party. Pomedzi to robota a muzika. U ostatných v kapele prevláda skôr film, chlast a rodina.
Koľko rokov už funguje Human Humus a koho vôbec napadlo dať kapele takýto názov? Myslím, že väčšina ľudí ho chápe, ale poprosím ťa o vysvetlenie…
Andrej Bartek: Human Humus vznikol v roku 2008. Demo vyšlo 2010. Ižďo (spev) začal v kapele pôsobiť v roku 2011 a ja 2012. Šesto (basa) a Sedrik (bicie) sú pôvodní členovia.
Názov vymyslel Sedrik hľadajúc niečo originálne, čo sa aj celkom podarilo. Human Humus predstavuje zlo v ľuďoch a to, čo sú schopní ľudia urobiť pre moc, peniaze alebo z nenávisti.
Zdá sa mi že okolo rokov 2015/2016 o vás moc počuť nebolo? Je to skutočne tak?
Andrej Bartek: Je to tak.
V lete 2015 sme síce absolvovali spoločné krátke turné s kapelou Distax cez krajiny bývalej Juhoslávie, ale celkovo sme neboli veľmi aktívni. Sedrik (bicie) sa oženil, potom porodil, potom znovu porodil. Ižďo začal byť zaneprázdnený filmovaním v Bratislave, takže nebolo moc času a keď nehráš, nikto o teba nezakopne. Snáď sa to zas rozbehne.
Sme ale v polovici roka 2017 a ja držím v rukách vaše nové dielo. Tak poprosím ťa o pár slov k nemu.
Andrej Bartek: The Obligatory Struggle je náš druhý dlhohrajúci album.
Rozpráva o životnom zápase jednotlivca na zemi, kde nie je kam ujsť pred udalosťami, či už politickými alebo prírodnými. Kde dianie na druhej strane planéty skôr či neskôr ovplyvní aj naše životy a nedokážeme sa ukryť do bezpečnej zóny alebo zvoliť "LOAD GAME" a spraviť niečo inak a zmeniť súčasnosť.
Grafické zobrazenie indiánov pracujúcich za pásom dotvára túto myšlienku. Skladby naň vznikali priebežne za posledné roky a keď minutáž presiahla dve desiatky, vzali sme veci rovno do štúdia 200m od našej skušobne.
CD vyšlo pod hlavičkou českých L'inphantile Collective. Ak sa nemýlim, táto partička má na svedomí aj kultové letné Fekal Party. Spolupráca s nimi vznikla ako?
Andrej Bartek: Ižďo sa s Ossiem poznal už nejaký čas a posielali si navzájom ponuky na koncerty.
Keď sme vyhodili prvý song z Dirty Filthy Mess (2013), ponúkol nám hranie na Fekal Party. Ostali sme v kontakte a pár krát sa ponúkol, že by nám rád vydal dosku. Doska je na svete. Keď sa raz s Ižďom hecneme, tak vyjde aj vinyl.
O tom, ako vašu muziku vnímam ja sa môžu čitatelia čoskoro dozvedieť v recenzii, ale zaujíma ma tvoj názor – prečo práve grindcore, čo pre vás táto muzika znamená?
Andrej Bartek: Keď som sa dostal ku grindcoru v šestnástich, znamenal pre mňa protest. Vnímal som ho ako antihudbu k mainstreamu, či už hudobnému alebo myšlienkovému. Ako jednu z najextrémnejších foriem punku ho tak vnímam dodnes.
A punk pre mňa znamená, že môžem veci robiť inak ako ich vníma masa. Že môžem robiť veci aj keď v nich nie som hneď dobrý. Že spochybňujem zaužívané postoje a neakceptujem hocičo len preto, že spoločnosť a ľudia sú zvyknutí a naučení nejakým spôsobom. Snažím sa vyhodnotiť javy bez ohľadu na názory prevládajúce v spoločnosti. Aj o tom je pre mňa grindcore.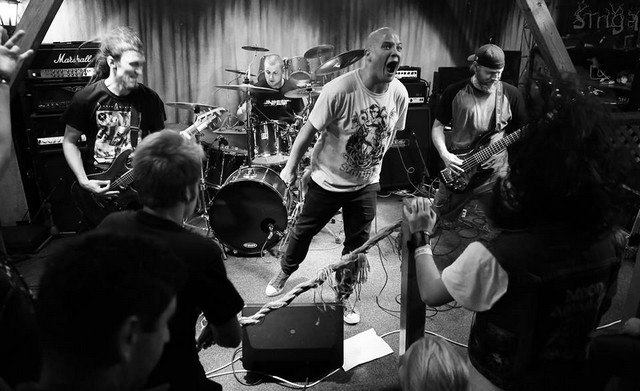 Čítajúc vaše texty predpokladám, že sú pre vás rovnako dôležité ako samotná muzika. Na to aby ste ich písali vám stačí náhľad na dnešný svet, alebo hľadáte podnety trebárs v literatúre?
Andrej Bartek: S Ižďom píšeme texty pol ja, pol on. Hovoriac za svoje texty, tak ako som napísal vyššie, snažím sa moje postoje prezentovať práve v textoch.
Hlavne ale nechcem zapadnúť do klišé, preberať sto krát prežuté témy a podporovať model "my versus oni" alebo polarizáciu spoločnosti. Kritika do vlastných radov je dôležitá. Texty ako také ale v hudbe nepovažujem za tak dôležité.
Dôležité je pre mňa, aby kapela mala názor, keď má čo povedať. Ale áno, v textoch to najjednoduchšie vyjadrí. Čo sa týka podnetov, sú to väčšinou skúsenosti zo života a náhľad na dnešný svet. Niekoľko krát som ale tematicky čerpal z článkov alebo videí na internete, ktoré mi dali nápad "o tomto spravím text". Vznikli tak aj texty "Human Farms", "Stockholm Syndrom" alebo "Victimless Crime".
Po zvukovej stránke je nahrávka naozaj vydarená. Nechali ste pracovať Maťa Barlu samého, alebo ste mu do konečnej podoby výdatne kecali 🙂
Andrej Bartek: Maťo je veľký profík, pracuje rýchlo a kvalitne. Ku grindcoru ale podľa mňa treba pristupovať ako k punku, čo som už vyššie spomínal. Je to trochu iné ako nahrávať metal. Takže niektoré detaily sme museli skorigovať a s výsledkom sme spokojní. Zase ale bez Maťovho prístupu a práce by sme možno nahrávali doteraz :D.
Okrem CD máte pre ľudí v ponuke aj ďalší merch? Šiltovky a triká sú dnes takmer povinné.
Andrej Bartek: Nič nie je povinné 🙂 Nové tričká máme v ponuke už asi dva roky, ale čas by sa mal pre kapely merať odohratými koncertmi a nie rokmi. Takže tričká máme relatívne nové. Ďalší merch nemáme a ani sa do toho nejdeme zatiaľ hrnúť. Keď nehráš, nepredáš.
Pevne verím, že chcete nový album podporiť aj koncertmi, kde vás teda môžeme tento rok vidieť?
Andrej Bartek: Pribudne nejaké hranie, ale už to nebude to, čo sme zažili v 2013/2014, keď sme hrali 30 koncertov ročne. Momentálne sme hrali na warm up party na Brutal Assaulte, 19.8. Ynfest, Svidník a 26.8. Fekal Party v Prahe. Zatiaľ toho viac nie je, no uvidíme, keď sa po lete rozbehne klubová sezóna.
Budú aj výjazdy za hranice?
Andrej Bartek: Dúfajme.
OK, blíži sa záver, chcem sa ti poďakovať za tvoj čas a odpovede, držím palce v propagácii grindcore na Slovensku ! Ako je u nás zvykom poprosím Ťa o nejaký ten záverečný odkaz pre čitateľov.
Andrej Bartek: Seďte menej v krčme a viac tvorte. Buďte aktívni a nebuďte ľahostajní k svojej budúcnosti. To je asi všetko takto v stručnosti. Podporujte dobrú muziku a vidíme sa na koncertoch. Ďakujem za priestor!
Youtube ukážka:

Linky:
https://www.facebook.com/HumanHumus/?fref=ts
https://humanhumus.bandcamp.com/