SAMAEL – Reveal 3D Static Video for Title Track "Hegemony"!
6. October 2017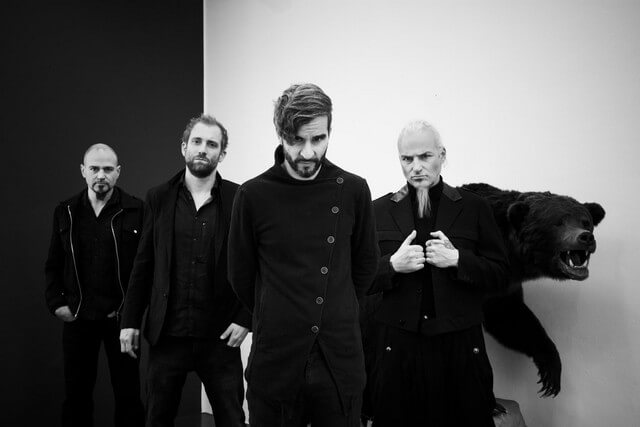 After taking a six year break, the Swiss industrial black metal pioneers SAMAEL are back with a dark and majestic monolith, that will crush you in an instant!
Fans were already given a taste of what to expect from the new album, with the singles "Angel of Wrath", "Red Planet", and "Black Supremacy". But now it's getting really serious… 30 years of constant evolution flow into the massive title track of their highly awaited album! We proudly present you SAMAEL's "Hegemony"!:
The band comments:
"This is our grand overture… We choose to open the album with this song because we thought it sets the tone; square rhythm, martial beat, massive guitar riffs, intricate keyboards arrangements, powerful orchestration all that meshed with aggressive and relentless vocal lines… This is our Hegemony… enjoy!"
There is only one more week until "Hegemony" will finally be released on October 13, 2017 via Napalm Records! The album will be available in the following formats:
4-page digipack
2LP gatefold black
2LP gatefold gold (via Napalm Records Online Store only)
2LP gatefold red (via Napalm Records Online Store only)
And as a DELUXE BOX incl. 1 CD, 4-page digipack, a flag, a 10x10cm logo patch, and a gorgeous pendant!!!
Links:
https://www.facebook.com/OfficialSamael
https://www.samael.info/
https://twitter.com/samaelofficial
https://www.youtube.com/user/samaeltv
Source of Information: Napalm Records Promotion Team
CAVALERA CONSPIRACY UNLEASH 'INSANE' LYRIC VIDEO!
5. October 2017
The brothers Max and Iggor Cavalera formed the legendarily trailblazing heavy metal band SEPULTURA as teenagers together in 1983. Across six studio albums the Brazilian punishers perfected the art of darkness and extreme music with thrash classics such as Beneath the Remains, Arise and Chaos AD, while exploring the underbelly of third world political issues and broadening the genre's horizons with an exploration of indigenous culture, culminating with the landmark Roots album in 1996. A decade after Max left SEPULTURA and meanwhile released seven successfull records with SOULFLY, the two brothers got back together in 2006 to form CAVALERA CONSPIRACY: A bold testament to the talent and power these two possess together. An invigorating mixture of speed and aggression, finest thrash power and the fiercest riffage!
It's time to get ready for one of the most heaviest and hotly anticipated metal records of 2017, when the mighty CAVALERA CONSPIRACY will strike back this Fall: 'Psychosis' will be coming out on November 17th on Napalm Records! Now the Cavalera brothers have unleashed a first lyric video for the album opening track 'Insane', says Max Cavalera: "Let's open the mosh pit and go insane!!!"
Check out the band's new video and go insane right:
Coming as CD digi pack, Digital Download and LP Gatefold editions, 'Psychosis' is now available for pre-order. Get your hands on it at: http://smarturl.it/Psychosis-NPR
Links:
https://www.cavaleraconspiracy.net
https://www.facebook.com/cavaleraconspiracy
https://www.napalmrecords.com
https://www.facebook.com/napalmrecords
Source of Information: Napalm Records Promotion Team
A Hero For The World – Album Trailer, release this December
4.10.2017
International Rock & Metal Band A HERO FOR THE WORLD from Sweden & the Philippines will release this December 1st 2017 a new album called "CineRock".
The album features around a dozen brand new recordings of more or less well-known songs from the big screen of Cinema, and TV. Recorded in the signature Symphonic and Cinematic epic & fun Rock and Power Metal style of the Band with a few bonus tracks added as well.
"CineRock" will be released worldwide on iTunes, Apple Music, Spotify, Google Play, Deezer, Amazon.
A Hero For The World, Band is:
Jacob Kaasgaard – Vocals, Keyboards, Guitar, Bass, Drums, Choirs & Orchestra
Louie Ryan – Female Vocals
Produced, Mixed and Mastered by Jacob Kaasgaard
See the Youtube ALBUM TRAILER below:

Links:
http://www.facebook.com/aherofortheworld
http://aherofortheworld.bandcamp.com/
Source of Information: Maria Sanchez