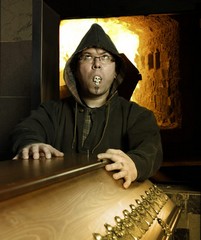 Milovníkom kvalitnej a originálnej muziku by určite nemal ujsť debutový album Mrchožrout projektu Ipah. Názov vám asi nič nepovie, no stoja za ním dve zaujímavé persóny. Nimi sú Ivoš Palček, ktorý sa mihol v zoskupení Septagon a so známym Necrocockom nahral album Lesní Hudba a Aleš Hrnčál, známy z kapely Warchild. Okrem originálnej muziky sú najsilnejšou zbraňou ich debutu Mrchožrout svojské, česky písané texty. Ivoš je zároveň človekom, ktorý odpovedal na otázky, kde sa ako tradične dozviete podrobnosti o tomto albume, ale aj mnoho iných zaujímavostí.
Ahoj! Ako sa darí?
Ivoš Plaček: Ahoj! Děkuju za optání, daří se střídavě ale vcelku dobře, jako například teď,kdy dělám rozhovor při dobré flašce ginu… 🙂
 Ipah nedávno vydal svoj debut nazvaný Mrchožrout. Ako prebiehal proces jeho vzniku?
Ivoš Plaček: Celé nahrávání probíhalo velice pozvolna od roku 2015, kdy jsem nejdříve vůbec přemýšlel s kým budu celí projekt nahrávat a narazil jsem na spřízněnou duši Aleše Hrnčála (WARCHILD), se kterým jsme si nakoupili komponenty do studia a mohli jsme začít.
To co následovalo poté bych nerad zveřejňoval, neboť to byla již jen alkoholická smršť, umocněná z mé strany již jen nelegálními látkami a povětšinou finálem, kdy jsme si ani jeden druhý den nepamatovali, co jsme vůbec vytvořili… 🙂
Ako by si ho popísal fanúšikom?
Ivoš Plaček: Těžce! Jsou tam veškeré vlivy, které mě kdy oslovily a jedná se o totální, nespoutaný, experimentální underground…
CD je už vonku, ale klasická otázka. Zmenil by si niečo na ňom, ak by si teraz s odstupom času dostal takúto možnosť?
Ivoš Plaček: Kromě určitých zvukařských záležitostí, na které nás upozornil Blackosh (ex-Root, Cales, Entralis, Crux, Master's Hammer) při mixu a které se už nedali vrátit, bych neměnil zhola nic.
Prvá vec, čo ma na vašej hudbe zaujala je fakt, že je zrejme nemožné vás nejakým spôsobom žánrovo zaradiť. Mix takmer všetkého, a tak je slovo alternatívny metal akýsi kompromis. Sú však nejaké žánre alebo hudobné vplyvy, ktoré by si si nikdy nevedel vo svojej tvorbe predstaviť?
Ivoš Plaček: Nesnáším hip hop a rap, jinak dokážu poslouchat a použít všechno.
Ktoré kapely mali na tvoju tvorbu najväčší vplyv?
Ivoš Plaček: To záleží na tom,v jakém období? Hudbu dělám od nějakých svých 14ti let a těch vlivů bylo mnoho,ale nejdůležitější byly asi v následujícím pořadí: Deep Purple, AC-DC-Olympic-Boney M-Black Sabbath-Metallica-Kroky Františka Janečka-Prototyp-Citron-Modern Talking-Sandra-Depeche Mode-King Diamond-Bathory-Depeche Mode-Death-Laibach-David Bowie-obecně vážná hudba a v neposlední řadě Gipsy Kajkoš…
Ďalšia vec, ktorá človeku prakticky hneď udrie do uší sú texty. Zrejme treba na ich napísanie dostatok nadhľadu a zmyslu pre humor….
Ivoš Plaček: Texty jsou moje skutečné příběhy ze života, jen podané s velkým nadhledem. Když dostaneš dneska přes držku v hospodě, budeš z toho měsíc v prdeli, avšak po určité době na to budeš vzpomínat jako na veselou historku… Asi nějak tak já přistupuju k textům…
Rozmýšľaš, že by si niekedy písal v angličtine alebo rodný jazyk je priorita?
Ivoš Plaček: V angličtině by moje texty ztratily smysl, tak že ne.
Rovnako majú ľudia možnosť vidieť videoklip k piesni Kopýtko. Sú v pláne aj ďalšie?
Ivoš Plaček: To je otázka na Chymuse (Antigod-ex.Isacaarum). Já bych chtěl ještě klip na Lebku..
Ty si na hudobnej scéne už nejaký ten piatok a taktiež si pôsobil vo viacerých kapelách. Ako si spomínaš na svoje hudobné začiatky?
Ivoš Plaček: Jako na příšerný zkoušky v příšernejch podmínkách, na půdách, ve sklepích, v pokojích a v garážích, při příšernym rachotu. Jako na ostudná vystoupení, kdy nebyli mnozí členové schopni stát na pódiu, natož předvádět nějaké výkony,na poblité kalhoty a pozdní návraty domů, povětšinou s velkou ostudou…

Ipah začal fungovať od roku 1993, no stále je to v podstate len projekt. Neplánuješ ho zmeniť na poriadnu kapelu?
Ivoš Plaček: To je trochu nepřesná otázka… Já jsem v r.1993 napsal text Opeřenci a to bylo ještě pro kapelu Immortality. Poté jsem všechno na hodně dlouho uložil hluboko do šuplíku a začal jsem to tahat až v r.2014. Vzhledem k tomu, že se nesnesu při komponování s víc jak s jedním člověkem ,tak živá vystoupení neplánuju, ale taky v budoucnu nevylučuju. Lidi bych na to měl…
Je nejaké obdobie, prípadne kapela, na ktorú za tie roky spomínaš najradšej? Si v kontakte s bývalými členmi týchto kapiel?
Ivoš Plaček: Nejraději vzpomínám na období, kdy jsem dělal s Monsterem (Master´s Hammer) projekt Septagon Chimera. To jsme jezdili do Orlických hor na soustředění, měli jsme pronajatý penzion s veškerým servisem, děli se tam strašidelný věci a poznal jsem tam svojí ženu, se kterou jsem už 23let šťastně ženatej. Jinak se s pár lidma občas vídám ale skutečně minimálně…
Vzhľadom na tvoju hudobnú tvorbu ma zaujíma jedna vec. Aký typ umenia preferuješ v prípade kníh, filmov …?
Ivoš Plaček: Já čtu nejraději reálie, magii atd.. Z filmů mám nejradši Majora Zemana, Na kolejích čeká vrah a staré francouzské a italské komedie…Spíš rád koukám na výtvarné umění a líbí se mi kdekterá čmáranice…
Ako vyzerá tvoj život pomimo kapely Ipah?
Ivoš Plaček: Po 23letech jsem přestal dělat spalovače mrtvol, dělám podpředsedu samosprávy bytových jednotek, jsem otcem 2 dětí a řádný manžel, každý večer se ožírám a kouřím různé modely trav a v podstatě žiju zcela obyčejný život 🙂
Tak, to bola posledná otázka. Ďakujem ti pekne za rozhovor a zároveň by som ťa rád poprosil o odkaz pre našich fanúšikov.
Ivoš Plaček: Buďte sami sebou pancharti!
Youtube ukážka:

Linky:
https://www.facebook.com/IPAHband/
www.bandzone.cz/ipah
https://www.youtube.com/channel/UCK_qRDg82QrWxownEWy58Ig