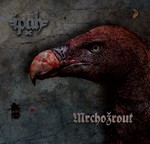 Počas celého času, čo sa venujem recenzovaniu som s hudobným undergroundom prišiel viac ráz do kontaktu. Niektoré kapely boli v podzemí zaborené viac, iné menej. V posledných dňoch sa však ku mne dostalo jedno CD, ktoré nad všetkými predošlými v tomto smere jednoznačne kraľuje. Jedná sa o debutový počin zoskupenia resp. dvojice (Ivo Plaček a Aleister) Ipah, ktoré nesie názov Mrchožrout.
Dôkazom mojich tvrdení sú hneď úvodné tóny orgánu, nahrávané v krematóriu, následne doplnené o poriadnu porciu rock/metalovej muziky. Aj tak by sa dal popísať prvý inštrumentálny kúsok Lichenivorus. Ďalšia pieseň Deprezze s dostatočne tajomným introm sa napokon opäť prehupne do tvrdších vôd, avšak…..
To slovko avšak je dôležité. Okrem metalu máme možnosť počuť viacero vplyvov, aranžmánov a pod. záležitostí – či už trošku elektroniky, ženské vokály, alebo malú predprípravu na Vianoce. Na mňa osobne zapôsobila aj trošku orientálnym dojmom (ale to je zrejme len subjektívny dojem).
Pozitívom je určite to, že popri toľkých vplyvoch ostal hlavný vokalista Ivo pri rodnom jazyku, a tak si môžeme text vychutnať prakticky všetci v Česko-Slovensku. Apropo, na vstrebanie textu treba určite dostatočný nadhľad a zmysle pre humor. Nečakajte žiadne posolstvo o spáse sveta, aj keď je dosť možné, že si v slovách každý nájde niečo iné.
V každom prípade je to pre mňa určite nesporne originálna zároveň aj najlepšia skladba. Pokračujeme Lebkou, klasickou krčmovou a veľmi spevnou odrhovačkou, kde hrá prím akordeón a elektrická gitara. Príjemná pohodička s opäť možno trošku bizarnejším textom.
Ale nech sa neopakujem v celej recenzii, v podstate komplet všetky texty sú písané s veľkým nadhľadom a nezaručujem, že každému sadnú. V každom prípade osobne oceňujem, že sa Ivo vyhol vulgárnosti a nejakej samoúčelnosti. Ale späť k hudbe.
Kopýtko sa dočkalo aj klipu, a tak si môžete túto najväčšiu vypaľovačku na albume, kde opäť nechýba niečo špeciálne – tentokrát sú to husle. Titulný song potom spoločne s kúskom Opeřenci patrí medzi to najtvrdšie, čo Mrchožrout ponúka.
Naopak Hitler ako ďalšia multižánrová záležitosť opäť vytvára priestor pre niečo rezkejšie. Čo sa týka piesne Divizna tak tá mi nezapasovala takmer vôbec, ale opäť, viacero dobrých nápadov sa jej uprieť nedá.  A na záver máme možnosť počuť ďalší, čisto inštrumentálny výtvor Lichenivorus Pt. II.
Viacero vecí je nemožných a jednou z nich je aj bezpochyby zatriedenie Mrchožrouta do nejakej žánrovej klietky. Prakticky všetky skladby majú rock/metalový základ, namiešaný spoločne s mnohými ďalšími vplyvmi.
Čiže neprekvapí keď popri gitarových riffoch odznieva akordeón, elektronická hudba,  kremačný orgán, alebo už spomínané husle. Pojem alternatív je alibistický, ale asi jediné možné označenie. Aj tak to všetko nepokryje.
Mrchožrout je veľmi originálny počin, plný viacerých skvelých nápadov, avšak určite nie pre každého. Osobne to však celkom kvitujem, nakoľko má Ipah jedným albumom vytvorenú silnú a nezameniteľnú značku, čo sa viacerým hudobným telesám nepodarí  za roky hrania a koncertovania.
Takže ak máte dostatočný nadhľad a schopnosť povzniesť sa nad viaceré veci, znesiete miešanie metalu s takmer všetkým mohli by ste okúsiť toto CD.
Dlhšie som uvažoval nad konečným hodnotením, ale vzhľadom na veľkú originalitu dávam 4,5/6.  
Lineup:
Ivo Plaček – spev, bicie, samplér, efekty
Aleister – gitary, basa, ukulele, klávesy, akordeón, zbory
Hostia:
Vít Janata – kremačný orgán
Petr Blackosh Hošek – zbor
Dagmar Pavlíčková – husle
Nela Salmonela Plačková – zbor
Adéla Hrnčálová – zbor
Tracklist:
Lichenivorus
Deprezze
Lebka
Kopýtko
Mrchožrout
Divizna
Hitler
Opeřenci
Lichenivorus pt.2
Rok vydania: 2017
Vydavateľstvo: Samovydanie
Youtube ukážka:

Linky:
https://www.facebook.com/IPAHband/
www.bandzone.cz/ipah
https://www.youtube.com/channel/UCK_qRDg82QrWxownEWy58Ig
Hodnotenie: 4,5/6