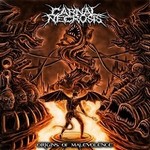 USA (hlavne Florida)  je kolískou death metalu. Tam to všetko začalo, všetky legendy tohto žánru tam vytvorili svoje klasické opusy a čo dnešná doba? Je pravda, že dnešná death metalová scéna už nie je tak aktívna, ako bola kedysi. Stále sa však nájdu kapely, ktoré dokážu svojou tvorbou osloviť. Ako napríklad Amíci Carnal Necrosis. Samotná kapela vznikla v roku 2013 v kalifornskom Victorville a tento rok im debutové EP – Origins Of Malevolence vydalo známe slovenské vydavateľstvo Immortal Souls Productions.
Dané EP pozostáva z 6-tich vyrovnaných skladieb, plných dobrých riffov, buráčského spevu, šialenej basy, slušných bicích.  Riffy jemne pripomínajú Morbid Angel. Po produkčnej stránke je veľmi dobre zvládnutá záležitosť. Udivuje ma, že koľko materiálu bola schopná kapela nazhromaždiť v albume dlhom 27:11. Slepého miesta nenájdete, max. spevák Shane Hayes  by sa mohol trochu  pridať. Žiarivou ozdobou EP je basák Andrew J. Bowen. Kompozične sú najzaujímavejšie kúsky  "Blood Feasting" a "Demented Torment"
Zhrnutie:  Je to dobré death metalové EP… Osobne  si myslím, že viac kapela ponúkne  pri vydaní klasického radového CD.
Lineup:
Shane Hayes – Spev
John Vasquez – Gitara
Eli Castillo – Gitara
Andrew J Bowen – Basa
Nick Crowell – Bicie
Tracklist:
 Necromantia
Feeble Faith
 Blood Feasting
 Infernal Species
 Shadow of the Sheep
 Demented Torment
Rok vydania: 2017
Vydavateľstvo: Immortal Souls Productions
Youtube ukážka:

Linky:
https://www.facebook.com/carnalnecrosis
https://carnalnecrosis.bandcamp.com/releases
https://www.youtube.com/channel/UCOMHCZ4jgeSeddi6qi8hFSA/
www.facebook.com/ImmortalSoulsProductions
Hodnotenie: 4/6